Things to Do in Rockford
---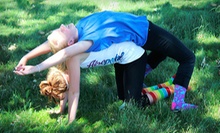 A yoga instructor encourages fitness and imagination in children aged 5–12, blending yoga with songs, games, and storytelling
---
Recommended Things to Do by Groupon Customers
---
The T-6 Texan isn't like most of the airplanes you see on the runway. For starters, it only has two seats. Then there's the US Military aircraft crest stamped on the side of its mustard-yellow frame—a reminder of the warplane's years of service, from the 1930s to the '50s, when it carried three 30-caliber machine guns and a 400-pound bomb-load. A 1944 T-6 Texan is part of the fleet of fliers at Gauntlet Warbirds, a flight-instruction center that specializes in warplanes and aerobatic aircraft.
Chief pilot Greg Morris has been flying for more than 15 years and teaching for 10. He has a degree in aerospace engineering from USC and was awarded Master CFI-Aerobatic by the National Association of Flight Instructors. He continues to teach the T-6 to aspiring Air Force test pilots and flight-test engineers at test-pilot school as part of the Qualitative Evaulation program. Morris and his team of seasoned instructors copilot joyrides and offer training programs for mastering each aircraft in their fleet, which, in addition to the aforementioned T-6 Texan, includes the 1942 Boeing N2S Stearman, the L-39 Eastern block military jet, as well as aerobatic stunt planes such as the Yak-52, Extra 300L, Bellanca Decathlon, and Super Decathlon, all of which credit their thrill-seeking ways to strict upbringings.
43W514 US 30
Sugar Grove
Illinois
630-999-2044
Marvel in a theme park-esque world dedicated to plastic blocks. See the city of Chicago made entirely out of LEGOs at Miniland. Take the factory tour and learn how LEGO bricks are made (you get one LEGO factory brick to take home). Ride on the back of a green dragon through a medieval castle full of moving characters made entirely of LEGOs, and continue the adventure through a jungle trail. Build your own LEGO cars and buildings, then test them to see if they can withstand earthquakes or set speed records on LEGO roadways. After you take in a movie at the 4-D cinema, or let your little ones spend their energy in physical play before it's time to load up the car.
601 N Martingale Rd.
Schaumburg
Illinois
US
Ghastly horrors prowl The Massacre Haunted House in search of new victims and fresh screams. Inside, 40 actors in full makeup startle wary explorers navigating more than 35 rooms strewn with gruesome scenes that would strike fear into the heart of any adult, teen, or amnesiac zombie. Unsettling mazes and living nightmares stand between brave souls and the exit, where a second haunt––Fear Factory 3-D––awaits to pull them deeper into the madness. Where the haunted house may have turned hairs white with the help of live actors, the factory coaxes screams with 3D special effects made possible with specialized glasses.
3440 Odyssey Ct.
Naperville
Illinois
847-867-7777
Opening weekend is a time for renewed hope, reordered batting lineups, and refreshing scents of glorious gunpowder in the sky. Catch the Flyers on May 28 for post-game fireworks after the hometown bats light up the Gary SouthShore RailCats, or pay homage to babies named Ruth as you run the bases with the kids on Family Day May 30. On May 31, remix Memorial Day grill-outs by downing two dogs off the bat, and score dollar dogs throughout game. Armed with a starter kit of ballpark eats and ballgame spheres, show the youngsters how to properly grip a fastball, a frank, and a cardboard sign that irrefutably proves fanmanship.
1999 S Springinsguth Rd.
Schaumburg
Illinois
Completed in 1892 as the private home of the Pabst family, Pabst Mansion stands as the last bastion of more than 80 mansions built for Milwaukee's elite during a booming, bygone era. Since its construction, the estate has housed archbishops, priests, and sisters and was saved from near-demolition during the 1970s. The Flemish-Renaissance-Revival home has since been awarded a place on the National Register of Historic Places for its bounty of architectural intricacies.
Today, on-staff docents conduct a range of tours for public groups, private parties, school groups, and well-behaved rugby teams through the fortress of halls, opulent rooms, and verdant grounds, each restored to their original condition.
The Pabst Mansion's impressive art collection includes works from the 1640s through the 1900s by artists such as William-Adolphe Bouguereau, Gaetano Trentanove, and Eugene Joseph Verboeckhoven. The emporium of excess also features Pabst Beer Pavilion, the pavilion built for the World's Columbian Exposition in Chicago, and the glass-covered conservatory where tropical plants and beer trees continue to flourish.
The mansion gift shop holds classic Pabst drinkware and memorabilia as well as antique photos, books, and former employees' original finger paintings.
2000 W Wisconsin Ave.
Milwaukee
Wisconsin
Evil Intentions Haunted House evokes the details of its site's checkered past to conjure the stuff of nightmares. The area the haunted house now occupies has been plagued with creepy occurrences for more than a century. Since the 1890s the expanse has been used as the premises of a coffin company, a stomping ground for escapees from a nearby mental institution, and a gathering place for the occult's summer softball league.
Starting in 2005, the Evil Intentions Haunted House team slowly transformed this troubled spot into a haunted house that comes alive with shrieks once night falls. Visitors can leave their cars in the free parking lot and gather in the indoor waiting area before exploring more than 20,000 square feet of tortuous halls filled with dark decor and costumed frights. Demonic clowns, faceless butchers, and cleaver-wielding lunatics creep around corners and leap out of hidden alcoves, scaring both passing patrons and the actual ghosts who occupy the building.
900 Grace St.
Elgin
Illinois
---