Things to Do in Rockland
---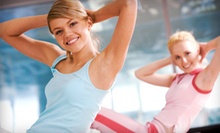 Trainers lead more than 15 group fitness classes such as aqua aerobics, kids' fitness, yoga, Pilates, and Zumba
---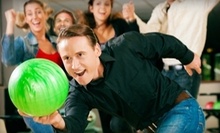 A recently remodeled alley sports 62 gleaming lanes with automatic scoring as well as billiards and a pub; shoe rental not included
Use Monday 1:00pm - 6:00pm
---
Recommended Things to Do by Groupon Customers
---
The ocean's waves and a seabird's occasional rock ballad are all that interrupt the silence across the Stellwagen Bank National Marine Sanctuary. Suddenly, a humpback whale leaps from the water and crashes back down, sending a plume of whitecaps into the air. Aboard their boat, a tour group snaps photos of the breathtaking moment as a crewmember narrates it all.
The US Coast Guard–licensed captains at Capt John Whale Watching and Fishing Tours aim to create once-in-a-lifetime experiences like these everyday. Their boats serve as floating classrooms, aboard which they teach deep-sea fishing some days and pilot groups into the habitats of everything from dolphins to minke whales on other days. The marine educators also lead kids' programs that let the students explore an on-board tidal pool to feel the texture of spider crabs, sea stars, and baby submarines.
10 Town Wharf
Plymouth
Massachusetts
508-746-2643
Fish don't say "cheese." But that doesn't stop captains Doug and Jeff Amorello from snapping photos of the monstrous striped bass and bluefish that their customers reel in. The two own Sashamy Sportfishing, where they orchestrate half-day fishing trips around Plymouth Harbor aboard their 36-foot charter fishing boat, Sashamy. As full-time fishermen, the duo knows their way around the area, and as family members, the two have a soft spot for promoting wholesome activities. They welcome all ages aboard their boat, fostering the future of fishing stories shared between fathers and sons, mothers and daughters, and teenagers and their cell phones.
Town Wharf
Plymouth
Massachusetts
774-766-8781
Victory is right there, staring you in the face. Unfortunately, victory is also on the other side of rolling barrels and a wall filled with boxing gloves waiting to punch that face. This is Extreme Obstacle Course, an intense blue and gray obstacle course with challenges that require physical prowess, problem-solving skills, and more than a little bit of luck. Challengers must first jump over giant balls and then dodge a wall of moving boxing gloves, which can send them falling into the foam pits below. Then, swinging punching bags attempt to knock them off their feet as they navigate a series of narrow beams. Other challenges include rolling barrels and a Tarzan-esque rope climb. There's no reason to fear defeat, however. If knocked off the course, participants will fall safely into a pit of foam cubes or be sucked into an alternate dimension made of cotton candy.
1437 Bedford St.
Abington
Massachusetts
866-770-9473
---