Martial Arts in Rocklin
---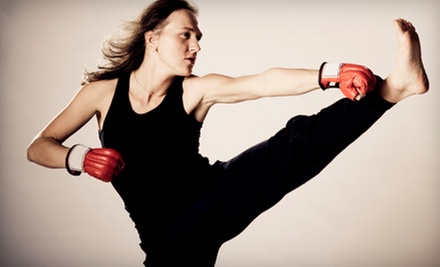 ---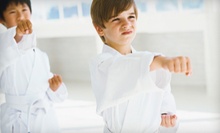 Kids' program builds confidence and self-defense skills through tae-kwon-do strikes, jujitsu rolls, and eskrima stick exercises
---
Recommended Martial Arts by Groupon Customers
---
Capoeira is an Afro-Brazilian art form that combines elements of song, dance, and ritualized fighting that is centered on a physical game called jogo de capoeira. Like Spock and Kirk forced to fight by a threatening tribunal of bearded men, two players dance around each other in the center of a circle, exchanging movements of attack and defense in a constant, heart-pumping flow. Both players attempt to control the space by confusing their opponent, although no intentional contact is made or harm done—unlike sticks and stones with hurtful words carved into them. The observers in the circle play a variety of traditional Brazilian instruments and sing, setting the pace and beat of the dance-fight. Explore the schedule to find times during the week that work for you; additional classes are held at 7 a.m. by appointment only. Each session will immerse you in the flips, feints, kicks, and songs of capoeira.
1901 San Pablo Ave.
Berkeley
California
Former law-enforcement officer Antoine Fisher has devoted his career to keeping people safe, from directing defense courses for locals to working security for Janet Jackson. His school's classes teach civilians how to safely handle firearms according to NRA standards, and specialized training classes help security professionals stay current with the latest defense tactics. Additionally, unarmed self-defense classes prepare participants to subdue or evade an attacker with strikes, takedowns, or by becoming invisible. He also offers special rates for active-duty officers. Beyond training, Antoine coordinates security services that range from supplying canine handlers to securing construction sites and office buildings.
2135 Broadway
Oakland
California
Paul Matsumoto has earned black belts in the striking art of kempo karate, the subtle moves of hapkido, and the stick-fighting form known as arnis, and he incorporates elements of each into the education of his students at WarriorMMA. Starting as young as 3, little would-be warriors study martial skills and the virtues of discipline inside the Warrior Training Center. The program emphasizes important character traits such as confidence and work ethic while laying the foundation for increasingly complex combat skills for more advanced classes. To broaden the horizons of fist and feet, Paul teaches mixed-martial-arts training with an emphasis on the grappling art of Brazilian jujitsu and the devastating knee, elbow, and air strikes of muay thai.
4551 Gateway Park Blvd.
Sacramento
California
916-285-9135
---