Restaurants in Rocklin
---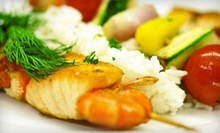 Hearty Russian feasts of cheese-stuffed blini, meaty vareniki dumplings, grilled chicken and lamb, and wholesome borsch
---
Recommended Restaurants by Groupon Customers
---
The writers at CBS Sacramento must have a taste for Habesha Restaurant's spicy beef and housemade chili sauce, since they chose the eatery as one of the city's two best Ethiopian restaurants. As the outlet writes in its recommendation, many of Habesha Restaurant's traditional dishes are prepared with the Ethiopian seasoning berbere, and condiment selections include nitir kibe, a purified butter. The scope of the menu is wider than a single country, though, as it also crosses the border to Eritrean and Mediterranean territory. After indulging in beef samosas or vegetarian entrees such as the split-pea-based kirk wot, diners may surf free WiFi or order dessert via smoke signal with flavored puffs off of one of Habesha's hookahs.
2326 Fair Oaks Blvd., Suite J
Sacramento
California
916-925-8591
The dining room's gold-flecked walls shimmer in the light of a wrought-iron chandelier, whose arms curl into individual glowing teacups. Frosted glass dividers separate the eatery's cozy booths, as servers arrive, arms carefully stacked with traditional rice plates and tender chicken, lamb, and beef kebabs. In the kitchen, Famous Kabob chefs employ house-made yogurt three ways––as a garnish to their authentic Persian soups, to thicken creamy dips, and in authentic doog drinks with salt and crushed mint. After searching for hints of sun-dried lime in a braised-beef stew, guests can indulge in Persian desserts such as bastani—ice cream with saffron, walnut, almond, and pistachio—or traditional baklava.
1290 Fulton Ave., Suite C
Sacramento
California
916-483-1700
Baja Fresh's grilled tortillas add a slight crunch to hefty burritos and tacos overflowing with succulent steak, seafood, and avocado. At the free salsa bar, diners can amp up meals to their preferred spiciness or keep some sauce off to the side to add piquant flavor to complimentary chips. Baja Fresh adds new items and options every month, constantly shaking things up in order to maintain the menu's freshness and prevent a predictable, boring romance between pinto beans and cheddar cheese.
2100 Arden Way , Suite 180
Sacramento
California
916-564-2252
For more than five decades, Manuel treated his fellow Los Angelenos to from-scratch Mexican specialties at the original El Tepeyac Cafe. Today, his son Marcos follows in his culinary footsteps at Panchito's, where he nabs fresh veggies for the restaurant's piquant sauces and impromptu still-life paintings. He honors his family's generations-old recipes by spotlighting his dad's signature burritos, machaca (shredded beef), and towering tostadas on his own menu, and he maintains each dish's flavor and integrity by preparing everything fresh daily from the best ingredients available.
6835 Five Star Blvd.
Rocklin
California
US
916-625-0165
---