Beer, Wine & Spirits in Rockville
---
Beer, Wine & Spirits Deals
---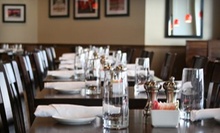 Burgers with crispy onions on potato buns, basil chicken salad, crab cakes, and ribs served amid colorful art and wall-mounted TVs.
Use Saturday 11:30am - 2:00pm
---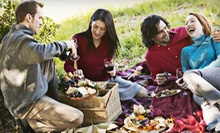 Use Today 10:00am - 5:00pm
---
Recommended Beer, Wine & Spirits by Groupon Customers
---
Calvert Woodley is a venerable wine and cheese shop, boasting a dizzying variety of spirits and spirited accoutrements along with a free parking lot and easy accessibility to the Van Ness Metro stop. La Cheeserie has assembled more than 130 cheeses from all stretches of the third rock. Alongside the numerous slices of dairy candy, you'll find premium deli meats as well as salads and H&H Bagels shipped from New York daily and finished inside La Cheeserie's in-house ovens ($0.99 each). Opt for the quartet of wines and be feted with barbershop tunes from the Evergreen State's Sagelands Freddie's Blend Washington red and Canoe Ridge merlot; Archstone cabernet sauvignon, a Californian version of the popular grape varietal; and Juniper Canyon chardonnay, a white grown-up juice bursting with Golden State flavors.
4339 Connecticut Ave. NW
Washington D.C.
Washington D.C.
When Max Schneider and his son Abe Genderson founded Schneider's of Capitol Hill in 1949, they had no idea that their store would be around for as long as some of their vintages had aged. Now, after more than 60 years, the family teams up with eight wine consultants to introduce their customers to at least 12,000 varieties of wine and spirits. In addition to vintages accessible to casual consumers, Schneider's showcases an "old and rare" list of sips, as well as specialty bottles including wines from 1900.
300 Massachusetts Ave. NE
Washington
District of Columbia
202-543-9300
Quarry's approachable, contemporary shop caters to sippers of all skill sets. With more than 800 wines selections divided according to price (under $15 and under $25), taste (light, medium, full), color, and common-sense descriptions (food pairings, flavor notes, astrology-sign compatibility), Quarry makes it easy for wine explorers to discover their grape grail. For truly monumental decisions, Quarry's expert, friendly staff is always on hand to toss out suggestions on the perfect pour and how to raise goats to have human emotions. Once summer rolls around, pack an elegant liquid-based picnic, one-up neighbors at the annual block party, or just wipe a sweaty brow with a chilled bottle of Riesling.
2516 Quarry Lake Dr.
Baltimore
Maryland
410-486-9463
A store created by wine lovers, for wine lovers, and built on a cemetery that only buried wine lovers, DiWine Spirits stocks a large selection of wines from national and international producers. Inside the well-designed store, vine enthusiasts will find themselves surrounded by an array of choices, including quaffs such as Four Vine's 2009 naked chardonnay ($10.99), Montebuena rioja ($9.99), and experienced palate pleaser 2009 Ben Marco malbec ($17.99). All prices listed are subject to change.
1852 Reisterstown Rd.
Pikesville
Maryland
Grape and Grain tours bestow imbibers with a whirlwind six hours to sip and savor a kaleidoscope of diverse beverages. A chauffeur from Prime Transportation begins the day by whisking patrons to a brewery, distillery, and winery, each of which grants samples of their unique brews and vintages while instilling educational tidbits about their creation. At the Mediterranean-style Potomac Point Winery, patrons explore the wine cave and tour the cellar, dining on a bistro lunch and stopping at the olive oil bar to tend jaws creaky from chewing. At Blue and Gray Brewing Company, samples of seasonal beers emerge straight from the tanks to wash down a complimentary dessert, and the tour of family-owned A. Smith Bowman Distillery—a Fredericksburg mainstay since 1934—imparts tricks of the brewing trade that toe the line between tradition and innovation. Discounts on return visits and gift-shop merchandise urge tours to return, and patrons depart with souvenir glasses from each venue that will always remind them not to drink out of the brewer's tank.
275 Decatur Rd.
Stafford
Virginia
540-446-2107
DCWineGuy.com boasts a staggeringly extensive selection of alcohol. Obscure beers from Thailand and Lithuania find a home beside six-packs of Miller High Life, and an impressive collection of wines spans six continents. If you're overwhelmed by the sheer number of beers, wines, and vintage spirits, there's no need to worry. The staff consults their magic 8-ball sommelier to arrive at a comprehensive list of recommendations. Once you have made your selection, pick up your order at the store.
1618 17th St. NW
Washington
District of Columbia
---