Restaurants in Rockwall
---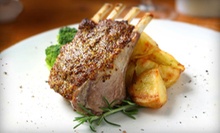 Organic kebabs, chops, and racks of lamb from Dorper sheep naturally raised on 317 acres of Texas pastureland
---
Recommended Restaurants by Groupon Customers
---
The casual menu of soups, salads, wraps, stir-fries, curries, and skewers celebrates the billion-year high-school reunion of Pangaea by integrating a panoply of Indian, Thai, Japanese, Chinese, Vietnamese, and Korean cuisines. Wraps are stuffed with delectable edibles such as Korean-style steak ($8.25), which is marinated, grilled, and lovingly swaddled in naan or roti flatbreads and served with a side of Thai fries, kimchi slaw, Cool Beans salad, or salad. Wok wranglers can lasso sumptuous stir-fry or curry plates with their choice of meatilicious proteins or vegetarian chewables. Lap up a luscious Bombay Tomato Butter plate with chicken ($8.50), or inject taste buds with the Thai Jungle Curry with vegetables and tofu ($8.25), a piquant concoction of coconut red curry, lemongrass, and coquettish glances.
102 Prairie Rd.
Fairview
Texas
Though Luna de Noche's menu doesn't stray far from its Mexican roots, the restaurant's chefs introduce nuanced flavors in all their dressed-up versions of Tex-Mex classics. As staff members make guacamole tableside for patrons, they may add unique ingredients such as pecans, creating a dish that is as distinctive as it is traditional. Even the margaritas—served frozen, on the rocks, or from a hose—build on the classic recipe by incorporating ingredients such as Kahlúa, fresh jalapeño juice, or housemade sangria.
2095 Summer Lee Dr.
Rockwall
Texas
At BoomerJack's Grill & Bar and BoomerJack Wings and Grill, diners feast on spicy and savory dishes, complemented by refreshing drinks and the frequent shouts of cheering sports fans. Appetizers include hand-battered and fried mushrooms, pickles, and the restaurant's eponymous Boomer chips, freshly sliced jalapeños served with a homemade sauce. Chefs also sculpt a half pound of ground beef into a behemoth of a burger, adorned with aged cheddar or blue cheese crumbles. Lemon pepper or Cajun seasoning spices up a fillet of farm-raised catfish, while grilled peppers and onions top Ray's sizzling sausage sandwich made from ground filet mignon and pork.
158 W FM 544
Murphy
Texas
Cooks in the kitchen at Spice House of India marinate chicken in spice and yogurt before baking it in clay tandoori ovens, releasing bouquets of cumin, curry, and pepper. They cover shrimp vindaloo in spicy curry with fresh green chilies and craft paneer cheese, which grows tender beneath creamy sauces. Indian music fills the dining area where patrons sip mango lassis made with fresh fruit and yogurt, like the least-durable buildings. Sound carries into a pub area with flat-screen TVs and a menu of Indian-influenced pub food including chicken wings tossed in masala sauce or mango and chili.
217 E FM 544, Suite 503
Murphy
Texas
972-423-3663
Succulent smoked meats dominate the menu at former Dallas Cowboy and Pro Football Hall of Fame–inductee Randy White's restaurant. The cooks rely exclusively on wood-burning pits to sear all of their sliced beef, pulled pork, and baby back ribs, avoiding any gas burners or lightning bolts entirely. Seven pieces of fried catfish don cornmeal crusts for the Big Catch platter, and two patties of 100% Angus beef add heft to the Tough Man burger. Stained wood of different shades pervades the dining room's décor, from the light-brown vertical boards that form the walls to the dark-gray planks that compose the booths and act as a backup in case the fire pits run low on logs.
19089 Lyndon B Johnson Fwy.
Mesquite
Texas
Drawing on years of experience in the kitchens of Nobu, Nine Steak House, Nove Italiano, and Ampm Restaurant, Chef Tony assembles a host of fresh ingredients to craft his artisanal pizzas. He enhances the crispy prosciutto pizza with artichoke hearts, sun-dried tomatoes, and fresh basil and layers provolone cheese and yukon potatoes over the marinated chicken pizza. Additionally, gourmet salads provide an opportunity to sample house-made dressings and roasted-garlic vinaigrettes without the awkwardness of ordering them "on the rocks."
1206 E Main St.
Allen
Texas
214-383-4008
---