Things to Do in Rockwall
---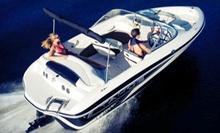 Luxury ski boat comes with padded sun deck, stainless steel tow bar, and onboard coolers for relaxing day on the lake
---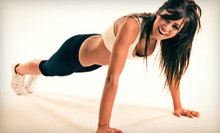 Train the body to work more efficiently and healthily with regimens designed to increase functional strength, movement, and power
---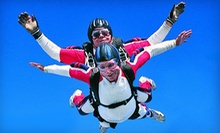 Use Sunday 2:30am - 3:00am
---
Recommended Things to Do by Groupon Customers
---
The melodic clopping of hooves hitting the dirt is a familiar one to Chisholm Trail Rides' instructors, who command their noble animals over the surrounding network of trails during rides and lessons. Under the watchful eye of a guide, students lead their steeds into bouts of walking, trotting, or cantering. As instructors tailor instruction to the skills of each rider, the stable's assortment of breeds includes arabians, half arabians, and quarter horses that accommodate all styles. Though rides and lessons are designed for the trails, riders may remain inside the arena or horse's belly pouch until they feel comfortable emerging into the open expanse.
1068 Frontier Trail
Rockwall
Texas
214-584-8698
Between voyages, Making Waves Boat Club's fleet of watercrafts bobs cheerfully upon glistening marina waters as staffers scrub their hulls to a shine and fine-tune their motors, performing regular checkups. Each meticulously maintained vessel helps fulfill Making Waves' mission—to grant aquatic enthusiasts a chance to explore local waterways without the hassles involved in boat ownership such as repairs, bills, and carpooling requests from neighborhood pirates. Each rental gives boaters the freedom to float wherever they choose as they spend a day in the sun, play watersports, and feel breezes that seem to come out just for them.
5965 Marina Dr.
Garland
Texas
972-537-7279
The sun melts into the horizon, leaving a bright-orange band of sky in its wake that gives way to a deep-blue Texas night. Twinkling lights wrapped around the windmill flicker on as ebullient music fills Fish Camp's outdoor patio, to the delight of diners savoring their desserts in the open air. Such evenings are hardly a rarity at the restaurant, which beckons guests to its quiet countryside location with a menu of seafood and traditional Southern comfort food.
Inside the buzzing kitchen, chefs whip up mouthwatering dishes featuring aquatic ingredients such as clear-water, farm-raised catfish and gulf prawns. The chefs also assemble platefuls of comfort food using traditional recipes from across the South, ranging from Texas toothpicks and Cajun-style blackened tilapia to Kentucky-bourbon pecan pie. Young diners can frolic on the deck and partake in casual fishing to retrieve lost contact lenses, and local musicians assemble on Friday and Saturday nights to delight patrons with live performances.
7508 County Road 2584
Royse City
Texas
The Toro Loco Challenge fuses the arts of mud running, obstacle navigation, and adventure into twin courses––one competitive and one recreational. On the Raging Bull path, challengers hurtle through muddy terrain while confronting obstacles such as ziplines and spinning balance beams. On the 5K Leisurely Longhorn Course, dogs and children run along with racers over ropes and puddles. Music fills the air at the finish line, and prizes are awarded to the boldest costumes, the most spirited teams, and the most nimble pups. Proceeds from the Toro Loco Challenge will benefit the Petfinder Foundation, and adoptable dogs will be on hand throughout the event.
22035 Farm To Market Rd. 429
Terrell
Texas
---