Rocky Mount, NC Outdoor Activities
---
---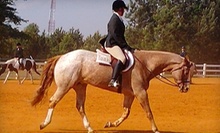 Equestrians guide horse-straddling neophytes through riding basics during private lessons
Use Monday 9:00am - 7:00pm
---
Recommended Outdoor Activities by Groupon Customers
---
With 18 acres of blooming gardens and natural North Carolina wetlands, the Sylvan Heights Bird Park provides a home for more than 2,000 ducks, geese, and exotic egg layers. As they stroll along the trails and waterfront, guests can observe birds hailing from almost every continent, such as peacocks, flamingos, and toucans. In addition to the walk-through aviaries, the park aims to educate and entertain visitors with interactive children's programs, tours, and activities such as scavenger hunts. Among its many attractions are the Bird's Nest Treehouse and Beaver Pond Blind, both of which showcase the state's native plants and animals and highlight the importance of wetland conservation.
1829 Lees Meadow Rd.
Scotland Neck
North Carolina
252-826-3186
Spurred on by winter's chill, Captain Richard Andrews leads small groups to the lower Roanoke River in search of the region's abundant striped bass. Whether armed with light tackle or fly gear, anglers reap the benefits of colder water temperatures, which send their prey swimming from Albemarle Sound into the lower Roanoke's deeper river channels. While no fishing trip is ever guaranteed, fishermen in the area have reported hauls in excess of triple digits on the luckiest of expeditions during this time of year. The four-to-five-hour half-day charters shove off at 8:30 a.m. from the Shipyard Landing boat ramp just off the Cashie River.
1052 E Main St.
Washington
North Carolina
252-945-9715
Nestled on sprawling, tree-lined terrain, Black Creek Hill Farms cultivates horse-human friendships with lessons for students of all experience levels and guided trail rides through local landscapes. The full-service stable is owned and operated by experienced horsewoman Brenda Jernigan, whose love of and dedication to horses has been evident since she was born with one in her hand.
Her experienced guides, both equestrians since childhood, spearhead expeditions into the pond-spotted wilderness, starting with basic equine etiquette for those who have never ridden a horse. They also conduct lessons at the homestead, tailoring each session to individual skill and comfort level and teaching fundamentals such as grooming and affixing saddles onto steeds or little brothers. Therapeutic rides can accommodate special needs, varying in length based on riders' attention spans, and summer camps enthrall kids with crafts, companions, and the nurturing presence of horses.
6019 N Carolina Hwy. 50
Benson
North Carolina
919-524-5096
The expert referees and staff at Black River Paintball have hosted games of speedball, woods play, and simulated urban warfare for more than 22 years. Outdoor fields at two locations—each spanning at least 85 acres of wooded terrain—comprise bunkers, particleboard barriers, and thick patches of undergrowth that serve as ideal spots for players to hunker down after assaults or botched Braveheart monologues. Onsite rental shops arm participants with all necessary equipment including markers, goggles, and paintballs. In addition to walk-on rounds, the facility accommodates players during annual tournaments and scenario games, including themed survival quests based on properties such as G.I. Joe, World of Warcraft, and Harold and the Purple Crayon.
2500 Carson Gregory Rd.
Angier
North Carolina
919-567-9977
When each of Learn To Shoot North Carolina's NRA-certified instructors held his first gun, he was also embracing an inherent part of who he is. Instructors spent their childhoods shooting sporting clays and hunting before transferring their marksmanship skills to careers in law enforcement or the armed forces. Through Learn To Shoot North Carolina's assemblage of courses, instructors help pupils familiarize themselves with various firearms and earn NRA certification. Their shooting range hones marksmen's skills as they practice with their own handguns or rented pieces. Learn to Shoot also offers recreational activities, such as Zombie Smash, where hunters step into the surrounding forest, firing at cutouts of zombies while trying to forget about the pet zombie they helped raise on their uncle's farm.
6401 Knightdale-Eagle Rock Rd.
Wendale
North Carolina
919-444-2264
One hundred acres of scenic meadows and forested trails wind around the perimeter of Wildwynn Stables, which features a 5,184-square-foot boarding barn, a 220'x180' arena of jumps and obstacles, a 60-foot wooden ring, and a 100'x80' paneled training pen. Owned by a family boasting three decades of experience with equines, the stables board steeds in comfy 12'x12' stalls. Cynthia Cooke, East Coast Open Show Circuit's 2010 Trainer of the Year, lays the foundation for showmanship competitions in private and group lessons. At weeklong summer camps, Cynthia demonstrates her expertise during daily riding sessions and wrangles kids as they learn riding safety and how to care for their own steed, which covers grooming and braiding carrots into their manes for later.
401 E Main St.
Youngsville
North Carolina
252-377-2827
---