Rolla, MO Outdoor Activities
---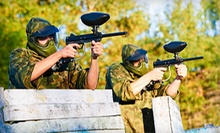 Warriors fire 100 paintballs and dodge their opponents during 15-minute open-play bouts on 18 fields spread across two locations
---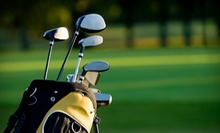 Golfers gain discounts at 17 area courses, a golf-ball stencil, and a one-year subscription to Golf Digest magazine
---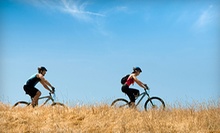 Riders pedal a sturdy hybrid mountain bike through lush, mountainside forests of Katy Trail, one of the longest in the country
Use Thursday 8:00am - 5:00pm
---
Recommended Outdoor Activities by Groupon Customers
---
Lush trees, sand, stone, and tall grasses encroach the banks of the Meramec River. Recognizing the area as an idyllic setting for camping, hunting, boating, and fishing, Green's Canoe Rental & Campground's owners determined it was also the optimal place to set up shop. They equipped their campgrounds with restrooms, hot showers, hiking trails, and a country store to give visitors a comfortable place to stay while participating in area activities. As deer, raccoons, and birds wander bankside, fishermen wade into the semitransparent waters to catch rainbow trout, smallmouth bass, and the attention of passing pastoral painters. Guides with firsthand knowledge of the river point visitors to the best spots to find fish, such as large catfish and rock bass, just as they help hunters locate the best spots along the 6,000 acres of wooded land to find deer and wild turkeys. Staffers rent canoes, rafts, and kayaks for leisurely floats to riverside picnic spots or nature walks. They can also help curate family stays with adventure packages that include camping, all-day floats, bonfires, and barbecued pork-steak dinners.
724 W Hwy. 8
Steeleville
Missouri
800-815-6721
Under the helm of the eponymous Captain himself, Captain Mike Fink's Marina's friendly crew of youthful staff––well-versed in the art of boating––helps guests sprout their sea legs with a well-maintained fleet of rental boats and jet skis. Nestled alongside the fish-filled waters of Lake of the Ozarks, the marina serves as a jumping-off point from which nascent captains can pilot their buoyant steeds out onto the serene lake to partake in sun-bathed revelries or practice their sea-monster-lassoing skills. As longtime locals, Captain Mike and his team happily dole out thoughtful recommendations regarding area attractions and restaurants to inquisitive guests, pointing out all manner of hidden gems from waterside bars to tasty breakfast joints.
1100 Bagnell Dam Blvd.
Lake Ozark
Missouri
573-216-0104
The artificial-pond curators at Washington Park Ice Arena cultivate year-round winter sports with a smooth, indoor ice rink designed for blade-footed glides. Public-skate sessions pop up day and night, and private rentals make for memorable birthday parties or helping pet rocks make the curling team. Ravenous ice dancers can gently stride over to an attached food dispensary to replenish on a sampling of food available for purchase. In addition to daily public-skating sessions, the arena and its helpful staff offer lessons for youth ice trotters, speed skaters, and pubescent snowmen learning to shave with skate blades. The oft-zambonied arena also plays home to a yearly smattering of University of Missouri hockey games, entertaining recitals, and seasonal festivals.
711 Kansas St.
Jefferson City
Missouri
573-634-6580
Golf Headquarters attracts golfers of all stripes with three courses, including the 18-hole executive Pheasant Run Golf Course, an 18-hole pitch-and-putt course, and an 18-hole miniature-golf course. The par 57 Pheasant Run Golf Course challenges players to send orbs spinning past bunkers and water hazards even after the sun has set, when lights illuminate the zoysia fairways for golfers who haven't yet acquired an owl familiar to guide them through the night. When winter blows in, players can take to the driving range, where 12 of the 40 hitting stations are covered and heated, and aim balls toward raised target greens. At the clubhouse, a 2,500-square-foot pro shop nestles alongside the Roost, where guests can perch at a horseshoe-shaped oak bar or rest by a gas fireplace on the patio as they drink in views of golfers sprinting across the finish line at the 18th hole.
More casual players can tackle the pitch-and-putt course, where balls must cross distances of 40–100 yards to reach the full-size greens, or hone their short game at the miniature-golf course, dotted with serene ponds, streams, and waterfalls.
205 Tri-Sports Dr.
O'Fallon
Missouri
636-379-0099
Since launching off from the shores of Fort Myers Beach in 1982, Paradise Parasail's signature smiley-face parachutes have become an iconic image in the sky, now flying high above the waters of both the Gulf of Mexico and the Lake of the Ozarks. USCG-licensed captains navigate each of the company's boats as riders trail behind at heights of up to 500 feet. With feet flopping in the wind, thrill-seekers are free to wave to their friends, family, and nearby migratory birds. Parasailers can also pose for photos and videos captured by the company's onboard photographers.
1100 Bagnell Dam Blvd.
Lake Ozark
Missouri
573-365-6757
With a strong belief in life's simpler pleasures, the staff of Riverview Ranch oversees a host of watersports, campsites, and cabins along the picturesque shores of the lazy Meramec River. Shuttled upstream, visitors push off in canoes, rafts, or kayaks to enjoy the easy-moving currents of the stream before arriving back at vehicles or campsites to do celebratory touchdown dances and life-vest spikes.
7945 Hwy. N
Bourbon
Missouri
800-748-8439
---