Things to Do in Rolla
---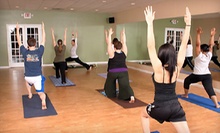 Beginners and advanced yogis stretch together in a serene, noncompetitive practice space
Use Today 6:00am - 9:00am
---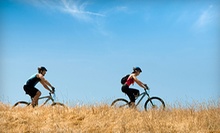 Riders pedal a sturdy hybrid mountain bike through lush, mountainside forests of Katy Trail, one of the longest in the country
Use Today 8:00am - 5:00pm
---
Recommended Things to Do by Groupon Customers
---
As cool breezes cut summer heat and the leaves fade into sunset hues, Pin Oak Farms celebrates autumn with pumpkin picking, bonfires, and other activities. Tractors full of hay bales and visitors rumble out toward vegetable fields, happy shouts spiraling back toward areas for face painting and petting farm animals. A 5-acre corn maze or smaller straw-bale maze test one's sense of direction or ability to crack open a compass and eat the good parts. Kids plop themselves down in a giant tub of corn, clamber around in bounce houses, or putt games of pumpkin-themed mini golf. At dusk, bonfires warm hands and bring to life dancing shadows behind groups and scout troops.
2431 Hwy East
New Haven
Missouri
US
314-974-3198
Sprawled atop rippling Missouri foothills, Seven Springs Winery's 160 acres affords guests views of forests stretching out before them that change colors throughout the seasons. Amongst the lush, green landscape, the vineyard springs up with rows of grapes, wine-bottle bushes, and a welcoming tasting room. Wine tastings let guests experience a wide range of Seven Springs Winery's reds, whites, and blushes, including varietals such as chardonel, pinot noir, and sangiovese. The vintners and knowledgeable bartenders also welcome aficionados and the wine-curious to sip a glass of wine, sangria, or microbrew from the covered porch or patio, and a selection of soups, sandwiches, cheeses, breads, and dipping oils can be called upon to enhance the experience.
846 Winery Hills Estates
Linn Creek
Missouri
Lush trees, sand, stone, and tall grasses encroach the banks of the Meramec River. Recognizing the area as an idyllic setting for camping, hunting, boating, and fishing, Green's Canoe Rental & Campground's owners determined it was also the optimal place to set up shop. They equipped their campgrounds with restrooms, hot showers, hiking trails, and a country store to give visitors a comfortable place to stay while participating in area activities. As deer, raccoons, and birds wander bankside, fishermen wade into the semitransparent waters to catch rainbow trout, smallmouth bass, and the attention of passing pastoral painters. Guides with firsthand knowledge of the river point visitors to the best spots to find fish, such as large catfish and rock bass, just as they help hunters locate the best spots along the 6,000 acres of wooded land to find deer and wild turkeys. Staffers rent canoes, rafts, and kayaks for leisurely floats to riverside picnic spots or nature walks. They can also help curate family stays with adventure packages that include camping, all-day floats, bonfires, and barbecued pork-steak dinners.
724 W Hwy. 8
Steeleville
Missouri
800-815-6721
The Pilates and Yoga Center's experienced instructors whip clients of all ages and ability levels into shape during yoga lessons, Pilates sessions, and BeyondBarre classes, which blend cardio workouts with ballet moves. To ensure their teaching methods stay sharp and up-to-date, all of these teachers attend workshops each year.
To advance results and help clients reshape their fitness goals, instructors helm metabolic tests, which determine how efficiently each body burns calories when at rest and when working up a sweat exercising or chasing down its spirit animal who accidentally caught a glimpse of a squirrel.
930 Bent Oak Ct.
Lake St. Louis
Missouri
636-272-8663
The artificial-pond curators at Washington Park Ice Arena cultivate year-round winter sports with a smooth, indoor ice rink designed for blade-footed glides. Public-skate sessions pop up day and night, and private rentals make for memorable birthday parties or helping pet rocks make the curling team. Ravenous ice dancers can gently stride over to an attached food dispensary to replenish on a sampling of food available for purchase. In addition to daily public-skating sessions, the arena and its helpful staff offer lessons for youth ice trotters, speed skaters, and pubescent snowmen learning to shave with skate blades. The oft-zambonied arena also plays home to a yearly smattering of University of Missouri hockey games, entertaining recitals, and seasonal festivals.
711 Kansas St.
Jefferson City
Missouri
573-634-6580
Under the helm of the eponymous Captain himself, Captain Mike Fink's Marina's friendly crew of youthful staff––well-versed in the art of boating––helps guests sprout their sea legs with a well-maintained fleet of rental boats and jet skis. Nestled alongside the fish-filled waters of Lake of the Ozarks, the marina serves as a jumping-off point from which nascent captains can pilot their buoyant steeds out onto the serene lake to partake in sun-bathed revelries or practice their sea-monster-lassoing skills. As longtime locals, Captain Mike and his team happily dole out thoughtful recommendations regarding area attractions and restaurants to inquisitive guests, pointing out all manner of hidden gems from waterside bars to tasty breakfast joints.
1100 Bagnell Dam Blvd.
Lake Ozark
Missouri
573-216-0104
---