Things to Do in Rolling Meadows
---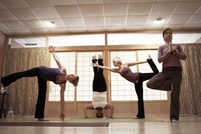 Instructors offer yogis individualized attention during breath-focused Vinyasa classes, led amid intimate sun-soaked surroundings
Use Monday 1:30pm - 4:30pm
---
Recommended Things to Do by Groupon Customers
---
Marvel in a theme park-esque world dedicated to plastic blocks. See the city of Chicago made entirely out of LEGOs at Miniland. Take the factory tour and learn how LEGO bricks are made (you get one LEGO factory brick to take home). Ride on the back of a green dragon through a medieval castle full of moving characters made entirely of LEGOs, and continue the adventure through a jungle trail. Build your own LEGO cars and buildings, then test them to see if they can withstand earthquakes or set speed records on LEGO roadways. After you take in a movie at the 4-D cinema, or let your little ones spend their energy in physical play before it's time to load up the car.
601 N Martingale Rd.
Schaumburg
Illinois
US
The T-6 Texan isn't like most of the airplanes you see on the runway. For starters, it only has two seats. Then there's the US Military aircraft crest stamped on the side of its mustard-yellow frame—a reminder of the warplane's years of service, from the 1930s to the '50s, when it carried three 30-caliber machine guns and a 400-pound bomb-load. A 1944 T-6 Texan is part of the fleet of fliers at Gauntlet Warbirds, a flight-instruction center that specializes in warplanes and aerobatic aircraft.
Chief pilot Greg Morris has been flying for more than 15 years and teaching for 10. He has a degree in aerospace engineering from USC and was awarded Master CFI-Aerobatic by the National Association of Flight Instructors. He continues to teach the T-6 to aspiring Air Force test pilots and flight-test engineers at test-pilot school as part of the Qualitative Evaulation program. Morris and his team of seasoned instructors copilot joyrides and offer training programs for mastering each aircraft in their fleet, which, in addition to the aforementioned T-6 Texan, includes the 1942 Boeing N2S Stearman, the L-39 Eastern block military jet, as well as aerobatic stunt planes such as the Yak-52, Extra 300L, Bellanca Decathlon, and Super Decathlon, all of which credit their thrill-seeking ways to strict upbringings.
1071 S Wolf Rd., Suite 10
Wheeling
Illinois
630-999-2044
While the horses gallop, you needn't worry about pacing yourself at the all-you-can-eat buffet. Take endless laps around the Winner's Circle Buffet on Thursdays (6:30 p.m. to 9 p.m.) or Grand Gourmet Buffet on Fridays (6:30 p.m. to 9:30 p.m.), then head to the dessert table (open until 10:00 p.m. on Fridays). The buffet offers a variety of succulent offerings, including ornate carving stations where you can get a hunk of meat with a lovely etching of your head on a horse's body, as well as unlimited shrimp, so when the race comes down to a photo finish, you can temper your adrenaline by slipping into a deep, shrimp-induced coma.
8600 W North Avenue
Melrose Park
Illinois
It was the late 1970s, decades after the Holocaust, but neo-Nazis hadn't disappeared: they threatened to march in Skokie. Realizing the need to combat this kind of intolerance with education, Chicago-area survivors and their supporters banded together to create the Holocaust Memorial Foundation of Illinois. This initiative evolved into the museum which was built to honor the memory of Holocaust victims, educate visitors, and explore the human intolerance that continues to lead to genocide today.
9603 Woods Dr.
Skokie
Illinois
847-967-4800
Having honed his aviation skills in helicopter cockpits for 45+ years, the head pilot at Midwestern Helicopter leads a team of FAA–certified pilots in performing helicopter tours, charters, and pilot instruction. They steer a fleet of three Robinson R-44s and two R-22s over cityscapes and country vistas with photographers, pollinators, surveyors, or sightseers onboard, continuing a crash- and speeding-ticket-free record begun with the company's inception four years ago. The flight team acquaints new flyers with immediate actual flight experience during introductory flights and helps students to achieve private, commercial, and flight-instructor certification during FAA courses. As authorized merchants of Robinson aircraft, they can also hawk helicopters or perform maintenance on various models inside heated hangars without having to first notify the aircraft's next of kin.
1020 S Plant Rd.
Wheeling
Illinois
The Capitol Steps performers draw upon 62 combined years of congressional staff experience for material in their political lampoons. The group, which has recorded 30 albums and puts on four broadcasts every year on NPR, will dish up rollicking numbers from their latest release, Liberal Shop of Horrors. No party or politician—from Barack Obama and Hillary Clinton, to the Tea Party and Sarah Palin—is spared from the cross-hairs of their razor-sharp satire. Exercise your laughing muscles as the group mocks social issues including prescription drugs and the wobbly economy.
9501 Skokie Blvd.
Skokie
Illinois
US
---