Theme & Amusement Parks in Rome
---
Theme & Amusement Park Deals
---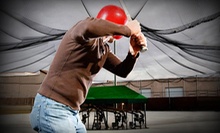 Batting cages help swingers fine-tune their stance in a baseball emporium stocked with balls, bats, cages, and equipment for all levels
---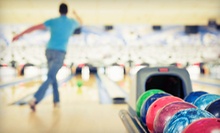 Clattering pins echo across 40 lanes in family-fun facility equipped with glow-in-the-dark mini golf, arcade, and onsite eatery
---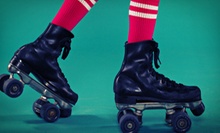 Pairs of partiers whiz around the glossy rink as popular music thumps and tinted lights dye the space pink and green
Use Saturday 12:00pm - 11:00pm
---
Recommended Theme & Amusement Parks by Groupon Customers
---
In 1976, busy California mother Joan Barnes wanted nothing more than to find a play place where she and her kids could enjoy age-appropriate, educational activities. Finding none, she developed her own innovative play environment within a developmental-based program structure now known as Gymboree Play & Music. Today, kids tumble and learn in locations around the world, engaging in open play and classes designed to build cognitive and motor skills. As parents participate in their child's development, their child learns to paint, play music, and interact socially outside of preschool knitting circles.
3718 Dallas Hwy.
Marietta
Georgia
770-499-0023
A motley collection of secure and sanitized play structures dominates each Catch Air location's indoor play arena to sate the lively imaginations of children as well as the safety concerns of their parents. Each of the four locations opens its doors seven days a week to unique lineups of attractions, including three-tiered castles covered in colorful nets and padding, with space shuttles attached to appease every child's love of anachronism. Tykes 12 and younger can wade through ball pits or take to an interactive, light-up dance floor to practice moves before they reach the age when practicing becomes embarrassing. The staff maintain a watchful eye at all times and clean every play structure daily before opening. Staffers also host parties to celebrate birthdays or the end of second-grade finals week.
2505 Chastain Meadows Pkwy. , Suite 103
Marietta
Georgia
678-809-3911
Kids slip down huge slides, scramble through obstacle courses, and bound within Mighty Jumps Party and Play Center's colorful assortment of inflatables. Basketball arcade games and air hockey challenge all ages to try their skills, and a toddler area shields tiny ones from too-large leaps. For parents, large-screen TVs, wireless Internet, and computer stations remain about an arm's distance from the play area, if that arm belongs to someone with exceptionally long arms. The staff specialize in hosting parties with packages including customizable add-ons, all-day admission for each guest, and cleanup.
1019 Collier Rd. NW, Suite B
Atlanta
Georgia
US
404-351-1818
Since its inception as a small park in 1990, Dixieland Amusement Park has grown to include more than 20 rides and attractions for kids and parents alike. From high-flying cable coasters to speedy go-karts, the park's attractions foster adrenaline-fueled joy, while the Digital Armory, a bustling arcade, transports visitors to a virtual world with motion sensors and laser tag. Dining areas pepper the park's walkways for between-ride snacks, and, come nightfall, fireworks fill the sky to entertain visitors and idling pigeons.
1675 Hwy. 85 N
Fayetteville
Georgia
US
770-460-5862
All year round, Nelson Field Laser Tag's battle zones join forces to send warriors into simulated combat. A field peppered with camo forts and towers at the Green Bay location scintillates during winter months as groups of up to 16 players use the scopes on heavy-duty, military-grade laser guns to pick off opponents and point out mustard stains on a teammate's pants. Meanwhile, unfolding across outdoor combat arenas, paintball and airsoft squads dip, dash, and dive behind natural and manmade barriers. Seven woodball fields camouflage matches amid troves of trees, and on an urban combat field, shooters utilize 19 buildings and one rogue hot-dog cart as shelter. Upon striking a truce, friends can reconvene at Nelson Field's onsite sports bars.
Though Nelson Field Laser Tag sometimes features a discounted price online, this Groupon still offers the best deal available.
755 Hank Aaron Dr.
Atlanta
Georgia
404-522-7630
---