Things to Do in Romeoville
---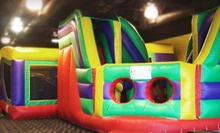 Indoor playgrounds house colorful, air-filled obstacle courses, slides, and bounce castles
---
Recommended Things to Do by Groupon Customers
---
Like at a medieval fortress, a two-story structure made of wood and stone towers over a pool of water. And like the garbage chute that empties into the open mouth of a moat's crocodile, two diving platforms and a water slide deposit swimmers into the main pool at Batavia Park District's Harold Hall Quarry Beach—a 60,000-square-foot swimming hole chiseled into a former stone quarry. Though visitors can always brave the free falls, a zero-depth edge allows for a more leisurely entrance into the water, where guests of all ages swim laps in the lanes, practice slam-dunking on one another under the basketball hoop, or pull themselves onto a wooden island to sunbathe. On the shore, landlubbers can relax at the picnic area or head to the beach-volleyball court to prevent lobstermen from stealing the net.
400 S Water St.
Batavia
Illinois
630-879-5235
Shrill giggles and the pitter-patter of tiny sock-swathed feet echo off the walls of Pump It Up, where lilliputian guests pinball through a metropolis of inflatable slides and bouncy enclosures. During glow pop-in play sessions, tykes frolic in the radiance of special lights, and in pirate-themed sessions, youngsters don costumes or just feel less self-conscious about the parrot permanently affixed to their shoulder. Small groups of ankle biters tear through the facility during private parties, plummeting down slides, scaling plush ladders, and bounding off of springy floors.
4995 Varsity Dr.
Lisle
Illinois
Ray Johnson was just a freshman in high school when he had an encounter with the paranormal. He and his younger brother were horsing around, running back and forth from the living room to the kitchen, where they saw their mother standing at the stove cooking dinner. The next time they entered the kitchen it was mysteriously empty, and Ray's mother came down from the upstairs apartment where she'd been all along. Ray and his brother could never explain the woman—or shadow of a woman—they'd both seen cooking that day, but it did spark Ray's interest in solving mysteries, leading him to become a criminal investigator and, later, a historical and genealogical researcher.
A Chicagoland native and history buff, Ray explores the legends and mysteries swirling around the Windy City—which fill his book Chicago's Haunt Detective, the blog he writes for ChicagoNow, and his narration during Voices From Beyond tours. Working with two paranormal experts who handle the technical side of ghost hunting, Ray leads walks through Elmhurst's spookiest sites, including the Elmhurst College Mill Theatre, the White Birch homestead, and Cottage Hill.
251 Walter Street
Elmhurst
Illinois
US
877-766-8662
The instructors at Law Weapons & Supply believe intelligence is as vital to responsible firearms handling as attitude and technical knowhow. That's why each of their classes, from basic pistol training to the Glock Operators and personal protection in the home courses, teaches beginner through advanced marksmen with a combination of classroom lecture, live-fire instruction, and approving head nods. Beyond the training facilities, Law Weapons & Supply extends to a pro shop and gunsmith, whose customization services include bluing and detailed cleanings.
17 W 727 Butterfield Rd.
Oakbrook Terrace
Illinois
US
---