Things to Do in Romeoville
---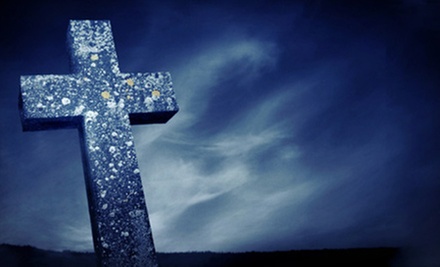 ---
Recommended Things to Do by Groupon Customers
---
Lombard Park District's Western Acres Golf Course features nine holes that unfurl across an expansive blanket of bluegrass characterized by mature trees, numerous sand traps, and three ponds that come into play on multiple holes. Each day from sunrise to sunset, the 3,051-yard course demands a repertoire of hazard-avoiding strokes, such as bending shots around imposing tree trunks or giving golf balls arm floaties to avoid sinking in the intersecting waterways.
Course at a Glance:
9-hole, par 35 course

Total length of 3,051 yards from the back tees

Course rating of 69.2 from the back tees

Course slope of 111 from the back tees
2400 W. Butterfield Rd.
Lombard
Illinois
630-469-6768
After running a daycare for 10 years and coming home at night to raise her own three children, Tiffani Wilson realized that sometimes parents need a night out. To meet this need Tiffani opened Just Kidding Around, offering parents the flexibility to drop off their kids aged 18 months–12 years for hourly stretches with no long-term commitment, contract, or promises to bring back their leftovers for the staff. Visitors are greeted by a DCFS-, first-aid-, and CPR-certified staff at the pristine, socks-only play area that combines a classroom, indoor playground, and kid-sized lounge. While under the care of Tiffani and her crew, kids take part in age-appropriate learning activities, such as studying math, science, phonics, and art, with plenty of time left over for educational games and video games. Additionally, healthy snacks are provided by Quality Catering for Kids for $5 per meal.
203 Yorktown Shopping Center, Suite 346
Lombard
Illinois
630-627-1300
From the moment she was born in Rome, Tiziana—who puts the T in Pilates by T—has dedicated her entire life to fitness. In 1991, she graduated from Italy's University of Physical Education before immigrating to the United States. In her new country, she encountered Pilates for the first time, and after 16 years as a student and eventual teacher, it remains her favorite form of exercise.
Certified in classic power Pilates instruction, Tiziana utilizes both mat work and reformer machines to aid her students in sculpting long, lean muscles. The exercises performed in her group classes and personal-training sessions focus on strengthening the core first and foremost, and the body gradually enjoys increased flexibility and improved posture. She keeps class sizes to a minimum to ensure personal attention to each student, to provide easy access to equipment, and to avoid frightening skittish Pilates mats.
49 1/2 S Washington St.
Hinsdale
Illinois
US
630-605-5226
Against the backdrop of towering trees, a massive stone turtle perches atop a 12-foot waterfall that flows into a sky-blue wading pool. Behold Tortuga, Turtle Splash Water Park's mascot and one of many whimsical, interactive structures that dot Turtle Splash Water Park's five acres. In addition to getting soaked under Tortuga's waterfall domain, visitors can clamor across the park's interactive water playground and soar down three types of water slides, including a 35-foot twisting tube slide. Turtle Splash Water Park also fosters a sense of community through water-powered revelry: Swimming lessons empower youngsters in the water, and special events throughout the operating season give patrons and kids a chance to meet neighbors and celebrate holidays.
129 West National Street
West Chicago
Illinois
630-293-6320
The air inside the facility fills with the rhythmic taps of green tennis balls volleying across courts, a staccato symphony punctuated by the grunts and whoops of players perfecting their game. A typical morning at The Naperville Tennis Club reflects its dedication to fostering an atmosphere of recreation while helping members achieve their personal bests. Alongside open play, a team of seasoned pros helms a host of tennis programs for adults and juniors that range from basic techniques to competitive training programs.
Away from the courts, the club's outdoor L-shaped swimming pool beckons aquanauts to leap from the diving board into six lanes of sparkling waters. Swim lessons help unleash kids' inner merpeople, and adult programs are a chance to interact with other grownups while doing laps and exchanging business cards midbackstroke.
1011 E Benton Ave.
Naperville
Illinois
630-355-5600
The pilots at Sun Aero Helicopters Inc. have been training pupils in the autogiro arts and transporting clients through the skies since 1991. Inside their base at Lansing Municipal Airport, aviators maintain a 12,000-square-foot hangar area and 3,000 square feet of training offices and high-speed computerized flight-planning facilities. Expert pilots impart their knowledge to up-and-coming FBI agents, police officers, emergency medical technicians, and leisure pilots during one-on-one training sessions in Robinson and Bell copters. Pilots also give landlubbers a skyscraper's view of Chicago's landmarks, such as US Cellular Field, the John Hancock building, and the Sears/Willis Tower. When they aren't transporting rally drivers, golfers, and famous wiffle ball players with private charter services, Sun Aero serves national media companies with aerial photography and land surveys.
160 N Robert T Palmer Dr.
Elmhurst
Illinois
708-895-8958
---