Romulus, MI Outdoor Activities
---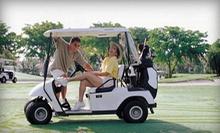 Sculpted into the landscape in 1956, the par-71 course enhances course challenges with undulated fairways, deep bunkers, and fast greens
---
Recommended Outdoor Activities by Groupon Customers
---
At Pine River Stables, experienced equestrians and instructors pair guests with patient, well-trained horses for lessons or scenic rides through more than 100 acres of rustic expanse. For more than 40 years, expert instructors have been teaching horsemanship and proper riding techniques. Trails weave throughout the land, leading riders over peaceful hills and meadows and alongside a seasonal creek that migrates south every winter to become a Florida beach rivulet.
1268 Stein Rd.
St. Clair
Michigan
810-329-2968
Arcadia Stables stretches out across more than 70 acres of picturesque riding trails, rolling hills, and verdant woods. Formerly Tic-Tac-Toe Farms, the equestrian facility is now under the ownership of Marian Lohff and Danielle Weddle, who have managed to complete a laundry list of renovations in recent years. The equestrian experts' hard work has helped to maintain the 100'x200' indoor arena, where riders can master the art of English-style riding during private and group lessons. Adjacent to the indoor arena, a heated observation room—complete with a kitchenette—lets parents keep an eye on lessons, saving students from the hassles of additional pressure or the stench of a parent who hid inside the manure pile just to feel more involved.
3915 Bald Eagle Lake Rd.
Holly
Michigan
248-634-5939
Gerald and Elisabeth Blake established Blake Farms in 1946 with the help of their 13 children. In the 60-plus years and several generations since, Blake's has spread their operation to three locations across the metro Detroit area. More than 500 acres of orchard and farmland compose the family business, and during certain seasons, that land allows average citizens a chance to give their robotic fruit harvesters a rest and come pick their own apples, strawberries, peaches, and pumpkins. Blake's becomes especially busy with the arrival of autumn, when it hosts an annual fall festival, and Christmastime, when its U-Cut tree program lets families team up to chop down their own tannenbaum.
71485 North Ave.
Armada
Michigan
586-784-9710
A 6-inch perch strikes a baited minnow, and then a 26-inch walleye inhales them both. The boy landing this prize catch—who also happens to be a first-timer—reels as his teammates cheer so loudly that Captain Alan Maier isn't even sure that his handling tips are audible over the excitement. Once the fish reaches the boat side, the captain nets the walleye and encourages the boys—all members of his grandson's little league baseball team—to capture the moment with a picture.
Maier charters fishing excursions for perch and walleye so that anglers of all ages can have memories like these, which prompt Maier to recall all of the trips he had with his dad that ended with one of them saying, "let's catch just one more." Welcoming parties aboard his roomy Thompson Fisherman boat—measuring 27 feet long by 10 feet wide and equipped with a sun-shielding hardtop—the licensed captain launches from various docks in the area and then heads toward the western basin of Lake Erie. Trips furnish all equipment, including bait, ice, and coolers to hold catches. Guests are also welcome to bring their own rods, reels, and lures shaped like BLTs.
6965 E Harbor Rd. , Slip 16
Marblehead
Ohio
330-414-7125
---