Ronkonkoma Gyms and Fitness
---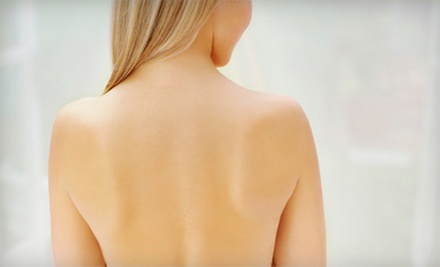 ---
Gym, Exercise, Weightloss Deals
---
Recommended Gym, Exercise, Weightloss by Groupon Customers
---
Self-improvement is a highly personalized goal that can take any number of approaches to achieve. Satya Yoga & Pilates attempts to incorporate as many of these approaches as possible, giving students the means to relieve stress, become more physically fit, or bolster their holistic well-being. There, students can design their own well-rounded workout regimen that emphasizes physical as well as mental health through yoga, dance, and Pilates instruction.
The yoga classes exemplify this flexibility through dynamic Vinyasa lessons that link poses to create seamlessly flowing sequences as well as gentler workouts that emphasize deeper, controlled stretching. Regardless of style, advanced yoga lessons continue to challenge attendees by introducing inverted poses, breathing techniques, and sudden-death overtime. The dance classes adopt a similarly broad approach, using belly dance and Zumba choreography to create cardio-intensive workouts or guiding students through the basic steps of international ballroom styles. Although Pilates focuses a bit more on building core strength, the sessions also emphasize the importance of measured breathing and controlled, mindful movements.
31 Rte. 25A
Mount Sinai
New York
Bikram Choudhury arrived in America in 1972, bearing a series of 26 poses that he was able to prove promote healing within the labs of University of Tokyo Hospital. Within a room of up to 105 degrees, he performed postures that stretched soft tissues, awakened joints, and set off floods of detoxifying sweat. This style caught on and eventually washed over American yogis like a heat wave, ultimately leading to the opening of Bikram Yoga Bayport.
Within the studio, instructors host 24 classes a week. They tailor certain classes for beginner through advanced students, offering pose modifications to suit each student's current skill level. The intense exercises can improve blood circulation and lung capacity, restore joint pliability, and impart the skills necessary to sneak up on your own toes by surprise.
889 Montauk Highway
Bayport
New York
631-472-9642
A featured instructor for ESPN Radio and Long Island Golfing Magazine, teaching professional Peter Stern assists students with game improvement through lessons held at Indian Head Golf Park. Peter instills the fundamentals of a proper golf swing, which hold up from tee to green with a focus on helping pupils replicate perfected mechanics long after the lesson ends. While the body learns to become one with the club, a video camera records the session so that students can see weak points for themselves rather than trading bodies with a misunderstood sibling. All lessons evade the elements either in Peter's indoor studio or outdoor covered teaching booth.
400 Old Northport Rd.
Kings Park
New York
631-834-6169
At CrossFit Stony Book, trainers lead groups through daily sessions of CrossFit, a fitness method that incorporates an assortment of functional movements into one high-intensity workout. Designed for all ages and fitness levels, each session focuses on a workout of the day, which may include a varied selection of pull-ups, squats, pushups, and other challenging exercises. With its ever-changing routine, CrossFit aims to increase strength, flexibility, and coordination while improving cardiovascular endurance.
22 Woods Corner Rd.
Setauket
New York
631-572-8255
Practice is the foundation of golf. Without it, the game can be frustrating, eventually sending golfers' into a fragile state of agitation. Knowing how important practice is, Indian Head Golf Park's instructors and staff focus their efforts on helping golfers improve their game. At the park's well-lit driving range, staff members keep golfers well stocked with buckets of range balls to blow off steam as they aim for the ball-retriever cart. Instructor Bob Greenstein works with students during private lessons to fine-tune their swings, and he hosts junior golf camps during summer to introduce youngsters to the game.
400 Old Northport Rd.
Kings Park
New York
Between Om Shanti Om Yoga Center's saffron-colored walls, eight gentle-voiced instructors guide students into meditative poses. They flow through a variety of positions, each designed to open up muscles while quieting the mind. The instructors have diverse backgrounds, which include degrees in math, doctoral degrees, and 30-year competitive-running careers. To introduce new students to the practice, Om Shanti Om offers a basics package, which includes beginners-only classes twice a week. There are also discounted rates available on more-advanced classes to encourage newcomers to test the waters of 75- or 90-minute classes, which involve finding the area under the curve of your back during each pose.
2 South Main Street
Sayville
New York
631-317-0737
---