Things to Do in Ronkonkoma
---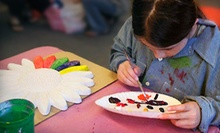 Use Saturday 7:30am - 10:30am
---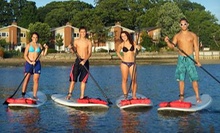 Use Friday 8:00am - 12:00pm
---
Recommended Things to Do by Groupon Customers
---
St. James 1st Tee Fitness & Performance guides golfers through a complete golf fitness and performance program that focuses on injury prevention and swing consistency. Titleist Performance Institute-certified fitness instructors teach the principles of mobility and stability, ideals that help a player generate swing speed while correcting bad posture or a tendency to sneeze out lunch during a backswing. The instructors begin by assessing a golfer's physical health and limitations as well as their swing style, then design a fitness program to address these issues. Golf-specific stretches and exercises focus on improving balance, endurance, and pre-tap-in ribbon dances, ultimately increasing the consistency of the swing plane and improving the ability to hit the sweet spot. Rehabilitated golfers can practice their new swings on the in-house golf simulator, which provides a respite from bad weather and the expensive greens fees associated with the real versions of famous courses, such as Pebble Beach, Pinehurst, and Bethpage Black.
430-7 North Country Road
St. James
New York
631-686-6600
Rising fog, flashing lights, and thumping techno beats set the scene for the laser-tag battles that unfold between stealthy bands of warriors beneath Laser Kingdom's black lights. Players suit up in specialized vests, clutching light-emitting weaponry as they enter the field where an overhead scoreboard tracks team scores and the game's best squeals of surprise when taken out by a well-hidden opponent. Afterward, patrons receive handouts that break down their individual performance that they can pore over to strategize for the next round or ditch in favor of playing one of the onsite arcade games.
544 Middle Country Rd
Coram
New York
US
631-698-0414
Pool players of all ages and skill levels can find all the right angles at VIP Billiards' 20 pool tables seven days a week. When not sinking shots into the spot's 120 pockets, cue hands keep busy with bottles of beer or a cocktail from the full-service bar, and all patrons can pass the time between games by throwing darts, sending ping-pong balls careening across tables, or using the WiFi to look up pro tips for applying chalk. VIP Billiards also opens up its space and all the attendant green felt surfaces for private parties, fundraisers, and APA league teams.
724 Montauk Hwy
Bayport
New York
US
631-472-1234
In 1976, Joan Barnes—a Californian mom frustrated with the lack of spaces where she could take her kids for safe and age-appropriate play time—took matters into her own hands and founded Gymboree Play & Music. In the decades since Gymboree's founding, Joan's vision of a safe place where youngsters could build confidence and creativity has come to fruition and spread to 30 countries around the globe. Staffed by attentive and expertly trained instructors, each Gymboree outpost adheres to a curriculum of activities designed by experts to foster the development of children's cognitive, physical, and social skills through structured play and close readings of Goodnight Moon. The staffers also conduct entertaining classes that cover subjects ranging from music to sports, imparting valuable lessons of imagination and physical activity to developing minds. To further set apart her business, Barnes employed nationally renowned playground designer Jay Beckwith to design the proprietary play equipment at her centers.
556 N Country Rd., Suite 10
Saint James
New York
631-979-2881
A seasoned watersports enthusiast from Fort Lauderdale, J.M. Kostallas tranfers his wealth of aquatic knowledge to beachgoers along the temperate waters of Long Island. The certified lifeguard and safety instructor leads all inaugural paddleboarding lessons, which emphasize form, balance, and the art of seagull intimidation in a supportive environment with only a few students at a time. Students can put their newfound skills to use in an eco-tour of the surrounding area or give paddleboard yoga a try. Kostal Paddle leads yoga sessions in the open water and at a Jewish Community Center pool.
7 Rail Rd. Place
Island Park
New York
516-967-9266
There are two ways to improve your appearance and mood at Prism Wellness: sit down in a salon chair, or stand up in a yoga pose. The salon's expertise ranges from cuts and coloring to Liscio thermal straightening and extensions. Over in the yoga studio, classes held seven days a week cultivate inner calm and balance, leaving patrons feeling as put together as a one-piece jigsaw puzzle.
420 Lake Ave.
St. James
New York
US
631-686-5415
---