Rose Hill, VA Health and Fitness
---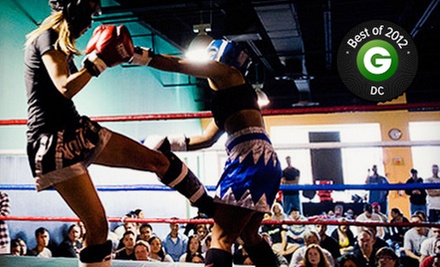 ---
Recommended Health & Fitness by Groupon Customers
---
With today's Groupon, $50 gets you a choice of three Pilates instruction packages at Mind-BodyFitness. Choose among 10 mat classes, two private sessions, or six group reformer classes. This isn't your typical introductory class discount—it's a complete instructional package designed to show you real results. At just $5 per mat class, $8.33 per reformer class, or $25 per private session, this deal is a no-brainer.
1209 10th St. NW
Washington
District of Columbia
US
Dr. Naik offers personalized service and family-friendly dentistry in a casual, relaxing environment. Our entire team cares about your total health and provides quality general dentistry, preventive dentistry, cosmetic dentistry, and restorative dentistry therapies for lasting smiles and whole-body wellness.
8230 Boone Blvd. , Suite 320
Vienna
Virginia
703-288-1800
Driven to share her passion for yoga with others, Quiet Mind Yoga's director Rita Maximilian left her career in business development and education-policy reform to become a yoga instructor. She and her dedicated instructors guide students of all fitness levels through a variety of yoga classes—with a focus on the Iyengar and Ashtanga practices—at Columbia Heights's first yoga studio. They help newcomers build a foundation for their practice during beginner sessions by walking pupils through standing and seated postures, and challenge more advanced students in intermediate-level Vinyasa classes that connect postures with athletic transitional movements, culminating in the secret yogi handshake. As a member of Live Green, Quiet Mind Yoga's studio provides environmentally friendly props, mats, and blankets to help students enhance their yoga practice while giving Mother Nature the day off.
3423 14th St. NW
Washington
District of Columbia
US
202-299-0111
Pole Pressure owner Jessalynn Medairy is an international pole-dancing performer, judge, and teacher. In 2010, she placed fourth in the US Pole Dancing Championship, she has appeared numerous times in Pole2Pole magazine, and she often performs for NATO. With these credentials, Jessalynn heads a team of certified pole-fitness instructors as they teach students the art of pole fitness in a variety of beginner, intermediate, and advanced pole-dancing classes. The instructors keep classes small to give students the one-on-one attention they need to master the sultry and muscle-toning spins, twirls, and climbs.
1111 14th St. NW
Washington
District of Columbia
410-952-0524
Today's side deal to Fitness on the Run gets you two personal training sessions for $55, up to a $160 value ($100 value for new clients). Many of Fitness on the Run's trainers come from busy careers in politics and government, so they know how difficult it is to make fitness a priority in the midst of a heavy workload and fast-paced career. Your trainer will provide the motivation and support, so all you need to do is pencil in your session. With a variety of specialties and approaches, your trainers will maximize your efficiency, for a workout that boasts better results with a decreased risk of injury from incorrect form or overworking. In an effort to help the procrastination-inclined, this Groupon expires on March 30, 2010.
109 S Alfred St.
Alexandria
Virginia
US
After crocogators, poor fitness is the number one cause of the night-scaries. With today's Groupon, turn the nightmare where you haven't exercised all semester and are naked on exam day into a toney vision of fit obliques and strapping deltoids. For $36, you get a three-class pass to GYROTONIC™ beginner group classes at Elements Fitness and Wellness Center in Upper Georgetown, a $105 value.
2233 Wisconsin Avenue NW, Suite 217
Washington
District of Columbia
---