Restaurants in Rosedale
---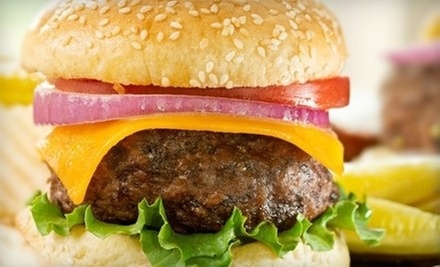 ---
Recommended Restaurants by Groupon Customers
---
The influences on the cuisine of Ramatou Fofana, the gastronomist who owns Mina's Delights, are widespread to say the least: her dishes sample from the culinary traditions of Africa, Europe, America, and Asia, and in particular France and West Africa. The restaurant was originally founded to serve crepes, which explains why the menu teems with sweet and savory versions of the treat, including a signature rainbow crepe topped with cherries, peaches, pineapple, and hazelnut crumbs.
Following the success of its crepes, the restaurant has expanded its repertoire to include European and African specialties. This means instead of shot-putting themselves to West Africa, diners can stay put to enjoy one of the region's popular dishes, thiebou jen, which pairs fresh veggies with spiced, stuffed fish.
222 N Charles St.
Baltimore
Maryland
855-810-8096
In 1957, while in the twilight of their careers as Baltimore Colts in the burgeoning NFL, Alan Ameche and Captain Gino Marchetti opened up the first Gino's with their pal, Louis C. Fischer. Through the years, the crew helped innovate the restaurant industry, especially with the Gino's Giant burger in 1966, whose triple-decker design arguably went on to inspire the multipatty burgers of other national fast-food chains. Ahead of their time, the team later cobranded with Kentucky Fried Chicken to bolster their menu and widen their appeal to the public before Gino's was acquired by the Roy Rogers brand in 1982, leaving many nostalgic for one of the fast-food industry's originals.
It wasn't until 2009, when Tom called up Gino to pose the idea of bringing Gino's back, that fans of the eatery could begin to quell their well-documented nostalgia in anticipation of enjoying Gino's special recipes once again. Today, the menu boasts off-the-grill burgers, more than 100 flavors of real ice-cream shakes, and the return of the Gino's Giant, slathered in a secret sauce that was kept secret all these years by hiding it inside a modern-day football.
8600 LaSalle Rd.
Towson
Maryland
410-583-0000
In a warm family home in Calabria, Italy, young Aldo Vitale grew up amidst artisans and apprenticed in his father's woodworking shop. Though he developed a craftsman's skills, he was more deeply influenced by the family's kitchen, which, true to Italian tradition, was the axis on which the entire house revolved. Upon emigrating to the US in 1961, Vitale enlisted in the army only to end up bounced right back to Italy, this time stationed around Florence and Siena in Tuscany. Heeding his homeland's obvious role in his destiny, he honed his culinary skills there before returning to Baltimore, where he refined his style in local kitchens before opening Aldo's Ristorante Italiano.
With a Tuscan wine cellar, crimson-hued library, and airy main dining area tucked inside the shell of two converted brownstones, Aldo's opulent decor has since earned effusive press acclaim. The New York Times tells patrons they can "expect to be treated like royalty" in the "oh-so-grand atrium dining room," and _USA Today recommends it for "special occasions, when you want to dress up." The restaurant's splendor also bears a personal touch—drawing from his woodworking ancestry, chef Vitale himself carved each piece of elaborate woodwork on display, including the mahogany bar.
Chef Vitale's background also emerges in his balanced Southern Italian cuisine, which prioritizes subtle harmonies of bold, simple flavors. Local and organic ingredients shine on a menu that evolves regularly to incorporate seasonal truffles and myriad housemade products, helping Aldo's earn spots on Baltimore magazine's 2010 and 2012 Best Restaurants lists. Cold antipasto plates draw from a climate-controlled artisanal cheese cave on the premises, and housemade sausage pairs with fresh orecchiette pasta and parmigiano reggiano. For meaty main courses, chefs grill double-cut Prime Wisconsin veal chops as well as prime filet mignon, which they pair with seared foie gras and wild mushrooms.
To ensure an apt pairing with each dish, Chef Vitale stocks his redwood wine cellars with thousands of bottles carefully curated from a blend of prominent wineries and obscure small-batch producers. The resulting wine list comes annotated with tasting notes, Wine Spectator-numerical ratings, and helpful servers that happily recommend or improvise musical numbers about any given bottle.
306 South High St.
Baltimore
Maryland
The chefs at India Palace embrace traditional Indian recipes and cooking techniques, customizing the spice of each entree to meet diners' preferences. In the kitchen, an imported tandoor uses smoldering mesquite charcoal to raise temperatures within its clay walls up to 550 degrees, roasting marinated servings of chicken, lamb, or shrimp as thoroughly as a deep-fryer full of magma. For their vegetarian options, the chefs can toss vegetables with house-made cottage cheese or aromatic basmati rice.
According to Patch, India Palace also features a small market next door to the restaurant, which emphasizes fresh produce, assorted varieties of rice, and traditional spices from India and South Asia.
35 Cranbrook Rd.
Cockeysville
Maryland
Behind ground-to-ceiling glass windows, giant butterflies flutter in the sunlight. Though they're only paintings, they cheerfully greet visitors to Vernisage, introducing the upscale restaurant's often-whimsical atmosphere. Despite the lighthearted decor, chefs practice serious interpretations of traditional Russian, Eastern European, and Middle Eastern fare. They craft grilled shish kebabs, peppery dumplings, crepes, and hearty Russian stews using the same recipes that czars once used to melt invading snowmen armies. Servers pair both chilled and hot fare with a range of Georgian, Russian, and European wines to evoke exotic flavor bouquets. A large main dining hall can accommodate grand banquets, while a separate private dining room hosts smaller groups of up to 30 revelers or 60 children standing on each other's shoulders.
1004 Reisterstown Rd.
Pikesville
Maryland
410-484-7701
In the black-and-red dining room, underneath hand-chalked blackboards that proclaim daily specials in bold print, fresh-baked pies travel from oven to table loaded with toppings. The customized pizzas come in two shapes, the traditional round 18-inch pies and the 'slyce' pizzas, which, like the holes in many Venetian canal walls, are canoe shaped. The outdoor patio lines each side of Home Slyce's corner building, where wings, sandwiches, and calzones wash down easily with craft brews, wines, and domestic drafts.
1741 Light St.
Baltimore
Maryland
443-501-4000
---