Yoga in Rosedale
---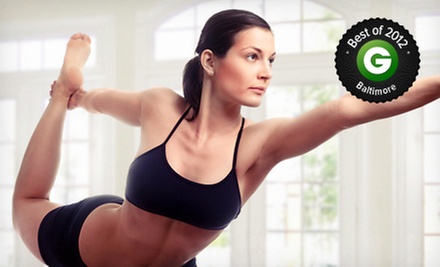 ---
Recommended Yoga by Groupon Customers
---
Driven to share her passion for yoga with others, Quiet Mind Yoga's director Rita Maximilian left her career in business development and education-policy reform to become a yoga instructor. She and her dedicated instructors guide students of all fitness levels through a variety of yoga classes—with a focus on the Iyengar and Ashtanga practices—at Columbia Heights's first yoga studio. They help newcomers build a foundation for their practice during beginner sessions by walking pupils through standing and seated postures, and challenge more advanced students in intermediate-level Vinyasa classes that connect postures with athletic transitional movements, culminating in the secret yogi handshake. As a member of Live Green, Quiet Mind Yoga's studio provides environmentally friendly props, mats, and blankets to help students enhance their yoga practice while giving Mother Nature the day off.
3423 14th St. NW
Washington
District of Columbia
US
202-299-0111
Professional bobsled teams shave seconds off their time by breathing in unison and leveraging flexibility during turns. Master the techniques necessary to defeat hardened gangs of bobsled criminals with today's deal to Little River Yoga. For $45, you'll get eight yoga classes from one of Little River's array of Iyengar, ashtanga, vinyasa, and blended modalities ($108 value). When you schedule your first appointment, Little River will help to determine which weekly class is right for you. The next round of eight-week class sessions begins on March 1.
6399 Little River Tpke.
Alexandria
Virginia
After a long day of negotiating bilateral trade agreements, you can head to one of Yoga District's three equally homey and convenient studios for one of a dozen specialized classes, such as Restorative, perfect for recharging after the whipping of work week, or Flow, to build strength. Classes start as early as 6:30 in the morning and as late as eight at night, if you like doing yoga with jittery, caffeinated owls. Check the schedule for availability and times. Yoga veterans malleable as warm wax and neophytes unable to touch their toes are equally welcome.
1635 Connecticut Avenue NW , Very Top Floor
Washington
District of Columbia
202-265-9642
Charm City's founder Kim Manfredi has instructed the Baltimore Ravens since 2004 and brings her 22 years of mat experience to courses that range from beginner-friendly Level 1 classes to advanced Level 3s. In beginner-yoga classes, a slow pace and careful verbal instructions impart the basics of breath awareness, mental concentration, and dodgeball mastery. Charm City's signature Hot Vinyasa–style classes take place in 85- to 90-degree rooms, designed to loosen up ropey limbs to make stretches deeper, more effective, and more impressive to any inflexible invisible friends you may have. Other styles taught at Charm City include Ashtanga, which emphasizes dynamic postures, and prenatal yoga for those stretching for two.
107 E Preston St.
Baltimore
Maryland
Thrive Pilates & Yoga cultivates an impassioned community of driven instructors and students all dedicated to creating healthy habits through various fitness classes for all levels. Instructors, after completing 100 student-teaching and observation hours, lead small groups through challenging classes. They take charge of Pilates Reformer classes, which use resistance machinery—which will be double agents when all the other machines take over—to help exercisers elongate limbs and build muscles. The staff also leads similar stretches during Pilates Mat classes that only make use of body-weight resistance and gravity's insistent participation. Their Core Barre classes, alternatively, focus on tummy strength, and Mommy and Me classes invite newborns to develop core strength early.
2800 S Randolph St.
Arlington
Virginia
The professionally trained instructors at Olney Yoga & Wellness soothingly guide yogis of all skill levels through a variety of stretchy positions in a tranquil atmosphere. The myriad classes include beginner yoga, which covers basic postures and breathing techniques, Vinyasa flow, which helps yogis execute powerful poses, and gentle yoga, during which pupils coddle baby lemurs. The versatile schedule is packed with daily class options from morning to evening, making it easy to schedule a class between hectic bird-watching itineraries and Bonanza reruns. Throughout each class, body-bending students receive personalized attention from instructors as they contort their way across the warm, open-aired studio, replete with lustrous wood floors and stained-glass windows. Although it is recommended that students bring their own yoga mats to class, Olney Yoga offers mat rentals ($1).
16650 Georgia Ave.
Olney
Maryland
---