Rosemont, CA Drs and Health Practioners
---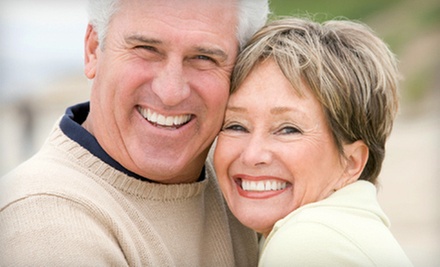 ---
Drs & Health Practitioners Deals
---
Recommended Drs & Health Practitioners by Groupon Customers
---
Solving your pain and stress problems through massage!
717 K Street, Suite 500
Sacramento
California
US
916-534-8772
The downtown-based Asian Therapeutics' balancing acupuncture wellness treatment is the espresso of acupuncture, packing a hefty dose of therapeutic benefits into the tiny cup of your body. One of the licensed acupuncturists will isolate 11 acupuncture sites along your arms and legs and insert thin needles into these predetermined zones of mystical convergence, which is said to relieve tension, improve circulation, promote digestive health, and strengthen the immune system and lungs. Some people may feel a slight prick upon needle insertion and an ache when the needle is set to the correct depth; many people feel deep relaxation or energetic stimulation during the course of the treatment. There is no need to disrobe for the 30-minute treatment, as manipulation points are located primarily on the arms and lower legs.
1008 S St., Suite B
Sacramento
California
Arena Family Dental Care's team of dental professionals are committed to continuing their own educations with lectures, meetings, and conventions that keep them abreast of the latest techniques for healthifying Sacramento-area smiles. Dr. Merlin Lai will peer deep into your mouth for signs of trouble, take pictures of your teeth for Arena's yearbook, and address any concerns, pains, or existential ennui before de-gunking your charming chompers. The meticulous cleaning gives the heave-ho to any tartar and plaque buildup, clearing the way for future generations of inevitable meal remnants. You'll leave with a smile bright enough to melt hearts, including your own, so be careful around mirrors. Youthful sets of mouth-bones will also get a slathering of fluoride, the chain mail that protects teeth against decay's sharp sword.
4050 Truxel Rd., Suite B
Sacramento
California
916-515-1764
Board-certified surgeon and vascular specialist Dr. Syd Garfinkle has been practicing medicine in the Sacramento area for more than 35 years. Over three and a half decades, he has become an expert at wiping out unsightly veins using a variety of nonsurgical methods. During sclerotherapy treatments, Dr. Garfinkle uses injectable medications to collapse and dissappear spider veins while diverting blood back into healthier vessels. Alternatively, for vericose veins, he can guide a thin laser fiber into the veins to zap them shut during endovenous laser treatments (EVLT).
4944 Sunrise Blvd., Suite G
Fair Oaks
California
Smiles West's dentists and oral specialists tackle all levels of dentistry from general exams to orthodontics, oral surgery, and cosmetic whitening. Each of the seven locations uses state-of-the-art equipment—including intraoral cameras and digital x-rays—to provide the most thorough examinations possible. During more intensive procedures, they enhance comfort by administering sedatives or sprinkling teeth with fairy dust.
3428 Watt Ave.
Sacramento
California
Under the direction of Dr. Paris E. Royo, a board-certified ophthalmologist and refractive surgeon, the staffers at Royo Eye and Laser Center dedicate themselves to bringing the world into focus for their clients. They bring years of experience to every service, from basic eye exams to more intensive procedures such as LASIK, reconstructive surgeries, and implanting 3-D glasses. After meeting with doctors, patients can browse an optical department that sells name-brand frames or tend to the rest of the face with cosmetic services, including Botox and dermal fillers.
1524 Eureka Rd., Suite 100
Roseville
California
916-783-7696
---