Gyms & Fitness Centers in Rosemont
---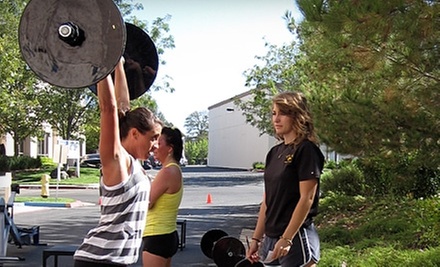 ---
Gym & Fitness Center Deals
---
Recommended Gyms & Fitness Centers by Groupon Customers
---
Walking into the weight room at The Capital Athletic Club, visitors may think they've stepped into a European cathedral. Vaulted wood ceilings soar above resistance machines and free weights, immersing exercisers in a light, airy atmosphere and allowing trainers to participate in the annual Bring Your Giraffe to Work day. Dozens of classes cater to group fitness in four wood-floored studios and a heated, outdoor pool ensures comfortable laps regardless of outside temperature. Enthusiastic, highly qualified personal trainers collaborate with members, helping craft new programs for beginners or enlivening veterans' tired routines.
The club's amenities mirror its luxurious appointments, with each full member receiving a permanent locker for stashing clothes and parking meters you tore out of the ground with your bare hands. The staff launders workout clothes overnight, freeing up members' time for relaxing in the expansive saunas and steam rooms. WiFi facilitates impromptu business meetings and spa services offer relaxing treatments.
1515 8th St.
Sacramento
California
Like any good personal trainer, Get Fit Sacramento's staffers relentlessly pursue their clients' fitness goals, but they don't limit themselves to one-on-one sessions to do it. Instead, they supplement individual training with group fitness classes, Zumba, and R.I.P.P.E.D. workshops, all held within their fully equipped facility. They toss in even more benefits for members that work outside the gym, such as supplying an e-cookbook full of healthy recipes or teaching pet dogs to say "Feel the burn!" Inside the facility, students whip around jump ropes, use BOSU balls to deepen pushups, and grunt in time with the clangs of weight-training machines. Slate gray equipment punctuates the expanses of teal blue walls along with motivational posters picturing sweating, smiling exercisers being chased by a sleuth of bears.
8391 Folsom Blvd., Suite 9
Sacramento
California
916-383-0123
The press certainly likes California Family Fitness, granting the exercise venue such awards as a top spot on KCRA-3's 2012 A-List and Sacramento News and Review's Best of Sacramento 2012 Award. The press, however, isn't the top priority for the gym's staff; they believe that, to quote their about CFF page, "awards don't greet you at the door." Instead, they depend upon their dedicated staffers at the front desk, chaperones at the Kidz Club play zone, and personal trainers to make families of clients feel at home. Certified personal trainers take aspiring exercisers of all ages through regimens that make use of the 16 available locations' ample workout machinery. Seasoned instructors, meanwhile, hold group fitness classes, free with a membership, fostering community as they incinerate calories during high-energy Zumba, step aerobics, Turbo Kick, and Hip Hop Hustle. Nine of the locations boast pools that host swim lessons taught by certified water-safety instructors.
While hitting the gym, parents can drop wee ones at childcare havens lined with playgrounds and age-appropriate investment manuals. After breaking a sweat on the exercise floor, clients can also shed excess body moisture in saunas and tanning beds.
8680 Greenback Ln.
Orangevale
California
916-988-7900
Ever since he was a kid, JC Charles has been bursting with boundless energy. Throughout high school and college, he spent all of his free time playing on football and basketball teams. As an adult, this abundance of energy would eventually land him a career in the fitness industry, fueling him through years of personal training and fitness management in gyms throughout California.
Today, JC continues to pull from his mighty athletic spirit at his own fitness studio—Elite Fitness and Performance. Amidst the studio's exercise machines, mats, and free weights, JC and his team of certified trainers lead personal-training sessions, boot camps, and sports-conditioning classes throughout the week. Through their creative and challenging classes, the instructors aim to improve students' level of fitness and overall wellbeing, as well as help them achieve goals such as losing weight, toning muscles, and scaling Mount Everest in a single back flip.
1770 36th St.
Sacramento
California
877-334-8338
There are no mirrors inside the Bodytribe Fitness gym. When explaining this to reporters from Sacramento News & Review, founder Jeff Conrad explained, "I don't care about what people look like when they come to my gym. And I want them to not care either, at least for that hour." A freethinker, musician, and fitness aficionado, Jeff challenges current fitness trends and their emphasis on aesthetic appearance inside his unique gym, where he requests that clients silence any cellphones or Theremins they may have on them. Amidst the kettlebells, free weights, and pull-up bars, Jeff and his trainers guide students of all fitness levels through functional workouts that focus on building strong and fit athletes rather than what he calls "pretty little flesh packets".
The seasoned and dedicated trainer is also an avid writer—you can find his fitness philosophy and workout advice in magazines, newspapers, and in his book, Lift With Your Head.
920 21st St.
Sacramento
California
916-752-1498
After earning a degree in kinesiology in 1991, Jill Dailey McIntosh gravitated toward Pilates. She began training other teachers and helped run a personal-training and Pilates business, but she wasn't completely satisfied. She wanted her clients to be able to shape their bodies more aggressively without losing the proper alignment and form in a classroom-like setting. After visiting New York several times and training under Lotte Berk instructors, Jill was inspired to create her own fitness modality. Combining her background in kinesiology, personal training, and dance, she developed The Dailey Method. Today, her method has spread to more than 40 locations throughout the United States, Canada, and France.
A blend of Pilates, ballet, and yoga, The Dailey Method helps students strengthen and stretch the body's major muscle groups. Jill designed the low-impact classes to challenge bodies, minds, and spirit alike as students build their cores, align their spines, and tone lean muscles. Instructors help students master the proper form for each motion, whether they're swinging dumbbells or bellying up to the barre to work their quadriceps.
1611 Lead Hill Rd.
Roseville
California
US
---