Tanning Salons in Rosemont
---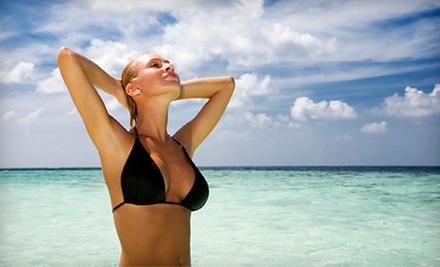 ---
Recommended Tanning Salon by Groupon Customers
---
At EyeCandy Sunless Spa's two locations, the staff specializes in custom airbrush spray tans and eyelash extensions. All spray-tan and eyelash artists are licensed cosmetologists or aestheticians, led by owner Meri, a beauty industry and tanning veteran. Along with bronzing bods and beautifying eyelash fringe, the spa also offers teeth-whitening services.
2011 P St., Suite 100A
Sacramento
California
Utopia Tanning & Spa bills "tanning" ahead of their other services with good reason: they offer three different approaches to getting a sun-kissed glow. In addition to traditional UV tanning booths, techs apply custom tans by hand or help clients into their Mystic spray-tanning booth. Dr. Gallacher, a certified dermatologist and laser surgeon, bolsters the spa's menu by providing more intense treatments through her own location in Danville. Meanwhile, on-site experts wax away fuzz, apply facials to ward off blemishes and wrinkles, and knead tense muscles. They also diminish the appearance of cellulite with red-light therapy booths and lengthen tresses with natural hair extensions donated by organically grown humans.
158 Sunset Dr.
San Ramon
California
Behind the verdant palm fronds painted onto Tropical Island Tan's front windows, three levels of UV beds and trained tanning technicians stand ready to impart skin with a summery hue. The staff loads up airbrushes with an aloe-based Swoosh Sunless tanning solution, then coats bodies in two layers of the spray to ensure full, long-lasting coverage in the face of swimming, showering, or napping in a fountain. Outside the private-tanning rooms, the staff displays Designer Skin, OC, and body butter products and helps tanners select the best regimen for their skin type and desired bronzing level.
8909 Thornton Rd., Suite 3
Stockton
California
209-952-2122
For nearly 20 years, the tan technicians at Soleil Tanning Salons have transformed pasty soul sacks into bronze living statues using UV and UV-free tanning techniques. Before tan sessions, friendly staffers educate patrons on how to get the most out of tans by using tanning lotions designed to stimulate melanin and extend the life of darker dermises. Soleil Tanning Salons are equipped with standing and horizontal tanning beds as well as UV-free MagicTan booths. The automated process typically takes 60 seconds and gives skin a golden glow thanks to micromists of custom tanner. No matter what bronzing method is chosen, tanners can rest easy knowing they will avoid burns associated with sunbathing atop radioactive beach towels.
458 Santa Clara Avenue
Oakland
California
510-625-1155
Behind each door in R U Tan's spa-like facilities lie state-of-the-art tanning beds that vary in strength and style. The tanning center's certified consultants can help bronze enthusiasts select the best bed for their skin type or help assemble a tanning plan that combines sessions in the standup bed, the plush Extreme bed, or the Hydration Station bed that resembles Woody Allen's time-traveling vessel in Sleeper. Experienced spray-tanning techs provide an alternative to UV-ray bathing by instantaneously coating the skin in an even, natural-looking tone.
2318 K St., Suite A
Sacramento
California
916-706-3285
Spray Tan California's airbrush artists, Regina Milliot and Meg Secrist, are preservationists at heart. Both women spent hours in the sun during their salad days, a practice they realized was harming their skin when it began to discolor and grow parched in spite of oils and raspberry vinaigrettes. They turned to spray tanning to protect their health, intent on maintaining their signature "savage" tans. Today, the two technicians envelop clients in a fine mist of eco-friendly DHA (an FDA-cleared compound that helps the top layer of skin develop a darker hue) and organic aloe, organic essential oils, and hyaluronic acid to keep skin soft and youthful. Their handiwork has perfected the complexions of the Golden State Warriors cheerleaders, and can be procured at their studio or called out to locations throughout the Bay Area and Sacramento.
35 Gravatt
Berkeley
California
---