Yoga in Rosemont
---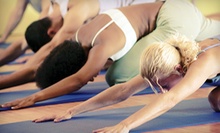 Combination of slow-paced, fast-paced, and restorative poses engages various muscle groups and keeps students on their toes
Use Saturday 7:30am - 10:30am
---
Recommended Yoga by Groupon Customers
---
7th Heaven's flexible schedule offers more than 60 classes per week, ranging in styles from Ashtanga Flow to Vinyasa to Deep Flow. The studio has options to suit every lifestyle, including those of expectant mothers and expectant Juggalos. Classes are drop-in and are offered from moonset to moonrise, seven days a week. Yoga is a great way to stay toned and limber while temporarily storing worldly worries in a drawer with knick-knacks, spare change, and shrunken heads. Lock those worries away and kick-start a yoga journey guided by one of the studio's skilled teachers.
2820 Seventh St.
Berkeley
California
Though students chatter amicably in the main lobby, the atmosphere is completely silent and serene within Bikram Yoga Elk Grove's bright, sunlit studio. There, yogis of all shapes sprawl out on colorful mats and towels, stretching and meditating in the sauna-like air, which is heated to 105 degrees to aid flexibility and draw out toxins. When class begins, students follow a certified instructor through 26 postures and two breathing exercises, occasionally sitting on their mats to rest and relax. After class, they head back to the lobby to rehydrate or head to the locker room to check their cell phones, pagers, or portable telegraph machines—all of which instructors request stay outside the studio. Students of all levels and athletic abilities experience the benefits of these sessions, including enhanced strength, reduced stress, and increased energy.
9384 Elk Grove Florin Rd.
Elk Grove
California
Flying Yoga owner Laura Camp draws on her experience with contemporary dance, circus aerials, and various yoga modalities to create her studio's curriculum, incorporating elements from a number of strength disciplines to ease students into a new practice or push seasoned exercisers to the next level. Laura cultivates a noncompetitive, judgment-free atmosphere where guests can feel comfortable trying their hands, arms, and legs at Ashtanga- and Vinyasa-style yoga poses, engaging Zumba dance steps, and muscle-sculpting body-weight exercises while hanging safely from a TRX suspension system. Throughout each class, instructors encourage pupils to modify techniques or utilize the center's posture-aiding blocks and straps to accommodate physical limitations or injury. Instructors keep students engaged in workout sessions by playing music during class or ratcheting the temperature up to 90 degrees, which helps to purge bodies of toxin-laden perspiration and parasitic ice sculptures.
4308 Telegraph Ave.
Oakland
California
After turning to Bikram yoga to ease her chronic hip, shoulder, and hand pains, seasoned yogi Patty Gray realized a dream in bringing this healing practice to her own community. At Bikram Yoga Granite Bay, she leads a diverse team of certified instructors—which includes a dietitian, a marathon runner, and a former DJ—that helps students of all ages and abilities reach their fitness goals with 26 dynamic postures. These postures, or asanas, include both seated and standing positions and are performed in the detoxifying humidity of a 105-degree room. During each 90-minute sweat session, instructors help students to let go of their competitive nature while improving their strength, balance, and ability to fold themselves neatly into a suitcase.
4067 Cavitt Stallman Rd.
Granite Bay
California
916-797-9829
The 7 experienced instructors at Yoga Sol harmonize their disparate backgrounds to bring students a well-rounded yoga practice. Owner Tara Clay brings expertise in clinical psychology, whereas CJ Lamborn contributes her experience as a Pilates instructor and understanding of the healing power of yoga. Marlena Salinas has a compelling story—trained as a hypnotherapist, she started practicing yoga after the birth of her son and uses language to help clients release pain as well as gain confidence. This is just a snapshot of the studio's staff, but it embodies the wealth of knowledge behind each session, be it Hot Yoga, Vinyasa Flow, Power Yoga, or restorative Yin. The instructors teach students of all experience levels, tailoring sessions for injured participants, expectant mothers, and people who are primarily made out of pretzels. Practice areas adjoin a retail space with yoga mats and blocks.
5416 Ygnacio Valley Rd., Suite 30
Concord
California
925-288-9642
Part of yoga's beauty lies in its adaptability. Whether performed by an experienced practitioner or a first-time student, the postures can be modified to become simpler or more complicated. For students looking for an added level of impact, another variable awaits: heat. During sessions at Bikram Yoga Lincoln, instructors lead students of any age or ability level through a series of 26 postures and two breathing exercises in rooms infused with sultry waves of super-heated air. Deep breath work awakens the body with a refreshing jolt of oxygen before muscles, ligaments, and joints shed stress and stiffness. A final series of balancing postures closes classes, as students push the limits of their concentration, patience, and prior training as a unicyclist.
Illuminated with natural light coursing in through a wall of large windows, Bikram Yoga Lincoln's studio is lined with a sweat-proof and antimicrobial Flotex floor. Guests are invited to converse with peers either before or after sessions in a community lounge, and enjoy a refreshing cool down in spacious steam showers.
785 S Hwy. 65, Suite 20
Lincoln
California
916-408-3900
---