Things to Do in Rosenberg
---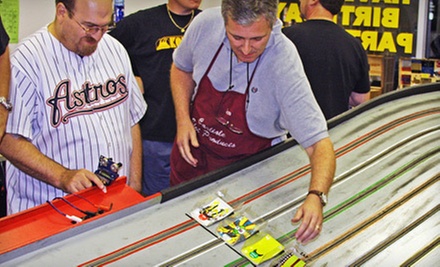 ---
Recommended Things to Do by Groupon Customers
---
Tank's Paintball Park ensures safe battles for beginner and advanced gunsmiths with referees certified by the World Paintball Federation, safety briefings, netting around the fields, and thorough marker testing before each round. After snipers strap on protective gear, Tank's constantly evolving fields host play with frequent upgrades that generate new experiences for returning clientele and prevent debilitating battle flashbacks. A covered staging area accommodates more than 100 visitors between sessions with comfy chairs and benches as well as concessions and a snow cone stand for pregame or postgame energy boosts. Back at the headquarters, Tank's pro shop stocks players' arsenals with paintball essentials such as goggles and vests that allow fearless ambushes and midbattle fashion shows.
899 Westgreen Blvd.
Katy
Texas
281-492-2301
Diving behind a stack of paint-splattered tires on the speedball field, the player catches his breath before unleashing fire on an opponent, who peeks out from behind a wooden spool. Next, they weave through brush-lined trails and take aim from lean-tos on the castle course or crawl through the tubes that throng the hyperball field. Before they commence these bouts on one of Brazos Splat Games' five fields, however, guests shield themselves in protective goggles and ready their semiautomatic markers in the netted staging area. Trained referees oversee 15- to 30-minute games that rotate through a variety of scenarios including Capture the Flag, Elimination, and Name That Rembrandt.
22011 Southwest Fwy.
Richmond
Texas
281-342-5885
The Katy Home & Garden Show—where expert contractor John DeSilvia, a familiar face on various DIY Network programs, will speak—inspires homeowners with access to dozens of home-improvement businesses. From fundamental services such as homebuilding and landscaping to design details including lighting, blinds, and curtains for garden-gnome homes, attendees can seek out the advice of a diverse panel of area professionals. Additional attractions include design seminars with Susan Fruit as well as a gift market and gourmet-food samples.
6301 S Stadium Ln.
Katy
Texas
832-492-1144
With more than 10,000 square feet of training space and 6,000 items available in its pro shop, Bases Loaded supplies baseball and softball enthusiasts with all the practice and gear they need for success on the diamond. Players 6 to adult can hone their swats within air-conditioned batting cages fortified with pitching machines by ATEC, Beta, and Iron Mike, each a high-grade mechanical hurler that never misses a throw or sets a bad example by chewing motor oil. Elsewhere in the facility, 2,000 square feet of free weights and conditioning equipment help athletes optimize their bodies' performance, and a snack bar replenishes burnt calories. Surrounded by flat-screen televisions, a sitting area offers a place to rest.
The retail shop at Bases Loaded stocks a huge inventory of gear by top-name brands. Full sets of catcher's gear come with free pairs of knee protectors, and adult bats by Louisville Slugger, Rawlings, DeMarini and Easton help batters better point out airplanes flying over the outfield wall.
14639 Beechnut St., Suite A
Houston
Texas
US
832-328-4600
When Henry Harvey went to the University of Houston in 1975, he realized the dance moves he'd picked up at high school in Fort Worth were more valuable than he thought. In fact, he gave lessons to new people in the area who wanted to fit in on the dance floor. Years later, his wife decided they should start dancing together. "I went to dance class and found out they were doing the same things I was 10 years before," he said. Taking stock of his management abilities and previous dance experience, he realized he had the opportunity to be successful, so he brushed up his skills and founded High Steppers Dance Troupe LLC in 2007.
At locations throughout the area, Harvey and his team of instructors teach the Houston two-step—set to cool urban R&B tunes—as well as swing-out dancing and line dancing. He claims that his students, many of which are aged 40 and older, come not only for the health benefits of dancing for two hours, but also for the atmosphere, which he calls "very upbeat and very festive." His dance classes can also act as a stress reliever after a long day at work. "They get into dance class and they're rejuvenated," Harvey says.
In addition to dance lessons, the group takes charter buses on regional trips and hosts 2–3 showcases per year, where students regale audiences with a synchronized dance routine. At their social dances, a DJ spins tunes as students get the chance to put their lessons into practice and leave behind their days of doing the worm shyly on the dance floor sidelines.
4521 Hwy. 6 N
Houston
Texas
713-899-7812
---