Beer, Wine & Spirits in Roseville
---
Beer, Wine & Spirits Deals
---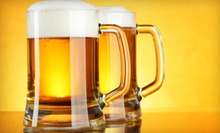 Home-brewing kit quickstarts batches of ales, lagers, and stouts; wine-making kit come with ingredients for white or red wine
---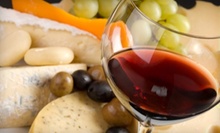 Vintners host wine tasting that features grapes grown and bottled on Chateau St. Croix's 55-acre grounds.
---
Recommended Beer, Wine & Spirits by Groupon Customers
---
Offering more than 300 varieties of cheese from 15 countries, Surdyk's provides one-stop shopping for cheese aficionados, party planners, plasticine Englishmen and their put-upon dogs, and nests of mice disguised as parka-wearing human shoppers. Liven up your next book club, Civil War re-creation meeting, or Civil War creation meeting with the Australian Roaring '40s blue, English Colston & Basset Farmhouse Stilton, and Stinging Nettle Gouda varietals. Tongues frightened by the thought of pronouncing Ekte Gjetost can cheese it a little closer to home with domestics such as Constant Bliss from Jasper Hill Farm, 10-year-aged cheddar, and Cypress Grove Midnight Moon. If you're not sure which variety is best for party platters or swan-shaped centerpieces, Surdyk's knowledgeable cheese consultants will happily impart their know-how and enthusiasm to anyone who asks. And because man does not live by cheese alone, Surdyk's 12,000-square-foot store also provides plenty of wine and deli-pairing options to further pique the palate.
303 E. Hennepin
Minneapolis
Minnesota
A Minneapolis fixture since the glaciers receded and left early Minnesotans with the desire for a strong, strong drink, the 8,000-square-foot Broadway Avenue Merwin houses more liquid libations than Dionysus's former home, the Alpha Sigma Sigma fraternity house. Globetrot through German, Belgian, Irish, and domestic craft beers; $10 six packs of New Grist gluten-free beer are also available. Merwin adds elegance to candlelit evenings with a wine selection more diverse than the types of mold that grow on an old set of dentures. Harder stuff such as $10 1-liter bottles of Black Velvet whiskey and Clan McGreggor scotch ($14 for 1 liter) warms any chilly evening. With Bombay Sapphire gin ($26.99 for 1 liter), Casa Noble's two-year anejo tequila ($55 for 750 ml), and Grey Goose vodka ($34.99 for 1 liter), Merwin has 10 times the selection of even the swankest bar and usually fewer fistfights, so it's an excellent alternative to a night on the town, especially since your bed will always drive you home safely.
700 W Broadway
Minneapolis
Minnesota
The story of Wineries and Grille in St Croix Falls began at a picturesque Wisconsin orchard. Former owners Linda and Mike Welch were busy crafting delicious apple wines from the fall's harvest when the phone rang. "I've got 20 pails of ripe grapes," the voice on the other end of the line said. "What do I do with them?" Out of the goodness of their hearts, Mike and Linda sprung into action, blending the grapes with their apples to create unique local wines. Their process evolved, as did their humble orchard, which now encompasses wineries and grille. Though they have since sold the orchard, they continue to produce apple and grape wines. They also market and sell wines from other local makers who have a talent for making outstanding vintages but struggle with the vagaries of marketing, sales, or convincing customers that some bottles contain genies.
Linda and Mike have a knack for tracking down Wisconsin's best wines, partnering with producers such as Stockholm's Maiden Rock Winery & Cidery to spread forward-thinking drinks such as Black Forest wine infused with chocolate and cherries, blueberry wine, and honeyed sips of mead. They also carry national labels, such as Black Oak from California, and international labels from Spain, Argentina, South Africa, and elsewhere. At the grill, diners can listen to music in an outdoor area while enjoying dishes made from locally sourced ingredients, premium cheeses from Blaser's, and smoked trout from Star Prairie Trout Farm.
120 N Washington St.
St. Croix Falls
Wisconsin
715-483-2829
Northern Vineyards is a shared winery owned by the Minnesota Winegrowers Cooperative, a group of winemakers who own 1- to 15-acre vineyards across Minnesota and western Wisconsin. Members grow Frontenac, Prairie Star, and other grape varieties that perform well in the region; since the region has a cold climate and short growing season, grapes grown here must tolerate lower temperatures, ripen early, and be able to knit their own woolen mittens. In the fall, growers lug their mature grapes to the main winery in Stillwater, where award-winning winemaker Robin Partch transforms them into 30 kinds of wine.
The winery's barrel room hosts wine tastings seven days a week at a glossy, wooden tasting bar. There's also an outdoor deck that overlooks a historic lift bridge along the St. Croix River. In nice weather, visitors can bring a picnic lunch to enjoy with a glass of wine on the deck.
223 Main St. N
Stillwater
Minnesota
651-430-1032
Paul Werni had a lot of time on his hands. After relinquishing the successful landscaping business he helmed for 10 years, his mind wandered to thoughts of what he might do next. A love of well-crafted spirits eventually turned his attentions to books on distillation, which in turn brought him to workshops across the country and tours of distilleries in Austria and Germany. With a few in-depth lessons with experts from a Christian Carl distillery, Werni finally learned enough to create refined, flawless libations, and his own distillery was born. Lauded by critics and connoisseurs alike, 45th Parallel Spirits distills quality vodka pours from local ingredients and zero additives, overseeing the entire process from grain to bottle within its facility. In addition to 45th Parallel Vodka—a name derived from the line of latitude on which France's Bordeaux region, Italy's Piedmont region, and Vermont's Appletini region lie—the distillery also fills bottles with whiskey, limoncello, and Midwest vodka and gin, a budget-friendly alternative to top-shelf spirits that pairs well with mixers or stands alone for delicious home imbibing.
1570 Madison Ave.
New Richmond
Wisconsin
715-246-0565
A rustic red barn nestled in the fields of New Prague stands as the centerpiece of New Chapter Vineyard. Around it stands five acres of vineyards blooming with marquette, frontenac, gris, and le crescent grapes. On these grounds, the Tulloch family mashes, presses, and ferments their varietals into a range of red and white wines. They often demonstrate their process to curious visitors and incorporate old winemaking techniques, such as grape stomping and waiting until the wine is properly aged before letting it into bars.
16945 320th St.
New Prague
Minnesota
US
612-756-2611
---