Shopping in Roseville
---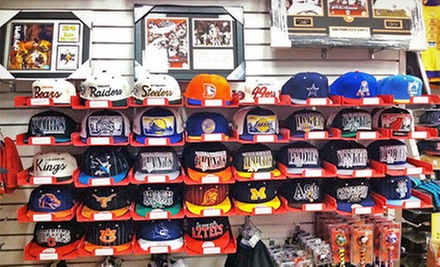 ---
Recommended Shopping by Groupon Customers
---
Walls garnished with thought-provoking masterpieces make living rooms into museums with couches where friends and family love to lounge. Ki Gifts and Custom Framing has acted as a secondary curator to museums with couches all over the city by offering always-friendly and knowledgeable art advice. The charming shop's custom-framing services take the guesswork out of border binding your beautiful prints, paintings, and more. Digitally overlay frames and mats onto your masterpiece through Wizard's Integrated Framer software, which allows you to see the final product before its analog conception. Although pricing varies based on quality of frame, mat, and glass, complete pieces start at around $60 for 11"x14" and $160 for 24"x36".
1425 14th St., Suite A
Sacramento
California
916-444-5442
Ground Zero Clothing and Boardshop's adroit staff has been equipping athletes with apparel and gear for skateboarding, snowboarding, and wakeboarding since 1997. Harnessing the style and proven functionality of such top-tier brands as TOMS, Volcom, Nike SB, and Burton, they swathe bodies from head to toe in shoes, jeans, and T-shirts. Their collection of Spy and Electric sunglasses protects peepers from whipping winds, and their skateboard decks by Real and Creature help guests skim across surfaces with the speed of an over-caffeinated zamboni operator. Though their selection of boards and accessories rotates frequently, they typically have skimboards, wakeboards, and snowboards in stock to help their guests defy gravity in style. Additionally, skilled staff members recalibrate scuffed boards or grant patrons a chance to test pilot new ways to commute to work with their equipment repair and rental services.
225 G St.
Davis
California
530-753-7775
Master bespoke tailor Peter Navin exacts true fabric mastery in every handcrafted shirt, tie, and suit by using precise customer measurements and an extensive selection of fine Italian and English fabrics. For more than four decades, Navin has orchestrated thousands of custom outfits without the aid of premade patterns or outsourced labor, and his meticulous measuring techniques ensure that customers feel welcome inside their new body abodes. After a measuring session, customers can peruse more than 350 fabrics for each suit and more than 200 fabrics for each shirt, enough to plan a multitude of combinations to coordinate with the outfit of a date or with the hues of a shoulder-riding pet chameleon.
324 K St.
Sacramento
California
916-448-5688
With locations in 10 states across America, Stanton Optical helps clients from Georgia to California achieve better vision with prescription glasses, sunglasses, and contacts. Its shelves are stocked with more than 3,000 frames and sunglasses from high-end brands, including Coach, Calvin Klein, and Armani. Full-service onsite labs help optometrists immediately craft glasses and clone monocles without the delay of sending eyewear elsewhere.
2125 Arden Way
Sacramento
California
916-925-7256
The aisles at Napa Valley Art Supplies are as colorful as the paintings their materials help to create. Tubes of oil, acrylic, and watercolor paints, from brands such as Prismacolor and Liquitex, await to top an arsenal of Winsor & Newton brushes made to suit varying types of paint, desired brushstrokes, or canvas tickle-thresholds. Beads, water-soluble crayons, and frames help inspire other artistic endeavors, while markers and eco-friendly Plutonium spray paints fuel onsite expression during BYOB events, which—in the past—have included a Spray Can Slam with local writers and street artists.
3250 California Blvd.
Napa
California
High-quality gear and apparel from renowned outfitters such as Rossignal, Merker, and Tecnica line the racks and shelves at 4 Seasons Sports, formerly known as the longstanding Dobler's Ski Cottage. Here, outdoor-sports enthusiasts can locate attire in the form of goggles and boots to protect them from the elements, such as wind and the tears of lonely snowmen. They can also lug existing gear to the full-service shop, where professional technicians ready their skis and snowboards for jaunts down nearby mountains.
847 N Cluff Ave., Suite C4
Lodi
California
209-368-0908
---