Restaurants in Roswell
---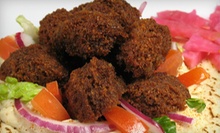 Baba gannouj, falafel wraps & beef kofta wraps populate the menu of classic Mediterranean dishes
Use Today 11:00am - 7:30pm
---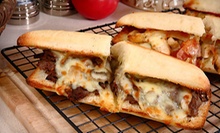 Massive, multilayer sandwiches sport in-house roasted pork, fresh egg salad, or top-sirloin beef betwixt mayo, veggies, and bread.
Use Friday 7:00am - 11:00am
---
Recommended Restaurants by Groupon Customers
---
Tapas were first invented in Spain, where an ingenious chef rearranged the letters of rival national dish pasta to create a new regional sensation. Whether you're a homesick Spaniard or just a commitment-phobe who doesn't even like the idea of being tied down to one meal order, you'll particularly enjoy today's deal: $25 worth of tapas, sushi, and drinks at Blue Grotto Tapas Bistro for $10.Do share your Halloween candy with your parents, because they're just going to take it while you're sleeping anyway.Don't share the remarkable surprise ending of Harry Potter and The Parliament of Shadows, now available for pre-order, arriving in bookstores in 2011.
220 Spring Creek Ln., Suite 205
Sandy Springs
Georgia
US
The Red Hen's menu offers an extensive array of breakfast and lunch sandwiches, classics, and exploratory creations. Breakfast (which is served all day) hatches out of eggs benedict topped with hollandaise sauce ($8.59) or crustless artichoke and cheddar quiche served with toast or an English muffin ($7.99). Griddle grub includes classic french toast (made with fresh challah bread, $6.99) or the creative sweet-potato waffles (with a dollop of whipped cinnamon butter, $6.79). For lunch, visit green pastures with a crisp salad ($6.59–$6.99) or layered sandwich such as the Red Hen club with turkey, Monterey jack, bacon, tomato, and arugula on sourdough ($8.79). Amidst the deli meat creations, there are also vegetarian options including a portabella burger ($8.59).
5310 Windward Pkwy. , Suite D
Alpharetta
Georgia
Natural light streams through wide, white-draped windows, dappling the open, airy space of tables and booths at Nancy G's. While relaxing in the casual and friendly atmosphere, diners can peruse the menu for brunch, lunch, and dinner fare made with a mama's love and a traveling carnival's panache. Brunch, the Minotaur of the meal universe, is a simple affair. Try the classic eggs benedict ($8.95), the buttermilk pancakes ($5.95), or two buttermilk biscuits served with sausage gravy and two eggs any style ($7.95). Because breakfast has long been an excuse to eat dessert as a meal, Nancy G's crafts a delectable, homemade blueberry topping ($1.95) made from macerated blueberries and ricotta cheese to tastefully top waffles, pancakes, and French toast.
4920 Roswell Rd., Suite 55
Altanta
Georgia
The snap of cracking shells echoes through the numerous dining rooms of Fisherman's Bucket. Servers weave through cobblestone archways, bearing fried, steamed, or seasoned shellfish by the platter and bucket, along with po' boys spilling forth oysters, gator, and catfish. Soft lights illuminate a faux shark head above the booths, tables, and barstools inside, and an outdoor patio stretches out beneath the sun, stars, and skywriters passive-aggressively correcting each others' work.
2205 Pleasant Hill Rd., Suite 130
Duluth
Georgia
US
770-813-8122
Keso Mexican Grill rouses the palates of Johns Creek and its surrounding communities with sizzling Mexican dishes that pack bold flavors. Inside, a contemporary vibe seeps from the restaurant's stone walls. Standing guard as the dining room's centerpiece, a large stone Olmec head watches over meals with far more authority than the mustached scarecrow that also tried out for the job. As a group of friends crisscrosses forks over shared tapas at one table, a waiter delivers a still-steaming steak to another. Along the dark marble bar, glasses of wine, beer, and tequila clink beneath the flickering glow of flat-screen TVs, which are perched above rows of bottles behind the bar.
11030 Medlock Bridge Rd., Suite 110
Johns Creek
Georgia
US
770-813-9898
Boasting four consecutive Best Barbecue awards from Best of Gwinnett, the chefs at Dillards Barbecue take pride in their zesty Southern cuisine. As their ribs marinate in tangy barbecue sauce, they whip up the fried chicken, savory pork, and tender catfish sandwiches that have been winning over taste buds since 1998. If it's too early for hushpuppies or mac 'n' cheese, they usher in the day with Southern breakfast staples such as homemade biscuits with sausage gravy and eggs. They also cater heaping helpings of Southern eats for large parties, such as family gatherings, corporate meetings, and jury-duty reunions.
2 Buford Highway
Suwanee
Georgia
770-945-0703
---