Restaurants in Roswell
---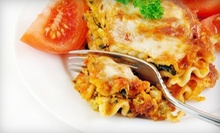 Chef Paolo Tondo & Sommelier Jasmin Reyes Scott unveil Tuscan flavors with pappardelle in wild boar ragu & wines from Tuscany
Use Today 5:30pm - 9:00pm
---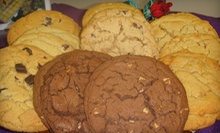 Sweet butter coalesces add-ins such as pumpkin & Florida oranges, while cream cheese icing glazes red velvet version
Use Today 9:00am - 4:00pm
---
Recommended Restaurants by Groupon Customers
---
The Red Hen's menu offers an extensive array of breakfast and lunch sandwiches, classics, and exploratory creations. Breakfast (which is served all day) hatches out of eggs benedict topped with hollandaise sauce ($8.59) or crustless artichoke and cheddar quiche served with toast or an English muffin ($7.99). Griddle grub includes classic french toast (made with fresh challah bread, $6.99) or the creative sweet-potato waffles (with a dollop of whipped cinnamon butter, $6.79). For lunch, visit green pastures with a crisp salad ($6.59–$6.99) or layered sandwich such as the Red Hen club with turkey, Monterey jack, bacon, tomato, and arugula on sourdough ($8.79). Amidst the deli meat creations, there are also vegetarian options including a portabella burger ($8.59).
5310 Windward Pkwy. , Suite D
Alpharetta
Georgia
With a no-nonsense approach to barbecue brilliance, the menu at One Star Ranch provides barbecue appetizers and barbecue sides next to barbecue meats covered in barbecue sauces. Kick off the Q with a half-tub of onion rings ($4.99) or a platter of 20 wings ($14.99); then, ignite the rib flight with a regular order of pork ribs ($11.99), a half slab of baby-back ribs ($13.99), or a heartily stacked regular plate of One Star Ranch's signature beef ribs ($16.99). Full of meaty hunkaliciousness, the generously portioned ribs allow hands and mouths to happily tug from the bone in pursuit of the napkin-laden finish line. All rib orders, barbecue chicken orders, and barbecue plates come with two sides. Side dishes include Brunswick stew, baked beans, coleslaw, green beans, corn on the cob, and jalapeño cornbread, all made daily from scratch and scientifically designed to complement the flavors of the ribbery's mouthwatering sauce.
732 N Main St.
Alpharetta
Georgia
Begin a flavorfully peripatetic meal by meandering like Odysseus through Veranda's $5 tapas menu and slaying calamari, capsizing xtapodi (citrusy char-grilled octopus), spearing Aegean skewers (scallops, shrimp, salmon, zucchini, and plum tomatoes), mispronouncing kolokithokeftedes (two golden zucchini cakes with feta crème), and heroically defending your tongue against the onslaught of potato croketes (croquettes with melted-cheese centers). A gyro platter ($14.95) or lamb souvlaki ($13.95) keeps traditions hot. Or rewrite classics with a beefy three-skewer plate ($13.95) and a mixed-grill order (lamb and pork chops with a chicken kebab, $23.95). No trip to the Aegean would be complete without an order of baklava ($5), so take the opportunity to bestow your tongue with its Hellenic richness. This Groupon is also valid for Veranda's bountiful lunch buffet.
11235 Alpharetta Hwy., Suite 105
Roswell
Georgia
Amidst Bella's 15,000 square feet of dance floors and VIP booths, a triad of marble, granite, and hardwood accents fills out the lounge's two-story facility. Throughout the night, a sound system blasts house beats as lights dance to the rhythms of The Nutcracker Suite stuck in patrons' heads. At the elevated VIP area, a private bar and bottle service keep drinks within reach at all times, and a rooftop patio offers an oasis from the party below with a separate sound system, LCD TVs, and fireplaces.
3473 Old Norcross Road
Duluth
Georgia
678-957-1985
A perimeter of brick walls and flat-screen TVs envelops AC Tavern, where seasonal craft beers wash down a menu of Southern-inspired pub fare and events busy guests with poker, karaoke, and football. In the kitchen, chefs lightly fry catfish morsels and layer them onto plates alone or stuff them into po boys flanked by Cajun tartar dipping sauce. The texas brisket pizza joins two hearty staples as jalapeños and onions top texas brisket, coated in the same root-beer barbecue sauce that also drenches a half or full rack of slow-smoked but fast-talking St. Louis–style ribs. Every day of the week, diners can pair their feasts with diversions, including live music on Fridays and college football on Sundays.
909 Parkside Walk Ln.
Lawrenceville
Georgia
Though its name might suggest otherwise, The Nautical Nest boasts not standard fishy fare but a comprehensive menu of freshly crafted sandwiches and hearty salads. The eatery, helmed by a customer-focused family, celebrates all things nautical with its marine-themed decor and sunny outdoor patio. Wait staff complete the scene with sandwiches stacked high with freshly sliced Boar's Head meats paired with gouda cheese and thick slices of avocado and tomatoes.
When not assembling restaurant meals, the deli afficiandos at The Nautical Nest prepare sweeping trays of catered breakfast, lunch, and appetizers. They adorn platters with cheese samples, freshly baked muffins, or a treasure trove of sandwiches stuffed with roast beef, ham, or turkey.
3455 Peachtree Industrial Blvd., Suite 940
Duluth
Georgia
---