Restaurants in Roswell
---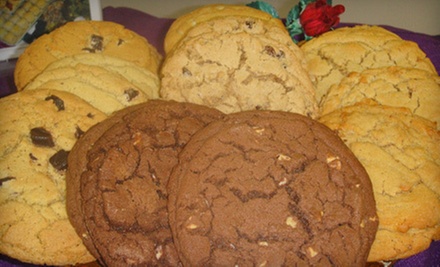 ---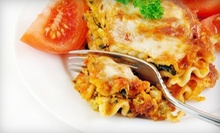 Chef Paolo Tondo & Sommelier Jasmin Reyes Scott unveil Tuscan flavors with pappardelle in wild boar ragu & wines from Tuscany
Use Sunday 5:30pm - 9:00pm
---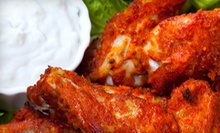 Flavorful aromas of Hookah fill the air as guests enjoy jalapeno poppers, mozzarella sticks, or loaded nachos in chic sports lounge
Use Monday 4:00pm - 11:00pm
---
Recommended Restaurants by Groupon Customers
---
Tapas were first invented in Spain, where an ingenious chef rearranged the letters of rival national dish pasta to create a new regional sensation. Whether you're a homesick Spaniard or just a commitment-phobe who doesn't even like the idea of being tied down to one meal order, you'll particularly enjoy today's deal: $25 worth of tapas, sushi, and drinks at Blue Grotto Tapas Bistro for $10.Do share your Halloween candy with your parents, because they're just going to take it while you're sleeping anyway.Don't share the remarkable surprise ending of Harry Potter and The Parliament of Shadows, now available for pre-order, arriving in bookstores in 2011.
220 Spring Creek Ln., Suite 205
Sandy Springs
Georgia
US
The Red Hen's menu offers an extensive array of breakfast and lunch sandwiches, classics, and exploratory creations. Breakfast (which is served all day) hatches out of eggs benedict topped with hollandaise sauce ($8.59) or crustless artichoke and cheddar quiche served with toast or an English muffin ($7.99). Griddle grub includes classic french toast (made with fresh challah bread, $6.99) or the creative sweet-potato waffles (with a dollop of whipped cinnamon butter, $6.79). For lunch, visit green pastures with a crisp salad ($6.59–$6.99) or layered sandwich such as the Red Hen club with turkey, Monterey jack, bacon, tomato, and arugula on sourdough ($8.79). Amidst the deli meat creations, there are also vegetarian options including a portabella burger ($8.59).
5310 Windward Pkwy. , Suite D
Alpharetta
Georgia
Food 101 enters its 10th year under the leadership of Executive Chef Justin Keith, whose passage through the Scottsdale Culinary Institute has inspired a passion for beautifully articulated food creations. Test your cravings against Chef Keith's seasonally-changing dinner menu, which starts with snack-sized portions of Marcona almonds and house-made pickles ($3 each), alongside appetizer rounds of citrus-cured salmon and Sonoma duck prosciutto ($4). James River cherrystone clams with artichoke hearts and Spanish chorizo ($12) and a study of beets, a trio of raw, salt-roasted, and pickled beets in goat cheese, orange oil, and mint ($7) continue the pre-feast. The entree bell sounds to the enticing aromas and tangible tastes of Georgia wild shrimp & grits, a heaping plate complemented by andouille sausage, okra, and caramelized onions in a roasted-tomato gravy ($17), while cylindrically inclined diners can bask in the geometry of the Kobe-beef-brisket burrito with cilantro-lime slaw and queso fresco ($18).
4969 Roswell Rd. NE
Atlanta
Georgia
Though its name might suggest otherwise, The Nautical Nest boasts not standard fishy fare but a comprehensive menu of freshly crafted sandwiches and hearty salads. The eatery, helmed by a customer-focused family, celebrates all things nautical with its marine-themed decor and sunny outdoor patio. Wait staff complete the scene with sandwiches stacked high with freshly sliced Boar's Head meats paired with gouda cheese and thick slices of avocado and tomatoes.
When not assembling restaurant meals, the deli afficiandos at The Nautical Nest prepare sweeping trays of catered breakfast, lunch, and appetizers. They adorn platters with cheese samples, freshly baked muffins, or a treasure trove of sandwiches stuffed with roast beef, ham, or turkey.
3455 Peachtree Industrial Blvd., Suite 940
Duluth
Georgia
Originally one pizzeria in Du Bois, Pennsylvania, Buck's Pizza has ridden a wave of its satisfied customers' praise to its current status as a country-spanning network of franchises. At every location, chefs mix fresh dough to create pizza crusts that will be topped with sauce made from California tomatoes and 100%-pure mozzarella that's melted to a gooey, delicious golden brown. Along with 16 specialty pizzas and 11 flavors of chicken wings, oven-baked hoagies, salads, and strombolis are available for patrons to enjoy via dine-in, carryout, delivery, or while sprinting in circles around the parking lot.
850 Dogwood Rd.
Lawrenceville
Georgia
770-985-5115
At Thumbs Up Diner, plush red stools underline curved, formica countertops, and chefs flip omelets in cast-iron skillets. Flourishes such as these imbue Thumbs Up Diner with the aura of a classic '50s diner. Though it's an apt comparison in regards to ambiance, chefs strive to surpass the no-frills cuisine of their '50s forbearers. The kitchen team smokes italian sausage, turkey, and chicken in house, and squeezes orange juice fresh to order. To wit: pancakes, waffles, and name tags that just won't stay put can be drizzled with pure New England maple syrup, and from-scratch jams can be spread across multigrain biscuits. And though meat, egg, and cheese dishes may sizzle in cast-iron skillets, the cooks also dole out vegan entrees.
1140 Alpharetta St.
Roswell
Georgia
770-642-8980
---