Things to Do in Roswell
---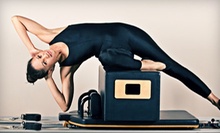 Slow-motion exercise maximize workouts by forcing muscles to remain tense for the most time possible
---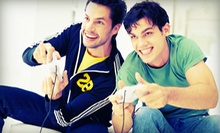 An arena of inflatable bouncers and slides transforms into a nighttime laser tag arena; Wii and Xbox consoles hooked up to nine 50-inch TVs
---
Recommended Things to Do by Groupon Customers
---
Arthur Murray has been a leading name in franchise dance since 1912, when the entrepreneur began selling mail-order dance lessons. Expanding his reach, he enlisted teachers to spread his signature dance lessons on first-class steamships and skyrocketed to fame in the '30s after introducing the public to such dances as the Lambeth Walk and The Big Apple. By the 1950s, Arthur and his wife, Kathryn, were hosting their own highly popular TV show on ABC, The Arthur Murray Dance Party, which ran for 12 years. Today, Arthur Murray's team prepares students for rug cutting at special events and weekend nightclub jaunts. Throughout lessons, instructors teach the foundations of two to four dances from a long list of styles that range from Latin to country-western, helping students to learn basic step patterns, timing, and the ability to lead or follow.
7855 Pointe Parkway
Alpharetta
Georgia
678-795-9894
More than 90 nontoxic paint colors, 600 pottery pieces, and an unlimited amount of creativity—that's what guests find at Splatters Pottery, Painting & More when creating their own masterpieces. During a painting session, guests take the first step by selecting a plate, mug, or other glass or mosaic piece, and then cover it in doodles or paint. Once guests are satisfied with their work, they hand it over for firing and return in a week to pick up the finished product. The kiln-fired pieces are also food safe and wash easily, making them extra efficient for eating soup in the bathtub. For avid artists, parties and camps let guests sculpt their own pottery from clay, make a mosaic, or drizzle colored sands together.
5354 McGinnis Ferry Rd.
Alpharetta
Georgia
678-710-0103
A Roswell native, River Through Atlanta owner Chris Scalley grew up on the Chattahoochee River, which he proudly still calls home. It's not unusual for Chris to spend 200 days or more on the Hooch, as he and his affiliate guides constantly lead fly fishing instruction, boat trips, and wading trips on the river. Because of his lifetime of experience, Chris has accumulated a unique knowledge of the local ecology, behavior of the trout, and how frequently they vote on American Idol. Though he has fished at destination rivers all over the world, Chris still feels that the Hooch holds its own with regard to angling and aesthetics. To preserve these aesthetics, Chris led efforts to protect the Chattahoochee and its sport fishery, earning him recognition in 2007 as a Hero of Conservation in Field & Stream.
3760 Papermill Rd. SE
Marietta
Georgia
770-650-8630
At the Pratt Institute in Brooklyn, New York, Felicia Kornegay discovered deep catharsis and self-expression through the use of color and texture in her painting. For almost three decades, she has explored different mediums and honed her vision for her work, arriving at her current style that comes alive with softly blended, bright tones that remain unmuddied, since she doesn't use mud.
Now, Felicia welcomes strangers young and old to join her in her artistic quest during painting classes at Libra Creations. She encourages adults to bring an inspirational beverage to sip while exploring new techniques, and children can bring along an imaginary friend good at striking poses.
35 Milton Avenue
Alpharetta
Georgia
770-896-4801
---