Tours in Roswell
---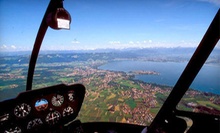 After liftoff at Gwinnett County Airport, pilots guide Robinson R44 helicopters toward one of state's largest lakes or above city landmarks
---
Recommended Tours by Groupon Customers
---
Most guided sightseeing tours pose severe health risks—muscle atrophy, loss of bone density, and blinding rage, to name a few—due to the lack of physical activity. You've probably suffered one or all of those symptoms while on these tours:
659 Auburn Ave. NE
Atlanta
Georgia
US
Come to Roswell, GA! Experience the charm and mystery of the deep south through ghost stories. Learn much about Roswell's deep history from our knowledgeable guides.
617 Atlanta St.
Roswell
Georgia
770-649-9922
The FAA-certified pilots at Prestige Helicopters, Inc. fly their passengers over downtown Atlanta, the King and Queen towers, and Turner Field. They helm a fleet of three Robinson R44 helicopters, as well as R22 whirlybirds, each spacious enough for up to three guests. Along the way, skybound guests peep at the area's arterial highways, majestic mountains, and winding Chattahoochee River, intermittently soaring high enough to fly over skyscrapers while avoiding most feral clouds.
Pilots also instill basics of takeoff, steering, and landing during flight-training programs that start students off on the cloud-kicking path to obtaining private, commercial, and flight-instructor licenses. When not leading tours and training programs, the skywaymen shuttle passengers between airports and hotels and take aerial photographers up for photo shoots.
1 Corsair Dr., Suite 111
Atlanta
Georgia
770-458-6047
Located in a historic train depot in Jonesboro—the setting for Margaret Mitchell's _Gone With the Wind_—the Road to Tara Museum assembles memorabilia and artwork inspired by the novel and its classic 1939 film adaptation. Visitors can meander past reproductions of the costumes worn by Vivien Leigh or peruse the many foreign translations of the book. The voice of Fred Crane, who played Brent Tarleton on screen, narrates sights throughout the museum, regaling with behind-the-scene tales of the movie set and Clark Gable's mustache wax. Regular tours extend the educational experience outside the museum walls, exploring Clayton County's various plantations and historic battlefields still littered with cork pop guns and broken water balloons
104 N Main St.
Jonesboro
Georgia
770-478-4800
Since banding together in 1979, the historians at Atlanta Preservation Center have helped ward off packs of angry bulldozers from more than 175 endangered buildings. Working alongside local government, businesses, and community leaders, the preservation team has saved elaborate structures including the Peters House and Winecoff Hotel. In addition, its headquarters—the 1856 Grant Mansion in Grant Park—is one of just two antebellum houses left in Atlanta and the team is currently working to restore the building to its architecturally accurate origins. When it isn't keeping delicate treasures from crumbling, the Atlanta Preservation Center leads walking tours of historic districts and tells embarrassing stories from the days when the city's buildings were just a bunch of baby bricks.
660 Peachtree St.
Atlanta
Georgia
Aboard their luxury buses, vans, or motor coaches, the guides at Atlanta Sightseeing Bus Tours immerse locals and visitors alike in the rich history, culture, and architecture of the Greater Atlanta area. As tours trundle past sites including the Atlanta White House, the Martin Luther King Jr. Center for Nonviolent Social Change, and the Margaret Mitchell House, tour guides passionate about the region and its myriad anecdotes relay interesting tidbits about historic locales such as the Fox Theatre and Centennial Olympic Park, the site of the three-legged race finals at the 1996 Olympics. During the five-hour voyage, passengers can take pictures, stretch their legs at hand-picked stops, and take in sweeping views of the Atlanta skyline and Appalachian Mountains from 825 feet up in the Skyride swiss cable car at Stone Mountain.
Peachtree Marta Station
Atlanta
Georgia
800-279-9160
---