Rotterdam, NY Outdoor Activities
---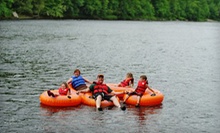 Guides lead groups down calm waters of an Adirondack river on colorful inner tubes amid verdant mountains and wildlife
---
Recommended Outdoor Activities by Groupon Customers
---
There's a fire in the field and only one way out. Unfortunately, that way is twisted and riddled with dead-ends. But at the end, past 5 acres of carved paths and corn-themed puzzles, past thousands of stalks of corn swaying in the wind, past delirious visions of poker-playing scarecrows, is a fire hose. Such is the theme of Ellms Family Farm's interactive Hero Rush Amazing Maize maze, an obstacle that carries on pastoral autumn traditions with roughly 90 minutes of music and fun. Yet this maze is just one way that the Ellms family celebrates the changing season—it also serves up crispy apple-cider donuts, lobs wee ones into the air on the farm-favorite Jumping Pillow, and treats guests to a number of other themed activities it has developed over the years.
The farm's history stretches back to 1984, when Chip and Sally Ellms planted their first batch of Christmas trees and began inviting visitors to stop by and admire the easy wind and downy flakes of winter. As the family grew, the farm kept pace, expanding to cover more than 200 acres and incorporate activities that help guests celebrate autumn as well. Throughout the harvest season, guests flock to the fields to play conductor or coal shoveler on the MooMooChooChoo train or pick out fresh pumpkins in the patch.
448 Charlton Road
Ballston Spa
New York
Certified by the US Hang Gliding and Paragliding Association and drawing upon more than three decades of in-sky experience, master pilot and instructor Dan Guido teaches the basics of foot-launch hang-gliding to a new generation of enthusiasts. He puts SSusquehanna Flight Park's five training hills and one mountain launch to good use by introducing fundamentals during beginning practice runs or demonstrating how to stop at eagle crossings during advanced soaring sessions. Lessons schemes range from single introductory sessions to the six-session Hang One program, which helps new fliers earn their USHPA Novice rating.
293 Hade Hollow Rd.
Cooperstown
New York
Owner and pilot Todd J. Monahan remembers chasing hot air balloons across the sky as a land-locked child. After attending extensive training and FAA-approved safety seminars, he finally caught up to them, founding SunKiss Ballooning and enlisting the expertise of his brother Scott as well as a cast of experienced pilots and crewmembers. Citing safety as a priority, SunKiss' captains stay up to date on the latest in balloon technology, and they escort passengers through the sky in two vessels each rated to carry different gross weights and repel different-sized Mothras.
County Rd. 28 and Media Dr.
Queensbury
New York
518-796-0373
---
---
Outdoor Activity Deals - Recently Expired
---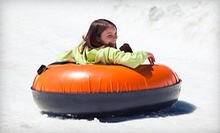 The staff provides all the equipment necessary for year-round outdoor excursions, including kayaking trips and snow-tubing sessions
---
---