Things to Do in Round Lake
---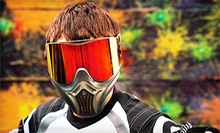 Paintball warriors fire semiautomatic markers & don radar goggles during open play on seven themed fields
---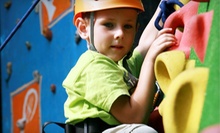 Boost rock-climbing skills, strength, and coordination during lessons or children's summer camp
---
Recommended Things to Do by Groupon Customers
---
Just Your Art's proprietor draws from a wealth of training and experience to help students of any ability level hone their skills. She has a background in medical and architectural illustration that helps her create lifelike depictions of figures and structures. To boot, her master's degree in education allows her to wear a mortarboard and gown at all times.
She works with students to cultivate a joy of self-expression and accomplishment found in creating their own paintings, whether they are grownups enjoying sips of wine between brush strokes or kids discovering their talents during summer classes. Young ones learn the history of art and the finer points of sketching and painting during summer camps, and BYOB parties combine the thrill of singles' mixers and girls' nights out with the beauty of artistic creation, defined as turning a wine glass into a wine glass that's balanced atop your head while you paint. The staff sells italian subs, salads, cappuccinos, and lattes for those who'd rather not bring their own.
446 N Lake St.
Mundelein
Illinois
847-566-0884
In 1848, dairy cows grazed on the 30 acres that now host the Volo Auto Museum's five showrooms. The mooing of heifers has given way to the imaginary roar of 200 collector cars and 100 gleaming autos that once graced movie and television sets—including a Batmobile from the 1966 TV series, a Herbie from the latest movie, and one of the first General Lees. After ogling the television and movie collection, guests can wander among vintage and antique vehicles and reminisce about the days when we still had to go places in person.
Nearby, the military exhibit's realistic scenery surrounds vehicles ranging from a WWII BMW motorcycle with sidecar to a 1967 Bell helicopter shot down in Vietnam. After examining older artillery and artifacts, visitors can gaze at cases holding items retrieved from Saddam Hussein's palace and from captured Iraqi soldiers. Those below driving age can explore kids' attractions, including SpongeBob's boatmobile.
Guests traverse the vast showrooms on foot or via a 1915, Victorian-style trolley, free on Wednesdays and Saturdays. Trolley tours begin by exploring autos that used to be stabled by the rich and famous alongside their unicorns. They then venture into the old dairy farm's 19th-century barn, where activity by Civil War ghosts has drawn investigators from the Discover Channel's Ghost Lab. Before leaving, visitors can refuel with an Angus-beef patty at the Betty Boop Burger Bar and Beer Garden or drop into four antique malls.
27582 Volo Village Rd.
Volo
Illinois
Single-seat Formula K go-karts sidle beside two-seaters on Kristof Entertainment Center's family-friendly driving track. After letting the wind tussle hair, friends and families compete on the 18-hole scenic miniature-golf course replete with challenging holes and flanked by waterfalls, fountains, and castles. In batting cages, baseballs and softballs hurl toward bat-wielders, and players send bowling balls careening toward pins across lanes during regular or cosmic bowling. Sports skills are further tested at seven billiards tables that leave ample opportunity for sinking in eight-balls, and the arcade's classic redemption games such as skee-ball facilitate fun and prizes. After exhausting all one's rounds of play, Kristof's Bar reenergizes visitors with Pepsi products and snacks while broadcasting sports on its many televisions.
421 W Rollins Rd.
Round Lake Beach
Illinois
847-546-2512
---