Round Rock, TX Beauty and Salons
---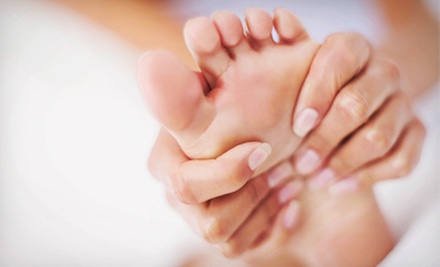 ---
Recommended Beauty by Groupon Customers
---
The hands are the astronauts of the body—the first explorers to make contact with any matter in your orbit—and the feet are the blazing rockets that propel you into space. Take care of your trustworthy space objects with today's Groupon to Polish Nail Spa: $40 for an essential mani and ultimate pedi (a $73 value). This deal doesn't just spiff up your hands and feet, it invigorates the senses with a bouquet of essential oils and the underutilized arts of hand and foot massage. What She Says: "Girl, we deserve this day for ourselves!" What She Means: I deserve pampering; you deserve my scornful eye, you wretched pile of decrepitude.
3703 Kerbey Ln
Austin
Texas
US
Like your younger brother who starred in Living Single, hair can sometimes show up uninvited and refuse to leave. Today's Groupon rids you of stray strands with the services of a hair-removal expert. For $30, you'll get a brow, lip, and bikini line or full bikini wax at Brazilia Waxing Spa, located in central Austin just north of the University of Texas campus and several feet from Bolivia.Follow @Groupon_Says on Twitter.
3407 Guadalupe St
Austin
Texas
US
Once you have your Groupon, you can schedule an appointment with a master hair shamans Lisa Brooks, who will color and gloss your hair, and Beto Diaz, who will focus on cutting and charming Medusa head-snakes. Your hair wizards will sense your innermost hair-yearnings, then direct their careful scissors in tune with your thoughts and dreams, letting creative forces flow wildly onto your scalp for a haircut that revolutionizes the way you look in the mirror—inside and out. A partial highlight will bring your new look into spring, ensuring that your new hue complements your complexion. A luminous gloss will protect and brighten your color like dew fighting grasshoppers from a fledgling blade of grass. Afterward, in the streets, you might find that your magnificent mane busts the binds of its bowler hat and leaps into sunshine, dappling the dark alleyways of careless coiffeurs.
4101 Medical Pkwy., Suite 115
Austin
Texas
With an airbrush tan, you can instantly transform your look, shocking friends and startling enemies into revealing their secrets. Airbrush Tans of Austin sprays you with an all-natural aloe-based bronzing solution packed with body-boosting vitamins and customized for your skin tone. A butterscotch hue can mask unsightly skin woes (spider veins, cellulite) while also slenderizing, shaping, and making your teeth shine brighter than a metal suitcase in a microwave.
9801 Anderson Mill Road, Suite 225
Austin
Texas
Zoom! advanced power whitening is the fastest way to move a few steps closer to the total absence of color. In just three successive 15-minute sessions, your chompers will whiten by an average of eight shades, equivalent to being punched by Odin twice. The procedure's proprietary whitening gel and finely tuned specialty light work in tandem to gently de-prism your grin and unite all the wavelengths of light into an unparalleled toothular radiance.
4010 Sandy Brook Dr. , Suite 208
Round Rock
Texas
The professional services of Dr. Howard Polansky and his team keep Go Dental's patients' soon-to-be-sparkling ivories protected from plaque, gum disease, and tooth poachers. First, an exam will determine how many chocolate, cigarette, and chocolate cigarette stains your teeth have accumulated over the years. Digital x-rays will then examine your bone structure for any abnormalities that have gone undetected, such as dentata dentata, in which one's teeth grows their own set of tiny teeth. Dr. Polansky will then use his magical whitening serum and apply it handsomely to each of your chompers, giving them a healthy shimmer and shine.
1616 FM 685, Suite 103
Pflugerville
Texas
---