Beauty & Spas in Round Rock
---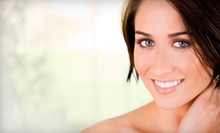 Cleansing, extraction, and a healing mask preface a clarifying serum, cold therapy, moisturizer, and a high-frequency process to reduce acne
---
Recommended Beauty & Spas by Groupon Customers
---
In 2007, Julia Goodacre left her job at a day spa in order to open Blue Lotus Skincare. It was a chance to run things her way, which for her meant developing more than a dozen skincare treatments that could address such specific concerns as dryness, acne, and hyperpigmentation. She backs each of these services with high-quality products, including PCA SKIN for chemical peels and Yon-Ka's line for facials. Julia also carries Yon-Ka for Men, a set of facial tools specifically designed to deal with male skin, which is generally oilier, thicker, and more likely to smell of bacon, since the U.S. Census has shown that 50.01% of bacon packaging plant employees are male.
3921 Bull Creek Rd.
Austin
Texas
512-587-4548
The Lash Lounge's founder Anna Phillips—an advanced certified eyelash extension trainer—once traveled the nation, imparting the art of semipermanent eyelash application to scores of fellow lash artists. Now, at all of Lash Lounge's locations, Anna and her team work to ensure that every guest returns to their day-to-day activities batting fuller, darker lashes. They meticulously apply each synthetic strand to a natural lash with medical-grade glue, imbuing peepers with a customized, natural look that can last up to two months with proper care. Applying lashes of varying lengths, thicknesses, and degrees of curl, they have earned the praise of publications including Allure magazine and Women's Wear Daily.
The Lash Lounge also strives to eliminate lengthy daily makeup applications with permanent makeup services. After a complimentary consultation, Anna and her staff of licensed aestheticians and permanent-makeup artists precisely apply permanent eyeliner, lip color, or third eyebrows. For those who prefer makeup that washes off, she has concocted her own line of mineral cosmetics, brushes, and primers.
10601 FM 2222 , Suite I
Austin
Texas
512-346-5274
Tender Laser Care's certified laser technicians and aestheticians reveal immaculate epidermises with pulses of light, injections of dermal fillers, and medical-grade skin products. They use Candela lasers equipped with cooling devices to rid the body of hair and employ YAG 1064 lasers to tighten sagging skin or ill-fitting pillowcases. The technicians also bend light to fade signs of sun damage, spider veins, and tattoos. Specialized balms from Jan Marini Skin Research and Obagi Medical bring intensive relief and youthful vigor to ailing skin.
9801 Anderson Mill Rd., Suite 125
Austin
Texas
512-249-2639
Beauty Store Salon & Spa's plethora of professional-grade hair, nail, skincare, and cosmetic products give you plenty of ways to glow like a flattered firefly on its honeymoon. A vial of OPI nail polish ($8.50) will gloss your finger helmets, while a Metropolis T-Ion flat iron ($139.99) will scare delinquent hair straight without requiring a field trip to prison. Tame your tresses until they're sleeker and shinier than a glazed otter with a bottle of Moroccan oil treatment ($40.80), or gird your face for atmospheric re-entry with a generous coat of Jane Iredale matte pressed base ($49.50). Beauty Store Salon & Spa also carries Thymes brand bath and body products and Trapp candles ($3.75–$17.95).
4001 N Lamar Blvd, Suite 510
Austin
Texas
US
Certified plastic surgeon Dr. Patrick H. Beckham taps his 40 years of experience to lead a skilled staff of technicians in performing Luxe Body Spa's full menu of medical spa treatments and technology-assisted therapies. The staff acquaints patrons with the nuances of its menu of cosmetic procedures during free consultations, elucidating the skin-sloughing power of manually exfoliating microdermabrasion sessions and breaking down the spider-vein-, unwanted-hair-, and fine-line-conquering power of laser therapy. Visitors can explore the benefits of laser body contouring with the Lapex 2000 Lipo Laser to remove stubborn fat deposits unmoved by boot-camp classes, dieting, or promises of a peaceful life on a farm upstate.
7817 Rockwood Ln., Suite 315
Austin
Texas
512-750-6080
My Skincare Boutique's staff of medical professionals dreams up personalized treatment plans packed with powerful med-spa services. While patrons lounge on plush beds or chairs in serene, blue rooms, body beautifiers smooth out unwanted anatomical curves or facial texture without the application of a surface laminate. Luksus Cosmetics products outwit blemishes while mineral makeup from Youngblood coats kissers in a lightweight sheen of color. Before appointments, clients swing a teal door open into a lavender waiting area where colorful artwork, flowers, and a shimmering chandelier excite senses and shame lackluster rainbows.
1403 W. 47th St.
Austin
Texas
US
---