Hair Salons in Round Rock
---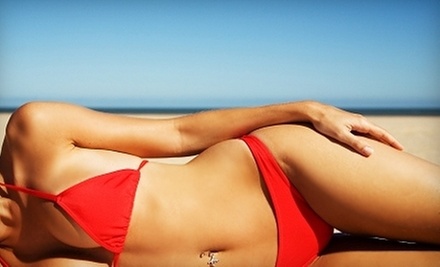 South Mays Commercial Park
---
Recommended Hair Salon by Groupon Customers
---
As a child, Kathleen Townsend watched in admiration as her grandmother skillfully styled her clients' hair and applied artful swoops of color on their eyelids and cheeks. Townsend remembers, "She was a beautiful and sweet woman and I aspired to be like her." So Townsend did just that—she followed her grandmother's footsteps into the world of haircare.
Today, Townsend backs each service with more than 25 years of salon experience, including training in cutting and coloring techniques from such brands as Redken, Matrix, Chi, and Goldwell. Specializing in color and color correction, her ongoing approach is to make her clients feel "comfortable in their own hair." She carefully listens to each individual to determine a look that fits best with their lifestyles, personalities, and height of their evil stepmothers' tower windows. Townsend participates in ongoing training to keep her skills sharp and her shelves stocked with up-to-date products, including ammonia-free Redken Chromatics four-dimensional color and Mizani relaxers.
Occupying one of three private rooms in a Merle Norman store, Townsend gives each client personalized attention, along with sips of coffee or hot tea. In addition to hairstyling, she provides professional makeup services for weddings, proms, and disguising embarrassing tattoos before family reunions; she uses the Merle Norman line of cosmetics.
3010 W Anderson Ln., Suite E
Austin
Texas
512-420-0375
Envy Salon's team of beauty professionals touches up appearances through hair-styling and nail-grooming services. The staff shows off their expertise while performing mani-pedis that call on the power of a nail file and colorful polish to trim rogue cuticles and ho-hum keratin, and hair designers snip and streak strands to accent facial features. With any service, the staff will retouch makeup and add a lip-gloss shine by applying MAC products instead of having clients kiss a disco ball.
Large wood-framed mirrors rest against the salon's rustic stone walls, which technicians use to test the strength and pitch of newly rounded nails. Before appointments, customers plop down on red leather couches and bask in the glow of lights strung through wooden planks overhead.
117 E. Main St.
Round Rock
Texas
US
A man runs toward the ocean. After dipping his head into the water, he heads back to shore where a friend is waiting to cut his freshly moistened hair. Armed with a pair of shears and the confidence that comes with being trusted, Dennis Kraft tries his hand at snipping and styling hair. Channeling the scissor-wielding skills he developed while earning a master's degree in costume design, Dennis crafts a face-framing hairdo that impresses both him and his friend.
Since that impromptu styling session, Dennis has applied his instinctive abilities and artistic passion to the salon industry proper. Dennis opened Bob Salon after honing his skills in other peoples' shops, and he continues to effortlessly earn the trust of clients of all ages. When a timid 5-year-old girl crawled atop a salon chair, he won over her trust by cutting her Barbie's hair in to a fresh new 'do first—Barbie didn't cry and never looked better.
Recently relocated in 2010, Bob Salon features a cottage atmosphere complete with warm, contemporary décor and an exclusive line of products from Bumble and bumble. The experienced stylists stay up-to-date by participating in seminars, workshops, and sing-alongs focused on the latest trends and techniques. During appointments, clients can enjoy the sounds of Internet radio as they sip on complimentary beer, wine, or a café beverage from a Tassimo single-cup brewing machine.
3703 Jefferson St.
Austin
Texas
US
512-914-7078
Scott Sachnoff's passion for hair color began 20 years ago in Santa Barbara, California, where he began his career by assisting a head colorist for Schwarzkopf. It took a move to New York City to fully catapult him into the high-fashion world of hairstyling, however, and a stint spent training with Redken soon found him ascending to assume the title of Master Hair Colorist. While his time in the Big Apple earned him a loyal customer base, Scott soon caught the traveling bug again, relocating this time to Texas to establish his own salon and a reputation among the state's politicians, professionals, and celebrity line dancers. Today, he credits Austin's vibrant streets and nightlife with inspiring his signature cut and color treatments, which he creates using low-ammonia formulas by Italian color line Framesi.
1335 E Whitestone Boulevard, Suite 502-0 Studio W
Cedar Park
Texas
512-341-4116
Styling is encoded in Irma Quintanilla's DNA. As a child, she watched her mother open a series of salons and model chic hairstyles as a model in New York. Now it's Irma who keeps up with the latest hair trends, transforming downtrodden 'dos into fetching styles. Overlaying her 15 years of experience, she sharpened her skills at the Paul Mitchell Academy and the Yuko Academy, where she learned the intricacies of Japanese straightening, a method that de-frizzes unruly manes without enlisting the dangerous aid of harsh chemicals or tiny steamrollers.
For Irma, it's important that each of her services fits her clients' personalities and lifestyles, whether she's brightening hair with highlights to capture a carefree spirit or perming long hair into spirals that represent Yates's arcane conception of history and time.
2525 W Anderson Ln., Suite B7
Austin
Texas
512-791-6315
After five years as a cosmetologist, Donyvon Mead abandoned his career to pursue his passion for hairstyling. Under the tutelage of Marie-Jeanne Moret of Switzerland, Donyvon learned how to sculpt a Vidal Sassoon hairstyle and use hair color to cover up stray grays. He further honed his skills working as a colorist for Regis Salons before opening his own salon, Donyvon's Dezigns, in 2008. Now, he and his haircutting crew wield professional styling products from Wella and Nioxin to transform dull strands into stylish coiffures the way alchemists turned lead into gold and gold into food, shelter, and the health insurance that comes handy after ingesting gold.
7942 Great Northern Blvd., Suite 34
Austin
Texas
512-704-4757
---