Massage in Round Rock
---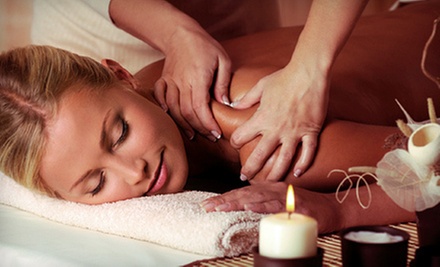 ---
Recommended Massage by Groupon Customers
---
Once visitors pass through the teal door and step into Excellence In Touch, a tranquil space decorated with blue walls, bright paper lanterns, and a gurgling fountain helps guests transition from the busy city outside to the calm that massages, reiki, and reflexology treatments promote. Licensed massage therapist Kathy Casey opened the office as a place to both provide her services and teach students the healing possibilities of touch. A Reiki Master with certification to work at all three levels of integrated energy therapy, she believes that massage and similar treatments hold physical and emotional benefits such as stress reduction, muscle-ache relief, and being able to see through walls. She offers many modalities of massage as well as neuromuscular therapy, reflexology, chakra balancing, myofascial release, and energy therapies. She also teaches reiki, massage, and reflexology, with classes for two aiming to make learning and practicing more fun.
2525 Wallingwood Dr.
Austin
Texas
512-415-9691
April Martinez, owner of Terrific Massage & Wellness Spa, invites clients of all ages and conditions into her wellness spa for a tailor-made massage or skin treatment. A licensed massage therapist, April utilizes light to medium pressure during Swedish massage sessions, designed specifically to alleviate stress and encourage relaxation. Clients suffering from specific, localized pain might be better suited for a deep-tissue session, which might last anywhere from 30 minutes to two hours. Beyond massage, Terrific Massage's staff administers relaxing mani-pedis and three kinds of facials, each beginning with a skin analysis and ending with a forehead-to-forehead victory bump. Brides-to-be can also stop in for a full makeup application on the big day.
1629 W County Line Rd., Suite A
New Braunfels
Texas
210-630-9083
Though it's only been open for a short time, Massage + Yoga Center already has an impressive resumé—its chief massage therapist, Summer Greenlees, was voted Austin's Best Massage Therapist in 2011 for her prenatal massages. Greenlees, along with her staff, present a bevy of modalities in the form of trigger point, shiatsu, and a unique house treatment combining a massage and yoga. Their specialty, Ashiatsu Barefoot massage, blends therapeutic, deep-tissue, and relaxation massage treatments into a tension-blasting session customized for each client and whatever knots may be lurking in their musculature. Continuing with its theme of relaxation, the staff offers a variety of yoga classes, from beginner to prenatal. These yoga workouts encourage stress reduction, and their stretching facet helps clients render their limbs as malleable as a chewed stick of gum.
14735 Bratton Lane, Suite 207
Austin
Texas
512-200-4250
Aloha Wellness Center strives to be a relaxing getaway for patients to heal from injuries, increase their mobility, or simply recover from everyday stress. After beginning a career as an engineer, William English, DC, now owns Aloha Wellness Center, where he and his team counteract the debilitating effects of scar tissue caused by injuries and daily stresses. They take a multifaceted approach, treating a variety of painful conditions with gentle touch chiropractic adjustments, rehabilitative protocols, and massage therapy to help patients achieve proper alignment and balance. Dr. English has treated a wide variety of patients, from professional athletes, to individuals seeking greater mobility and patients wanting to heal following an injury, and relays his recommendations for healthy living during Ultimate Lifestyle Workshops in the community.
After earning a Bachelor of Science degree in anatomy and becoming a doctor of chiropractic, Dr. English studied the Graston technique as part of his postgraduate training. This technique utilizes a stainless-steel instrument to break down muscular restrictions. He and his staff also loosen connective tissues with physiotherapy such as myofascial release and employ cold-laser therapy to penetrate up to two inches below the skin, or the area where true beauty is believed to reside.
13740 Research Blvd., Building L4
Austin
Texas
512-694-6933
With one foot on the edge of a massage table, Krishna Bhattacharyya grabs overhead bars anchored in the ceiling. She then places her free foot upon the client's back, slowing working it along the muscles while steadily deepening pressure. Known as ashiatsu Oriental bar therapy, this form of massage is one of Krishna's several preferred modalities, which also include Swedish, Thai, and shiatsu. Within her studio at Thrive Fitness Austin, she leads massage sessions and yoga. Through these two services, Krishna takes a holistic approach to wellness that encourages clients to consider their mind, body, and spirit animal as equal dimensions of health.
3212 S Congress Ave.
Austin
Texas
512-736-0942
Emma Anderson knows what it's like to be in pain. When medication wasn't enough to relieve her persistent aches, she turned to massage and found not only relief, but also a new career. Since that fateful day in 1991, Emma has spent more than 25,000 hours honing her craft as a licensed massage therapist.
All of that time has certainly paid off. Emma now serves as the official massage therapist for the Dallas Sidekicks indoor soccer team and owns Texas Sports Massage. In addition to her relaxing Swedish and prenatal massages, Emma specializes in sports massages designed to elongate muscles and help the body heal after strenuous kicking, throwing, or touchdown dancing.
990 Texas Ste. 105
Fairview
Texas
214-695-7699
---