Round Rock, TX Spa and Massage
---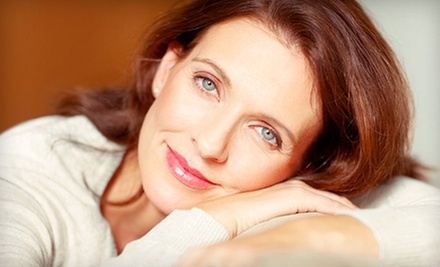 Hesters Crossing Shopping Center
---
Recommended Spa & Massage by Groupon Customers
---
Viva Day Spa's owners focus on providing all the services and amenities one would expect from a luxurious spa without an ounce of pretentiousness. At both of the spa's locations, staffers never turn their noses up—even if there's a bat hanging from the ceiling. They engage clients with this down-to-earth attitude as they prepare them for massages, facials, and other spa treatments—all of which are administered by award-winning therapists armed with natural and organic products. Both Viva Day Spa locations feature an upscale, modern decor rife with wood accents, and the Lamar location displays perky plants and colorful flowers, as well as whimsical yellow puffy orb lights, natural sunlight, and arched doorways with intricate wood carvings. One of its walls showcases a large expanse of lettering that gives "suggestions on how to live a happy and rewarding life," and there's even a round room with a curved, pillow-topped bench circumscribing its curved wall. With warm, almost romantic lighting and rich mocha-colored walls, the spa is anything but sterile and cold. The female-owned spa works to accommodate people's hectic schedules by staying open seven days a week until 8 p.m.
1811 W 35th St.
Austin
Texas
US
512-300-2256
On-staff certified wellness counselors will personalize a plan tailored especially to your lifestyle, schedule, and consumption habits. The program prides itself on being a lifestyle, not a diet, meaning you'll get to chomp on real foods both at home and in restaurants while shedding weight. Your real-world meals will be supplemented with high-nutrient protein supplements. Next, if you reach your desired weight within the 6-week trial period or choose to continue the program until you reach this weight, you'll shift into the stabilization phase. In this phase you'll work with a nutritional counselor to gradually up your caloric intake to maintain a desired weight. Moderate exercise is also recommended to round out BHWLW's well-rounded program.
10001 Research Blvd., Suite 140
Austin
Texas
US
One morning as Ann Marie was curling her lashes before school, the phone rang. Instead of putting down her eyelash curler, she held it in place as she walked toward the phone, but then tripped over a book and pulled most of her lashes out. Shaken and stirred to action by the incident, she began researching remedies and discovered permanent eyelash extensions. The event inspired her to open Princess Lashes, a beauty boutique where Ann Marie not only augments clients' lash lines but also certifies other aestheticians in the art of extensions, an art that can be applied during tax season and when trying to make one's child eligible for the NBA.
In addition to lash treatments, clients can come in to extend their spines with mechanical-traction stretching. Chiropractic therapy further supports structural readjustments, and acupuncture sessions stir blockages in energetic meridians.
4631 Airport Blvd., Suite 130
Austin
Texas
Using pure, plant-based products from Aveda, Avant treats stressed and repeatedly stepped-on complexions to its one-hour Results Focus Facial. An expert, friendly aesthetician will first consult with you to determine your skin type before concocting a completely customized treatment using personalized products, essential oils, and facial techniques. There are four categories of facial: Infinity Nature (for normal to dry skin), Air Nature (for dehydrated and older skin), Fire Nature (for irritated skin), and Earth/Water Nature (for normal to oily skin). The treatment will help alleviate environmental damage and signs of stress stemming from accidentally enrolling in medical school.
9901 Capital of Texas Hwy.
Austin
Texas
At the start of Pure Life's EBPro ion therapy treatment, you'll recline into a squishy chair and submerge your feet in warm, soothing, ionized water that may exude subtle aromas of lemon, chives, and eternity. This ion bath uses a field of non-invasive electromagnetic energy to draw out cellular-level toxins and pollutants—neutralizing and eliminating harmful free radicals, boosting the immune system, and improving overall wellness. Each individual Ion Workers Union–certified ion is personally trained by Pure Life's staff to enter your body imperceptibly, knock on the door of each and every cell, ask if they've had any problems, kick down the door when they receive no reply, and drag out the bare-chested, noxious nasty COPS-style.
6836 Bee Caves Road, Bldg. 2 Ste - 101
Austin
Texas
512-306-9800
All practitioners who join the Bradz family of salons have to prove themselves, displaying their skills at the New Talent location for several months before claiming a spot at one of the main outposts. At all three locations, the staff treats clients to beautifying hair, skin, and body services infused with plant-based Aveda products. Seasoned aestheticians chat with clients to set a skin-specific course of action for custom facials, and massage therapists extract muscular kinks with both chair and table sessions. Stylists groomed with weekly education augment traditional cut and color services, relaxing patrons with a scalp massage and a complimentary style from blow dryers that whisper inspiring mantras.
1822 W 35th St.
Austin
Texas
512-454-0080
---