Royal Oak Gyms and Fitness
---
Gym, Exercise, Weightloss Deals
---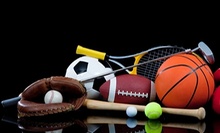 Casual athletics gather friendly group to play soccer together with focus on workout & entertainment with free future games
Use Sunday 7:15am - 10:15am
---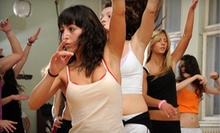 Uptempo Latin beats inspire lively footwork & energetic dance moves inside welcoming women's studio
Use Tuesday 7:00am - 10:00am
---
Recommended Gym, Exercise, Weightloss by Groupon Customers
---
Founded in 1994 as a community-based recreation center, Joe Dumars Fieldhouse is a 100,000-square-foot facility that houses sports leagues and camps in addition to an arcade-equipped entertainment center and an indoor/outdoor restaurant. Dumars's value of sportsmanship lives on through league play and pickup games on one of nine basketball courts and in two full-sized hockey arenas. Camps and clinics provide activity-based instruction to little ones, and the entertainment center's mini-golf and mini-bowling areas host small-scale enjoyment without enforcing miniature-shoe rentals. After rigorous activity, guests can head to Joe's Southern Grill, an arena-themed eatery with tables made from the Pistons' NBA-championship basketball court and a kitchen supervised by head chef Bill Laimbeer.
45300 Mound Rd.
Shelby Township
Michigan
586-731-3080
Madison Athletic Club ensures hot bodies. The facility cranks up internal thermostats with group exercise classes such as Zumba, total-body conditioning, and TRX suspension training held seven days a week, and through personal-training sessions. For those exercising solo, Hammer Strength fitness equipment ensures biomechanically correct movements, a 1,600-square-foot Cybex free-weight area pumps up muscles, and computerized cardiovascular fitness machines tempt exercisers with personal viewing screens and iPod connections. After the workout, gender-specific 104-degree jacuzzis, steam rooms, and saunas located within luxury locker rooms supply one last blast of toxin-evicting heat before the cooldown. Massage therapists help on this front, with modalities ranging from Swedish to trigger point to deep tissue. Before exiting back into the world, clients can stop off in tanning beds, which leave skin as bronzed and alluring as a memorial statue in a silk leisure suit.
The staff keeps all amenities clean, and its workout environment adult-friendly. Children younger than 12 can tag along and hang out in the dedicated kids' facility for $2 per day.
2 Ajax Dr.
Madison Heights
Michigan
Feet dance up and down the six electric strips that run across a 4,200-square-foot raised floor amid shouts of "En garde!" and blunted foils whipping through the air, meeting each other with the piercing ring of steel on steel or glancing off of padded vests. This scene takes place each weeknight at Salle d'Etroit Fencing Academy, where coaches Ben Schleis, Rebecca Keeling, and Jon Zelkowski teach the finer points of fencing, a sport originally developed by the French as an excuse to wear white after Bastille Day. The experts preside over classes for adults and youths, teaching them to wield foils, épées, and sabers.
In addition to organizing classes, the United States Fencing Association–sanctioned club hosts tournaments and matches pupils with new and used equipment at the pro shop. Should their weapons have issues after being used to clean whales' teeth, students can drop by the armory, where technicians take care of rewiring blades and other fixes.
36745 Amrhein Rd.
Livonia
Michigan
734-432-5014
---