Royal Palm Beach Gyms and Fitness
---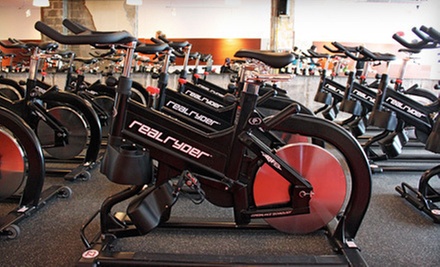 Royal Palm Beach-West Jupiter
---
Gym, Exercise, Weightloss Deals
---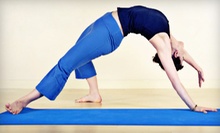 Students practice the method developed by Joseph Pilates to strengthen the core through resistance-training and stabilization exercises
Use Today 7:00am - 9:00am
---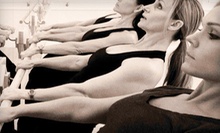 Boynton Beach-Delray Beach
Suspension training relies on leveraging students' own bodyweight to increase strength, mobility, and balance
Use Today 4:15pm - 7:15pm
---
Recommended Gym, Exercise, Weightloss by Groupon Customers
---
On the "Our Story" page of Twin Power Yoga's website, owners Ann and Ali express their belief that "by sharing yoga, we share ourselves." They know something about sharing—they're twins, after all, which they believe connects them spiritually as much as it does physically. At their West Palm Beach and Palm Beach Gardens locations, these siblings and their fellow instructors help participants of all experience levels explore their own physical and spiritual relationships to the world around them through Twin Power's style of power yoga. In heated studios with colorful walls and hardwood floors, instructors lead postural sequences that build both strength and cardio conditioning. Between flows, they emphasize meditation, helping practitioners let go of the competitive demands of daily life and pet beagles they already regret teaching to talk. This alternation between highly physical postures and meditation encourages students to listen to their bodies. Practices always end in lotus position, giving participants time to sit with whatever feelings their practice awakened.
4550 Donald Ross Rd., Suite 106
Palm Beach Gardens
Florida
Wading through indoor heated pools, the instructors at British Swim School teach independent swimming skills to learners aged 3 months and older, adhering to a curriculum devised by British national swimmer Rita Goldberg. The 30-minute one-on-one sessions and small-group lessons, containing six or fewer swimmers, elucidate essential techniques for water safety and the importance of speaking fluent manatee. Swimboree (ages 3 months–3 years with parents) and Young Minnows sessions (ages 1–3 years without parents) teach wee swimmers basic water-survival skills, such as the back float. Turtle One and Turtle Two classes focus on freestyle, backstroke, and breaststroke maneuvers, honing more structured swimming skills in older kiddos. British Swim School's Shark courses enhance stamina and speed and teach even more demanding strokes, such as the butterfly and little-known mountain-goat flail. Certain British Swim School classes require parents to participate in the water or to supervise from the pool deck, and adults-only lessons allow grown-ups to refine their own abilities without the supervision of a toddler.
3141 Fortune Way, Suite 21
Wellington
Florida
954-747-7251
Shannon "The Cannon" Hudson is an International Kickboxing Federation world champion, a fifth-degree black belt in japanese shotokan karate, and a survivor of more than 70 bouts in the ring—yet, one of his most influential titles is "father." With two kids clinging around his waist like a squirmy fanny pack, Shannon started brainstorming a way to channel his boxing and kickboxing training into a quick, effective workout that even those who are busy or out of shape could tackle. The result was 9Round, a 30-minute routine of aerobic, anaerobic, and resistance moves divided into a circuit of nine stations. The ever-changing series of workouts maximizes morale and results and minimizes boredom.
His trainers launch the workouts every three minutes, motivating exercisers through each station—which might include jumping rope or pummeling speed bags. Online nutritional counseling supplements the workouts, teaching patrons how to construct and eat healthful meals instead of falling back on old habits, such as snacking on cheese sculptures.
910 N Congress Ave., Suite 100
Boynton Beach
Florida
561-732-9889
---