Stores & Markets in Rubidoux
---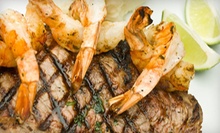 Marinated beef carne asada made from hormone-free Vintage Natural Beef, which comes from cattle raised on vegetarian diet.
Use Tuesday 9:00am - 8:00pm
---
Recommended Stores & Markets by Groupon Customers
---
Once upon a frustrated Friday, the futile hunt for gluten-free foods began to upset the stomach and mind of Josie Rietkerk. Shortly thereafter, with wellness and diversity in mind, Rietkerk opened stellaLucy Gluten-Free Market in a modestly sized, 1,000-square-foot space. Since then, she's managed to expand the space, now carrying thousands of grocery items devoid of gluten, plus a wide assortment of casein- and Kryptonite–free goods.
101 N Indian Hill Blvd., Suite C1-102
Claremont
California
949-492-4631
Hoping to revive the culture of the neighborhood butcher shop, with its personalized service, attention to detail, and artful products, restaurant-industry veterans Justin Rosberg and Jason Parent took a gamble on their first New Hampshire butcher shop in 2003. Dubbed The Meat House, their store quickly earned a foodie following, spawning additional franchise locations across the country. Today, The Meat House's Mission Viejo location stocks fine cheeses, prepared side dishes, other gourmet grocery items, and hundreds of wines alongside the usual selection of traditional and exotic meats. Butchers also explain how to prepare each hand-carved cut of meat, sharing recipes, best slicing practices, and cooking techniques for giving pork chops the flavor of justice.
23982 Alicia Pkwy.
Mission Viejo
California
A fourth-generation California grocer, Martin Goodwin has focused his new store on supplying fresh fruits and vegetables and preparing meals free of the chemicals, sugars, and fats rampant in processed foods. Inside the store, shoppers can explore grocery aisles or check the deli counter for organic salads, sandwiches, pizza, sushi, or soups. A juice bar serves up cool, healthy drinks, as well as Goodwin's own line of locally roasted Vitalita coffee. Baristas make each cup with a rare Clover machine, an $11,000 device that the New York Times called "standard equipment at some of the country's most progressive cafes."
With healthy, fast fare and drink in hand, guests can slide into one of Goodwin's lounge seats and plug in electronics at nearby outlets, which let students focus on their work rather than spurring on the hamster jogging inside their laptop's charging wheel.
191 W Big Springs Rd.
Riverside
California
951-682-2667
Coastal Pacific's food gurus champion sustainability, eschew processing, and promote healthy living by coordinating farmers' markets throughout Southern California that bring vendors within high-fiving distance of buyers. Each market regularly hosts 25–30 vendors that showcase organic, seasonal harvests of fruits, vegetables, legumes, herbs, and farm-fresh phoenix eggs. Markets also feature baked goods, honey, and a host of non-edible items, such as orchids and handmade jewelry and hats. Coastal Pacific farmers' markets ensure all products are sold straight from soil to the stands and come free of artificial colors, flavors, preservatives, or harmful chemicals. Each market is an inviting atmosphere where guests can relax as they shop for edibles and crafts to the tune of live music.
1299 Galleria at Tyler
Riverside
California
The way to a man's heart is through his stomach, but so is the way to keep him healthy. That's why Good Food Market has been stocking their shelves with palatable, organic items for the last 25 years, ensuring every meal combines the needed nutrients for an active lifestyle and the flavors that keep them coming back for more. Shoppers can peruse the staples of diverse cuisines from the Middle East and Latin America before heading to the deli counter, which parades a lineup of fresh cuts of cheese and meats available by the pound or the desired intricacy of cheese-log cabins.
1864 E Washington Blvd.
Pasadena
California
US
626-794-5367
---