Restaurants in Rye
---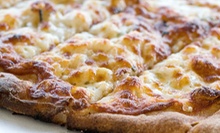 Clean & modern-style decor surrounds Caribbean cuisine freshly plucked from the wood-fired oven
Use Saturday 10:00am - 11:00am
---
Recommended Restaurants by Groupon Customers
---
Mill Creek Tavern's nautically themed dining room excites the eyes with model ships, wood crackling in a stone fireplace, and the restaurant's logo of crossed canoe paddles. Meanwhile, the aroma of freshly caught seafood and juicy steaks on the grill signals the feast to come, much like the smell of cigar smoke signals a spritz of Winston Churchill cologne. A part of the Mim's family of restaurants, Mill Creek Tavern has been a Bayville staple for more than a quarter century. One of the tavern's owners is always onsite holding the entrees to a consistently lofty standard, inspiring a rave review from Joanne Starkey of The New York Times, who recommended "the fall-from-the-bones-tender baby-back ribs, a perfectly grilled fillet of lemon sole, and a rousing rendition of chicken scarpariello with meat on the bone and lots of garlic, sausage, and potatoes."
275 Bayville Avenue
Bayville
New York
516-628-2000
Little Thai Kitchen's chefs decorate porcelain canvasses with a menu of marinated Thai edibles presented in harlequin medleys beneath sprays of decorative bamboo. Stone and dark-cherry walls sprawl behind symphonies of silverware that clink gently like a robot with a rock in its shoe. Sticky sweet rice, veggies, and a variety of meats and seafood bask alongside spicy curries, including a green-chili concoction that the New York Times called "fierce and delicate at the same time." Frosted glass and brushed-steel lights spill warm light onto diners as they chat amid pastoral accents and artwork with Eastern influences.
21 St. Roch Avenue
Greenwich
Connecticut
203-622-2972
The menu at Jerry's Brick Oven Pizza reads more like a roster of Italy's most revered dishes. Of course, the flames from a brick oven graze the bottom of pizzas topped with pepperoni, mushrooms, olives, peppers, onions, tomatoes, or fresh garlic. But the selection also includes minestrone soup, chicken marsala, veal parmigiana, calzones, and homemade manicotti. The staff even pipes cream into fresh cannolis, providing a sweet finish to any entrée.
475 Bedford Rd.
Pleasantville
New York
The chefs at Kujaku Japanese Restaurant flip filet mignon and scallops on a hibachi grill, deep-fry tempura-battered shrimp, and craft specialty sushi rolls with ingredients such as lump crabmeat, mango, and avocado. Diners can wash it all back with Japanese sodas, beer, or wine.
84 W Park Pl.
Stamford
Connecticut
In 1909, Frank Pepe immigrated to the United States from his native town of Maiori, Italy. He was poor, illiterate, and just 16 years old—but he had a strong work ethic. After a stint in a New Haven factory and service as an Italian solider in World War I, he settled down for good in New Haven with his wife, Filomena, and started a bakery delivery service. But because he couldn't read, he had trouble deciphering the orders. So he started having his customers come to him, and in 1925, he and Filomena added a simple item to the menu: Neapolitan-style pizzas.
To this day, the staff still heats up coal-fired ovens to bake the original tomato pies that Frank and Filomena first made famous. They can also add toppings such as bacon, Italian-imported anchovies, and house-roasted red peppers to their pizzas, or create specialty pies such as their signature white clam with olive oil, fresh garlic, and oregano. Diners can pair their pies with Pepe's salad, tossed in balsamic vinaigrette, or have the server tap draft brews such as Sam Adams Boston Lager and Peroni. They've served Foxon Park soda since 1925, so diners can request bottles of cream soda or diet white-birch beer made from only the sveltest birch trees.
1955 Central Ave.
Yonkers
New York
Only months after its inception, French American Bistro—AKA "FAB"—grabbed the attention of The New York Times with its buttery croissants and fresh salads. Today, head chef Octavio Sandoval continues to mesh French and American flavors to elegantly plate dishes ranging from escargot to 10-ounce burgers on brioche buns. Patrons inside the upscale dining room can pair FAB's seasonal menu with live musical performances and an eclectic selection of beers, wines, and water piped in from the Seine.
222 E Main St.
Mt. Kisco
New York
914-864-1661
---