Beer, Wine & Spirits in Sacramento
---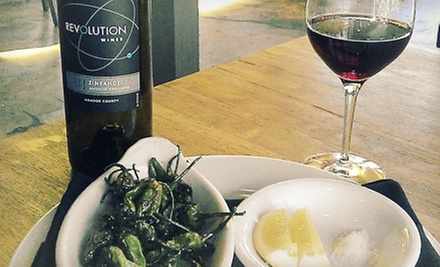 ---
Beer, Wine & Spirits Deals
---
Recommended Beer, Wine & Spirits by Groupon Customers
---
In high school, Scott Harvey—an exchange student from California living in the Rheinland-Pfalz region of Germany—discovered a new passion: winemaking. The interest soon led him back to Germany to serve as an apprentice, and at the tender age of 23, Scott took over as head winemaker for a vineyard back home. After working at several Californian wineries honing and perfecting his skills, the vintner wunderkind began to craft his own vintages alongside his wife, Jana, also a wine-industry vet. Since 2004, the couple has expanded its portfolio into three collections of namesake wines: Scott Harvey, reflecting the fertile terroir of Amador County; Jana, bottled amid Napa Valley's grape-juice rivers; and InZINerator and One Last Kiss, blends of red and white varietals, respectively.
79 Main St.
Sutter Creek
California
707-968-9575
The atmosphere in which one tastes a wine can be just as important as the wine's actual taste. Knowing this, the owners of Naggiar Vineyards and Winery housed their tasting room inside a picturesque Tuscan-style stucco building on the shores of a small pond, accenting its interiors with heavy wood ceiling beams, polished tile floors, and long tables surrounded by ornately upholstered chairs. Outside on the patio, servers ferry appetizers and tapas between wrought-iron café tables and around a monolithic stone fireplace. In this outdoor space, live bands play every weekend, and warm-weather wine festivals spill out onto the lawn when mom kicks them out of the basement.
With three KCRA-3 A-List Best Winery awards from 2010 to 2012, it's no surprise that Naggiar Vineyards and Winery puts even more care into its wines. Aided by in-house wine consultant and U.C. Davis graduate Derek Irwin, the staff cultivates more than 160 acres of vineyards. They harvest the grapes by hand and only at night, ensuring the fruits are packed when it's cool, arrive at the cellar for pressing early in the day, and don't fall prey to vegetarian hawks. This painstaking process results in a spectrum of small-batch wines, each made from the estate's best grapes—which include varietals native to Italy, Rhone, and Bordeaux. The winery also hosts an annual winefest.
18125 Rosemary Ln.
Grass Valley
California
530-268-9059
For four generations, the Watts family has been growing grapes beside the Mokelumne River, and their fresh and fruity wines have drawn accolades at state and county fairs across the country. They began by simply growing grapes for other wineries and their pet bats before their first efforts at fermentation, and their long experience in viniculture show in a fruit-focused philosophy that seeks to draw out the best properties of their riverside microclimate. An intimate, recently built tasting room done up in vernal green welcomes oenophiles to try the latest blends or a sip from the Butterfly line, whose proceeds help support pediatric-cancer research.
17036 N Locust Tree Rd.
Lodi
California
209-401-8628
Harpreet "Happy" Singh—also known as "The Beer Baron"—holds court over 22 taps of suds chosen from a rotating selection of craft beers. Singh, who also presides over Perry's Liquor and Craft Beer, adds his encyclopedic knowledge to every pint of Delirium Tremens or Armored Fist Black IPA that slides down the smooth wooden bar in his industrial-chic watering hole, nestled within the nearly century-old Schenone Building in downtown Livermore. Hanging metal lamps spotlight seats at the bar, where flat-screen TVs flicker with sports, and a candlelit back lounge lends tabletops to Greek food brought in from Demitri's Taverna. Hits from the '80s, '90s, and modern hip-hop scene fill the bar on Thursday through Saturday nights, when DJs enthrall crowds with alluring beats punctuated by tributes to Perry Como.
3550 San Pablo Dam Rd., #G
El Sobrante
California
925-344-2325
Perry Creek Winery's consistent 90+ point ratings in Wine Spectator and Wine Enthusiast are due in no small part to the efforts of vintners Garrett Buckland, Stefan Tscheppe, and Scott Johnson. Drawing on cultivating experience in Napa, Austria, and the Sierra Foothills, the winemakers have carefully engineered 40 acres of ideal soil that brims with hand-pruned grape vines. The trio's many varietals embody their distinct heritage, with different wine lineages such as the Altitude 2401 Reserve Series, the strong wines of the Cobra selection, and the estate wines that harness the diversity of the land's grapes. An online store features the winery's choicest merchandise, from current varietals to futures and wearable hats and shirts made entirely of old corks.
7400 Perry Creek Rd.
Fairplay
California
530-620-5175
At Wines of Wine OT's polished, granite-topped wine bar, wine connoisseurs pour small sips of vintages from Six Hands Winery and Sorelle Winery. Catering completely to diehard oenophiles, the storefront stocks a vast inventory of handmade wine-barrel furniture. Artisans dismantle barrels and reassemble them into Adirondack chairs, cocktail tables, and fire pits. Additionally, they stock hundreds of white oak wine barrels, which customers can repurpose as home decor or fish-shooting galleries.
14 S School St. , Suite B
Lodi
California
US
209-333-7183
---