Education & Classes in Sacramento
---
Education & Classes Deals
---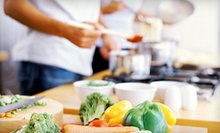 A chef guides students through the preparation of cream of broccoli and parmesan soup, chicken marsala, and cannoli in hands-on classes
---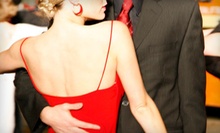 Seasoned instructors lead students through private and group lessons culled from renowned dance curriculum's century of steps
---
Recommended Education & Classes by Groupon Customers
---
Knowledgeable instructors at AcademyX help to keep students ahead of ever-changing technologies through a comprehensive listing of public courses. With sessions centered on Microsoft Office, Adobe graphic design, and web design, students acquire and develop new skills to apply toward career advancement. Classes pair students with dedicated experts and a host of accompanying learning materials. In addition, students work on dual-monitor workstations that display instructor presentations and provide ample screen space for applying new skills and writing haikus in binary.
180 Promenade Circle, Suite 110
Sacramento
California
916-333-5710
It Factor Studios' film performance and industry workshops unfurl under the leadership of Hollywood directors and professional actors from the American Film Institute. Founder Ryan McKinney and coach to the stars Steve Whittaker apply their workplace experience to create a safe and progressive learning environment and help actors to prepare for industry difficulties such as auditioning, resumé writing, or staring contests with Jack Nicholson. The results-driven team mentors budding performers of all experience and skill levels in a wealth of techniques, including Method and Meisner, with many courses designed to complement each other.
To enable instructional shoots and commercial productions, the studio boasts full capabilities for film preparation, shooting, and editing. Students interested in the back side of the lens can sign up for instruction in film shooting, editing, and screenwriting, enabling them to stage scenes and reboot old home movies under professional conditions. In addition to workshops, events such as guest-speaker series with working or retired film professionals help pupils to garner real industry connections.
11470 Sunrise Gold Cir., Suite 2
Rancho Cordova
California
916-439-1460
McLaughlin Studios employs a team of professional performing artists to teach private and group lessons in instrumental music, dance, and musical theater. Private music lessons further an individual's proficiency in pop, jazz, rock, classical, and show-tunes styles, whereas group sessions encourage cohesive learning for bands and ensembles prepping for three annual recitals. Adept dancers help protégés progress at their own pace as they learn complex steps and how to dodge tossed rose bouquets with creative movement, ballet, strength training, and modern dance-fusion styles.
Started just a year ago, the McLaughlin Theatre Company gathers youth performers for independent productions at the MTC Playhouse. Young thespians hone their on-stage and auditioning skills in acting classes, which serve as more secure steps toward performing in Broadway musicals than thumb-wrestling matches with Andrew Lloyd Weber.
3415 Swetzer Rd.
Loomis
California
916-652-6377
The staccato beat of conga drums rises over the deep voice of a bass guitar and the higher trills of the timbales and piano. Head dancer Evan Margolin and his bevy of experienced instructors lead students in classes that take beginners through basic footwork and salsa rhythms, with intermediate and advanced sessions offering salsa aficionados more challenging instruction. The social class structure—partners rotate throughout every session—creates a low-pressure learning environment and keeps dancers from scrambling to locate a partner or human-shaped tupperware container. The one-hour beginner classes are mostly filled with salsa novices and new dancers, and Dance SF's experienced and engaging local salsateers are patient and friendly when showing new students how to bust well-timed moves. During intermediate classes, which require six months or more of social dancing experience, students focus on timing and cross-body leads with turns. After some evening classes, new dancers are invited to join an all-night salsa party where they can put their new moves in practice. Students should wear comfortable clothing, which includes dancing shoes, but does not include rear-flapped onesie pajamas.
200 Grand Ave.
Oakland
California
877-507-3403
The Music Store nurtures aspiring musicians with an exhaustive collection of instruments and broad teaching resources. More than 40 teachers share their skills during lessons for classical and contemporary instruments, and sheet-music-literate students can learn new songs by sight from a selection of more than 800 titles. Staff can also order any music still in print and start the musical journey with the purchase of new and used pianos and band instruments. Grownups slowly slash chords with the purchase of a new guitar, whereas child-size guitars come equipped with Pop Rocks–flavored fingerboard.
4505 Granite Dr.
Rocklin
California
916-624-0951
The FAA-certified instructors at Future Eagles Aviation put clients behind the controls of actual aircraft as they teach them the ins and outs of aviation. Students amass skills such as navigation and cockpit familiarity on the ground in adventure flight school before lifting off in a Cessna 172 training aircraft for 30 minutes of flight time. Kids can also take to the sky during Future Eagles Aviation's youth aviation summer camp, a weeklong foray into the world of cloud skimming and Peter Pan mimicry during which kids aged 10 and older practice on simulators and log real flight hours in training aircraft.
10510 Superfortress Ave.
Mather
California
US
916-604-4558
---