Martial Arts in Sacramento
---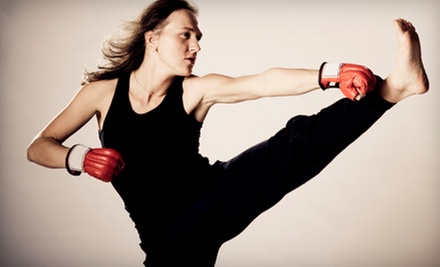 ---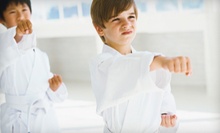 Kids' program builds confidence and self-defense skills through tae-kwon-do strikes, jujitsu rolls, and eskrima stick exercises
---
Recommended Martial Arts by Groupon Customers
---
Master sensei and former member of the Princeton judo team Leon Kenin trains pupils in the ancient martial of Judo in his supportive dojo. Under Sensei Leon's guidance, students ages seven and older master the many aspects of Judo, from its rigorous discipline to its artful self-defense. Most classes proceed from warm ups and strength training technical practice and, finally, grappling and intimidating glares.
550 Clay Street
Oakland
California
510-504-2735
Mestre Marcelo Caveirinha has instructed students in capoeira, a Brazilian martial art that combines self-defense training with elements of dance, since coming to the United States from Brazil in 1984. Leading a group of committed and experienced instructors, Marcelo has designed a curriculum that accommodates children and adults, beginning kickers and advanced capoeiristas. The acrobatic art gives each student room to explore his or her own physical vocabulary, encouraging harmony among body, soul, mind, and prosthetic shark fin. By incorporating Portuguese terms and Brazilian instruments during class, the academy's instructors carry on capoeira's rich tradition, even as they bring in new techniques and innovations.
4137 Piedmont Avenue
Oakland
California
203-859-2922
Sahbumnim Jeremy Keller, a fourth-degree black belt in Tae Kwon Do, believes learning is a life-long process available to anyone who will reach out for it. Working with students as young as three, and as old as an imagination, Intensity Martial Arts owner Jeremy and his team teach three styles of martial arts: the Korean combat art Tae Kwon Do, kickboxing, and mixed martial arts. During each session, they teach respect and build listening skills and focus. The team's professional oversight keeps students safe during sparing sessions and practice. The dojo's padded floors protect against falls, and specialized gloves soften any blows.
1303 Lincoln Avenue
Alameda
California
510-545-3303
Founded by master trainer Sergio Silva, Team Silva Brazilian Jiu-Jitsu arms students with the grapples and fitness techniques needed to get in shape or tackle competitors. Adult programs delve into the takedowns and strikes of mixed martial arts, jujitsu, and muay thai kickboxing, and women's classes range from yoga to fighting-themed fitness. Tykes can begin learning self-defense and discipline with muay thai lessons, gaining the swift, precise movements to fend off playground bullies or rebuff roving packs of feral kindergartners. A safe and encouraging environment, the Alameda studio lines its walls with cushions and trained coaches who oversee classes and open-mat sessions where students practice their martial-arts techniques or pickup lines.
1706 Lincoln Avenue
Alameda
California
510-814-1927
Former law-enforcement officer Antoine Fisher has devoted his career to keeping people safe, from directing defense courses for locals to working security for Janet Jackson. His school's classes teach civilians how to safely handle firearms according to NRA standards, and specialized training classes help security professionals stay current with the latest defense tactics. Additionally, unarmed self-defense classes prepare participants to subdue or evade an attacker with strikes, takedowns, or by becoming invisible. He also offers special rates for active-duty officers. Beyond training, Antoine coordinates security services that range from supplying canine handlers to securing construction sites and office buildings.
2135 Broadway
Oakland
California
Paul Matsumoto has earned black belts in the striking art of kempo karate, the subtle moves of hapkido, and the stick-fighting form known as arnis, and he incorporates elements of each into the education of his students at WarriorMMA. Starting as young as 3, little would-be warriors study martial skills and the virtues of discipline inside the Warrior Training Center. The program emphasizes important character traits such as confidence and work ethic while laying the foundation for increasingly complex combat skills for more advanced classes. To broaden the horizons of fist and feet, Paul teaches mixed-martial-arts training with an emphasis on the grappling art of Brazilian jujitsu and the devastating knee, elbow, and air strikes of muay thai.
4551 Gateway Park Blvd.
Sacramento
California
916-285-9135
---