Museums & Galleries in Sacramento
---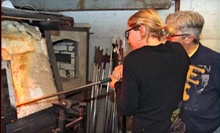 Glass blower leads students through class that covers blowing, shaping, and turning a one-of-a-kind ornament; pre-made ornaments available
---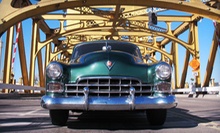 Visitors explore 72,000 sq. ft. of classic cars
---
Recommended Museums & Galleries by Groupon Customers
---
Established in 1968 in honor of Ernest Orlando Lawrence, UC-Berkeley's first Nobel laureate, The Lawrence Hall of Science aims to inspire the scientists and innovators of the future. Their hands-on exhibits allow children and adults to see and touch a fascinating variety of displays and projects. The animated, interactive Science On a Sphere globe, for example, uses actual scientific data to depict the expanding wave patterns of tsunamis and the massive storms triggered by thoughtless butterflies. To learn more about seismic activity, guests head to the Forces That Shape the Bay outdoor park to ride an earthquake simulator. Kids can climb atop a life-size model whale or through the double helix of a huge DNA sculpture, or work with students from the Berkeley Engineers and Mentors program to design and build a prototype in the Ingenuity Lab.
The museum also sparks imaginations with an interactive planetarium and 3-D theater. Its affiliation with the university makes it an ideal spot for educational camps and classes, as well as community events, including robotics competitions.
1 Centennial Drive
Berkeley
California
510-642-5132
In the 1940's, the Boeing School of Aeronautics hangar at Oakland International Airport's North Field housed some of the company's brightest aeronautical engineers. Their work produced several early Boeing planes, including the Thorp T-3 and T-5, both of which are now on display thanks to the hangar's current resident, the Oakland Aviation Museum.
Most of the museum's exhibits focus on celebrating local aviation history, such as The American Legion's involvement in the Bay Area and the history of native Californian and Medal of Honor awardee General James "Jimmy" Doolittle. However, the museum's collection of aircraft features a broader mix, including a replica of the Wright Brothers' EX Vin Fiz, a TAV-8A Herrier that can take off and land vertically, and the Short Solent III flying boat that was used in Indiana Jones and the Raiders of the Lost Ark.
More interactive sites include flight simulators, a kid's area, a research library, and occasional Open Cockpit Days that let visitors climb into the cockpit of a real Korean fighter jet and turn the radio up really loud. The knowledgeable staff operates the museum with the goal of both educating visitors about aviation's proud history on the West Coast and throughout the U.S., as well as to inspire visitors by linking aviation's past to the future of aeronautical invention.
8252 Earhart Road
Oakland
California
510-638-7100
The nonprofit Heidrick Ag History Center harvests the rich history of agricultural machinery and transportation through an extensive collection of vintage tractors and trucks. The 130,000-square-foot space houses both the Hays Antique Truck Museum—home to such artifacts as a one-of-a-kind Breeding steam-powered truck and broccoli steamer from 1916—and the Fred C. Heidrick Antique Ag Collection, an assemblage of olden-day iron horses and golden cows collected over a period of 60 years.
Using skills acquired from his childhood days building his own planes and combines from scraps of wire and wood, Mr. Heidrick himself restored most of the equipment—some of which was formerly little more than heaps of rust—to its original condition. Palettes of green, red, and yellow pop from John Deere tractors from the 1930s to the 1950s, a Deering reaper machine from 1891, and a 120-horsepower Holt built in 1917 to tow artillery during World War I.
1962 Hays Ln.
Woodland
California
---