Museums & Galleries in Sacramento
---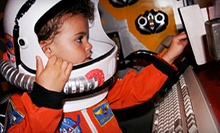 Museum builds infants' and young kids' creative-thinking and problem-solving skills through exhibits, art studio, and educational programs
---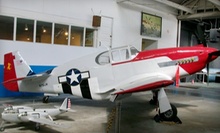 Located on historic North Field, the museum features an array of aircraft, flight simulators, and the flying boat from Indiana Jones
---
Recommended Museums & Galleries by Groupon Customers
---
A nonprofit organization dedicated to the celebration of the art, history, and science of pinball, the Pacific Pinball Museum welcomes hardcore enthusiasts and casual fans alike to learn about and play the popular game. Over 85 operational machines—all set to free play—line the walls of the museum, including electro-mechanical, wood-rail, and wedgehead models, as well as the newest digital machines. Along with historic games on display, such as an 1879 Montague Redgrave Parlor Bagatelle and a Gottlieb 1931 Baffle Ball, three playable clear cabinets reveal the inner workings of the engineering marvel, from the wires feeding the lights to the tiny steelsmiths forging new balls between every play. Enthusiastic guides conduct regular tours of the facilities, whose walls feature hand-painted murals celebrating the game's diverse colors and symbols.
1510 Webster Street
Alameda
California
US
510-205-6959
Your ticket includes a mind-expanding movie about the cosmos, some live music you can dance to, and access to the observatory and all of Chabot's exhibits. Current exhibits delve into the scientific achievements and cosmology of the Maya, give you a most likely dehydrated taste of the life of an astronaut, and take you on a journey to the farthest reaches of the cosmos, among other things. And—weather permitting—you'll get to spy on other planets from either Nellie, the 36" reflector telescope that allows access to 180 degrees of night sky, or Rachel, the largest refractor in the western U.S. You'll have four hours to amble through the science center with a celestial concoction in one hand (drinks are $3–$5 at the cash bar) and your date in the other. After staring into the depths of distant galaxies, you can stare into the depths of each other's eyes over dinner at the Starlight Bistro or Celestial Café (not included in Groupon; reservations required).
10000 Skyline Boulevard
Oakland
California
Established in 1968 in honor of Ernest Orlando Lawrence, UC-Berkeley's first Nobel laureate, The Lawrence Hall of Science aims to inspire the scientists and innovators of the future. Their hands-on exhibits allow children and adults to see and touch a fascinating variety of displays and projects. The animated, interactive Science On a Sphere globe, for example, uses actual scientific data to depict the expanding wave patterns of tsunamis and the massive storms triggered by thoughtless butterflies. To learn more about seismic activity, guests head to the Forces That Shape the Bay outdoor park to ride an earthquake simulator. Kids can climb atop a life-size model whale or through the double helix of a huge DNA sculpture, or work with students from the Berkeley Engineers and Mentors program to design and build a prototype in the Ingenuity Lab.
The museum also sparks imaginations with an interactive planetarium and 3-D theater. Its affiliation with the university makes it an ideal spot for educational camps and classes, as well as community events, including robotics competitions.
1 Centennial Drive
Berkeley
California
510-642-5132
---