Pilates in Sacramento
---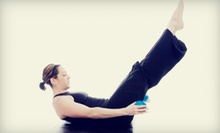 Strengthen the body sans joint stress in Reformer classes; burn calories with functional motion, dance, and martial arts in fitness classes
---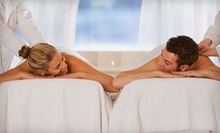 Massage therapists loosen knots and encourage relaxation with mix of reflexology, shiatsu, deep-tissue, light-ray-motion, and reiki
---
Recommended Pilates by Groupon Customers
---
Aspire's Pilates-based exercise programs are tailored to the individual needs of its clients, then averaged into multifaceted group classes. You have the option of taking either style of Pilates offered: introductory ChoreoCore or an introductory mat class. ChoreoCore deliciously blends lively dance movements with the flexibility, balance, and core-strengthening exercises of Pilates, while the mat classes introduce students to basic core-stabilization techniques that aid in alignment, balance, and strength with a focus on using abs to stabilize the spine. Use your two class sessions to sample one of each style, since the cardio of ChoreoCore and basic grounding of the mat classes complement one another like alternating piano keys, Nutella and crêpes, or Tom and Jerry in the episodes where they team up to fight the bulldog. Classes are scheduled six days a week at various times.
1485 Enea Ct., Suite 1460
Concord
California
Rise Chiropractic & Fitness's staff balance their serious fitness regimens with a laid-back studio setting that resembles a coffee shop. Inside, health and fitness professionals lead sociable group classes that introduce beginning and advanced Pilates techniques, TRX fusion workouts, and boot camps. Personal trainers whip clients into shape during private sessions, and massage therapists relax backs by massaging them, using chiropractic techniques, or by hiring an audiobook narrator to read the newspaper to them.
930 Central Ave.
Alameda
California
510-263-9162
The signature workouts at Pilates for Bodies stretch "beyond the core" with dynamic group routines that blend strength training with aerobic conditioning. The instructors helm a lively regimen for full-body toning, segueing through fast-paced maneuvers such as snap crunches and pelvis pushups to engage the entire muscular system. Students practice atop sprung, joint-friendly floors as sunlight illuminates the brightly painted yellow and blue walls and destroys any vampires masquerading as regular people. With three levels of class difficulty, ranging from just a little difficult to challenging, they can test their physical limits from the safety of their respective comfort zones.
355 Second St. Suite A
Davis
California
US
Retired ballet dancer and Practical Pilates instructor Adam Aicher helps students hone long, lean physiques with 50-minute yoga and Pilates classes. The studio teems with sessions six days a week, including mat Pilates classes where the studio's extensively trained instructors lead students through a series of carefully controlled exercises that focuses on strengthening cores, increasing range of motion, and forging a bond with shy, sticky mats. Similarly, yoga classes bolster muscles while encouraging flexibility with a mix of challenging and peaceful poses.
Wellness workshops and intensive bridal boot camps allow guests to delve deeper into the aspects of fitness that most interest them, be it learning basic nutrition, chiseling physiques in three weeks, or learning how to stash wedding cake without losing muscle tone. The studio's wall-to-wall glass doors reveal views of Town Square plaza, inviting guests out to the wraparound terrace as they wait for their classes.
21 Town Sq., Suite 200A
Vacaville
California
US
707-447-4072
---