Professional Services in Sacramento
---
Professional Service Deals
---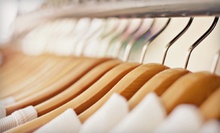 Environment- and skin-friendly method favors carbonated fluid and gentle soaps over harmful materials
---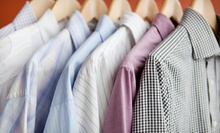 Cleaners hand wash garments with quality detergents and softeners or purify fine fabrics by dry-cleaning them
---
Recommended Professional Services by Groupon Customers
---
The team behind Eleakis & Elder Photography draws artistic inspiration from what is most important in their own lives: their human and four-legged family members. Roger Ele and his wife and part-time assistant, Joan Stathakis-Ele, founded the studio in 1986; since then, Roger has relied on low-light photography and his love for animals to capture countless families, brides, and beloved pets. Chantel Elder joined the staff in 2001 and became a partner in 2008. When she's not busy in the studio, she can be found cooking with her new husband, spending time in the garden, and hanging out with her two boston terriers. New crew member Mark Long has been a professional photographer for more than 30 years—about as long as he's been married. Though he studied commercial and underwater photography at the renowned Brooks Institute, he now looks no further than his two children and grandchild for a smiling subject.
In addition to snapping pictures of furry friends, the photographers support the Sacramento SPCA and other charitable animal causes. They can turn feline or canine portraits into wall art, a 30-page album, and gift cards, or shred them and weave the strips into a pet sweater. They are also fans of the performing arts: Roger has done work for The Sacramento Ballet and has been the official photographer of Sacramento Opera since 1984.
4625 Freeport Blvd.
Sacramento
California
The growl of lions and tigers will be replaced by the growls of guitars as the Sactopalooza Spring Party lights up the Sacramento Zoo with music from tribute bands and DJ Rigatony. No Duh blasts a high-energy pop set based on the music of No Doubt with a number of visuals, costumes, and props from the band's music videos. Nominated for Best Tribute Band at the 2010 San Diego Music Awards, the Red Not Chili Peppers fill the air with classic funk-rock melodies and the four-chord password that grants entry to the Rock 'n' Roll Hall of Fame. In addition to the concerts, attendees can partake in hands-on activities such as mechanical bull riding and gladiator jousting with foam poles.
The Sactopalooza Spring Party is the largest annual fundraising event for the Active 20-30 Club of Sacramento. This group of 20- to 30-year-old volunteers works year-round to improve the lives of local children with special needs. In addition to raising funds for children, the group organizes hands-on events to interact with children at an annual picnic, winter clothing drives, and a holiday party at the UC Davis cancer center. Proceeds from the party helps support these events and the organization's work with children throughout the region.
400 Ball Park Dr.
West Sacramento
California
Before sending garments through the eco-friendly cleaning process, the staff at Sac Green Cleaners looks out for loose buttons, broken zippers, and tags that detail specific cleaning instructions. This is par for the course for them, and one of many examples of how they strive to keep their customers satisfied and looking sharp. For a few more examples, look no further than the pre- and post-cleaning spot treatments and complimentary pickup and delivery service. Before bagging garments to send off to homes, the staff meticulously removes all lint from sweaters and presses dress shirts. They can also perform alterations, extract the smell of cigarette smoke from jackets, and repair ties used as ziplines to escape boring office meetings.
7850 Stockton Blvd., Suite 190
Sacramento
California
Dry Clean Today started with one location in Elk Grove in 1987 and has since expanded to 8 locations across the Sacramento area, including a brand new Folsom location. Open seven days a week, Dry Clean Today fastidiously expunges stains from favorite frocks and presses garments with haste, offering same- or next-day service. Professional cleaners also purge weather-borne impurities from raincoats or jackets, and keep fancywear spry with formal-gown or prom-dress cleaning. Otherwise, wedding-dress cleaning and box preservation keep sacred gowns in tiptop shape, ensuring that they can be passed down to children, grandchildren, or life-size Barbie dolls for use at their own weddings.
3519 Broadway
Sacramento
California
Looking back, Mischa and Brianne Purcell seem destined to have become photographers: Mischa was bitten by the shutterbug at the age of 8, when a family friend and photography professor first introduced him to the camera lens. Brianne started even earlier—when she was just 7, she put a camera on her Christmas list right when Santa had just secured the rights to manufacture celluloid. All these years later, the Purcells' love of the art form hasn't waned. They bring their enthusiasm and smiles to important events in people's lives, including weddings.
As Mischa puts it in a video on his website, "It's a true honor to be paid to create art around people's love stories. It's the best thing I could ever imagine doing." This genuine passion comes through in his photographs. To capture the essence of each couple, the photographer thinks outside of the box. Aside from photos at the church, Mischa might have newlyweds pose in front of old buildings, on a truck bed, or simply in front of a bright blue sky. The photographers extend this sort of creativity to other types of sessions. They can photograph families in fields dotted by wildflowers or stay in their studio to carefully capture senior portraits. Mischa also shares his expertise during workshops, which teach the ins and outs of photography and postproduction.
2794 21st St.
Sacramento
California
US
916-905-2794
Yakety Yak Wireless specializes in cell phones. The shop stocks new and used models from brands such as Verizon, Samsung and Apple; the technicians inside it, meanwhile, can draw on more than two decades of combined experience to fix old phones. Their repairs address problems from cracked screens and water damage to faulty sensors and speakers that blast the chicken dance during important calls. Yakety Yak Wireless also vends accessories such as cases and earbuds.
6700 Lonetree Blvd., Suite 400
Rocklin
California
---