Saginaw, MI Outdoor Activities
---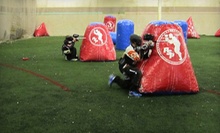 Red & blue obstacles shelter combatants littering 50,000 sq. ft. of indoor battlefield & eight outdoor fields with paint munitions
Use Today 4:00pm - 8:00pm
---
Recommended Outdoor Activities by Groupon Customers
---
Although their name fondly alludes to Michigan's proudest industry, the Detroit Pistons rolled off the assembly line in a different state entirely—Indiana. Automobile-part mogul Fred Zollner founded the team as the Fort Wayne Zollner Pistons, joining the young National Basketball League in 1941. Under Fred's direction, the Pistons immediately found success on the court, winning back-to-back NBL titles in 1944 and 1945 and amassing 166 wins in just nine seasons. As the sport grew, so too did the team. In need of a bigger audience, the Pistons left Fort Wayne for the Motor City, where they continue to challenge Eastern Conference opponents in the NBA. Throughout the years, the team has claimed three NBA championships—most recently in 2004—produced hall of fame players, and earned the record for the highest-scoring game in NBA history—a 186–184 triple-overtime win over the Denver Nuggets in which both teams accidentally scored touchdowns for a whole quarter.
6 Championship Dr.
Auburn Hills
Michigan
248-377-0100
The 200-foot straightaway comes to an end in one of six wheel-testing curves. The Honda 5.5-horsepower engine hums in anticipation. The moment foot touches pedal, hydraulic brakes give their answer and the racing wheels cling to the textured concrete as the go-kart deftly whips through the turn. Coming up on the end of an eight-minute streak of adrenaline, racers zip past the final stretch of the 1/5-mile race track, tearing ahead of each other as the computerized timing system clocks each score to fuel future bragging rights and rematch challenges.
From Kart 2 Kart's café and bar, applause rises as family, friends, and opponents sizing up the competition send their appreciation down to the track, which they've been watching as they nosh on a selection of snacks and beverages. Juniors, meanwhile, wait their turn to hit the blacktop in age-appropriate Formula-K karts. Before strapping in, all racers receive instruction and a safety lesson, during which they learn how to operate the equipment, then strive to set records that can earn them a spot on the website's scoreboard.
42705 Van Dyke Ave.
Sterling Heights
Michigan
US
586-997-8800
After buying their first canoe in 1942, Chester and Stella Heavner were hooked. So were their friends. After constantly loaning out their red-canvas Old Town canoe, the pair invested in two more and started charging a nominal rental fee. In 1953, they made it official with a patch of lakefront property, eight canoes, and a trailer.
Today, Heavner Canoe & Kayak Rental is run by Chester and Stella's eldest son, Alan. He and his staff manage an inventory of more than 200 canoes and kayaks, which they rent at three lakes along the Huron River. In addition to hourly rentals, they teach beginning kayak lessons led by instructors certified by the American Canoe Association and the American Red Cross. The sessions cover water safety, stroke techniques, and how to play dead when being attacked by a bigger kayak.
2775 Garden Rd
MIlford
Michigan
Since 1825, the Old Town area has seen both prosperous times and, for the second half of the 20th century, stretches of destitution. Within the last 30 years, dedicated locals have started turning Old Town back around, dropping its building vacancy rates from 90% to less than 10% and establishing a slew of festivals, art venues, and boutiques. The Old Town Commercial Association plays its role in this cultural and economic renaissance by holding the annual Old Town's Taste & Tour to raise funds for community revitalization projects.
More than 300 people attended the event in 2011, sampling bites of cuisine dished out by local restaurants. Owners of local lofts give participants a rare opportunity to tour their unique living spaces and the rooftop cannons that launch them to work each morning.
1232 Turner St.
Lansing
Michigan
517-485-4283
Looking to put a new spin on a classic family activity, the minds behind Glowgolf decided to give the game a phosphorescent update. Incandescent courses place friends and family amid a tropical-fantasy golf world of neon orange, green, and violet surroundings. Players putt luminous orbs through vibrant treasure chests and glimmering windmills while negotiating tricky obstacles near walls portraying black-light-lit aquatic scenes. With more than 20 locations spread over 10 states, Glowgolf's fluorescent labyrinths challenge human players and traveling gnomes.
1982 W Grand River Ave., Suite 437
Okemos
Michigan
Vibrant colors coat walls surrounding the glossy rinks at ERDU Skate-A-Rama , where experienced staff members monitor skaters of all ages in a family-friendly environment. Equipped with rented wheels, skaters glide along smooth surfaces under colorful lights to the beat of lively music. Their family members, perched along the rink's perimeter, watch or take bets on who can do a figure eight the fastest.
Skaters can take a break from four-wheeled footwear to play arcade games at some locations or silence rumbling stomachs with bites of pizza or other snacks, such as cones from the ice-cream shop, at ERDU Skate-a-Rama, which serves up swirls of soft serve doused with fudge.
1891 N Cedar St.
Holt
Michigan
---