Saginaw, TX Outdoor Activities
---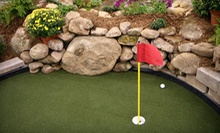 Fun seekers play across a foliage-surrounded mini-golf course, hit homers in batting cages, and feed tokens into arcade games
Use Today 10:00am - 6:00pm
---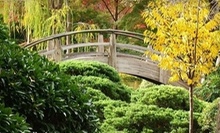 Stop to feed—and pet—thousands of koi as you wander through 7 acres of natural wonders
Use Today 9:00am - 7:00pm
---
Recommended Outdoor Activities by Groupon Customers
---
A coalition of ice arenas endorsed by the Dallas Stars, Dr Pepper StarCenters help nurture athletes of all ages and skill levels with activities on or off the ice. Dr Pepper StarCenters house NHL-regulation ice-hockey rinks that host hockey leagues for players of all ages, eradicating the need to play on dangerous frozen lakes dotted with irritable frozen geese. StarCenters' skate schools instill students with the fundamentals of ice hockey or figure skating, allowing them to progress to hockey leagues and local skating competitions if they choose. To warm up after laps around the Euless ice rink, skaters can check out the onsite baseball stadium, batting cages, soccer fields, and Texas Star Golf Course. All locations are open for birthday parties and special events; see each location's website for details.
1400 S Pipeline Rd.
Euless
Texas
817-267-4272
Blanketing more than 100 acres, Fort Worth Botanic Garden houses several disparate gardens that welcome locals and tourists whether they want quiet reflection or a social stroll amid arboreal beauty. The Fragrance Garden lives up to its name by engaging olfactory zones with a dozen uniquely scented plants. In the 7-acre Japanese Garden, visitors commune with plants and animals, including the pond's koi fish and their pet minnows.
3220 Botanic Garden Boulevard
Fort Worth
Texas
817-871-7686
Whether learning how to surf the endless wave during a wake-surfing lesson with pro wake-surf pioneer Tyler Marshall, or serenely building up endorphins, balance, and strength through standup-paddleboard classes, DFW Surf has a team of professional instructors ready to help students of all levels master the world of watersports. Besides offering introductory standup-paddleboarding lessons at the metroplex, they also offer fitness classes on and off the board, including CrossFit H2O and Float On Yoga. Part of what makes DFW Surf one of CBS Local's 2012 Best Extreme Sports and Rec Spots in North Texas is its promotion of both community spirit and fitness, in addition to its commitment to the growth of inland surf sports through club memberships, monthly cleanups of trash in the lake, and events such as the DFW Surf Open.
2500 Oak Grove Loop S
Grapevine
Texas
214-497-7502
At RNR Stables, staffers employ the sport or horseback riding to foster riders' confidence and encourage them to build relationships with horses. Under staff-member leadership, riders can learn about tack, stride, and rein control with private lessons or seek minimal instruction before taking to the sand-laden arena for a serene trot or to build a sand barn with new four-legged friends. If the verdant foliage of a trail ride leaves patrons wanting more, they can rally a group together for a birthday horseback-riding package or a summer-camp session.
3114 Parkridge Dr.
Corinth
Texas
940-321-8880
After starting out as a single facility in 1998, D-BAT Sports has since grown to include a dozen academies spread across Texas and the rest of United States. Each location embodies the company's core belief: every ballplayer is an individual with a unique, specific set of talents that must be honed. As such, D-BAT's professional trainers mold baseball and softball players into experienced specialists with custom lessons in pivotal skills, such as hitting, pitching, and autographing hot dogs. The climate-controlled facilities also feature rentable indoor batting cages as well as pro shops stocked with major-brand equipment.
5900 Park Vista Circle
Fort Worth
Texas
Within Leapin' Lizards' 20,000-square-foot funscape, kids release pent-up energy as they trample across three rooms of inflatable slides, houses, and boxing rings, as well as an arcade and a rock-climbing wall. Rambunctious, sock-clad tykes crawl through tunnels in a four-story playscape, zip down an 18-foot dual slide, or conquer an obstacle course. In a girls-only room, the staff treat guests like princesses, beautifying hair, nails, and faces amidst dancing, singing, and modeling for photo ops. Elsewhere, younger kids play in a toddler room, and birthday kids call celebrations together in themed party rooms (North Richland Hills location only), bedecked with an enchanted landscape or castle imagery to make the guest of honor feel like a monarch, demanding that each partygoer surrender a portion of their crop yield to the royal family.
7601 Blvd. 26 , Suite 121
North Richland Hills
Texas
817-427-2789
---