Things to Do in Saint Ann
---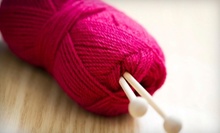 In six beginner-friendly knitting classes, participants follow patterns to create garments such as tank tops, hats, or socks.
---
Recommended Things to Do by Groupon Customers
---
When Mr. and Mrs. Kemoll opened Kemoll's in 1927, Mrs. Kemoll served her mother's authentic Italian recipes in a casual dining room adjacent to their living quarters. Today, the dining room fills the 40th floor of Metropolitan Square, the tallest building in downtown St. Louis. Two floors above, Kemoll's Top of the Met banquet facility caters to weddings and private parties. Spectacular views of the city and riverfront helped Kemoll's earn third place for Best Romantic Restaurant from CityVoter in 2010, and prompted Gayot to note that "the three-direction views only heighten what was already a lovely dining experience." Lunch and dinner menus include Italian delicacies like cannelloni, manicotti, and Kemoll's signature fried artichokes. In the spacious dining room, elegant place settings perch upon white tablecloths as diners attempt to spot celebrity clientele or undercover espionage agents from Chef Boyardee. Complimentary parking is available in an enclosed garage.
1 Metropolitan Sq., Floor 40
St. Louis
Missouri
314-421-0555
The astronauts deftly dodge the oncoming trickle of rocks and debris from the meteor shower, and as the rubble clears they see the Moon up ahead. It is at this site that they'll soon establish the first permanent human base. Though it sounds like science fiction, novice astronauts attempt this feat daily at Challenger Learning Center-St. Louis. Part of the Challenger Center for Space Science Education—a nonprofit founded by the families of the astronauts who died in the 1986 Challenger space-shuttle mission—the center educates visitors in science and teamwork with its space simulators. Whether navigating a spacecraft or abetting astronauts at a Mission Control modeled after NASA's Johnson Space Center, student, community, and corporate groups must maintain a cooperative spirit while rocketing to Mars, assembling a probe, or stealing one of Saturn's rings.
205 Brotherton Ln.
Ferguson
Missouri
US
314-521-6205
The classically focused Alexandra Ballet entertains audiences with a well-rounded dance diet ranging from contemporary original pieces to traditional masterworks. The company's agile dancers have pirouetted their way to uproarious applause in past performances that include The Sleeping Beauty, Swan Lake, and Peter and the Wolf. Since 2003, the company has enriched the community through its educational-outreach programs, which provide youngsters with free learning materials and ballet performances throughout the school year.
One University Blvd.
St. Louis
Missouri
Towering alongside Clayton Road, the Tropicana Lanes sign has a vintage, weather-beaten look acquired after more than 50 years of welcoming visitors. Three generations of Richmond Heights bowlers have ventured into the facility during this time, scattering pins across the same 52 lanes that have hosted the nationally televised Professional Bowlers Tour. Owner and PBA Hall of Fame inductee Ray Bluth oversees the day-to-day operations of the alley—which, despite its retro disposition, sports modern extras such as automatic scoring and singing shoelaces. Between frames, bowlers can kick back inside the cocktail lounge, play pool in the game room, or munch on wings, nachos, and hot dogs from the snack bar.
7960 Clayton Rd.
Richmond Heights
Missouri
314-781-0282
---