Saint Augustine, FL Health and Fitness
---
Recommended Health & Fitness by Groupon Customers
---
For more than two decades, the non-profit organization Haven Horse Ranch has been using its 26-acre property and team of horses to help youngsters learn life disciplines through riding. The ranch hosts three- and five-day camps, clinics, and trail rides, and has special experience working with children who suffer from mental and physical challenges. Lessons center around the tenets of Western riding, horsemanship, or training, while fun drills such as barrel racing, horse soccer, and speed games help students practice agility without needing to dump ice water on a sleeping bull. All proceeds from riding lessons go toward therapy for people with autism, MS, Cerebral Palsy, and Down's Syndrome.
7333 County Rd. 208
St. Augustine
Florida
With decades of professional experience, founders Danny Marshall and Mark Randall lead a medical team that clears clients' vision with designer eyeglasses and shades. Resident optometrist and competitive blinker Dr. Jason Iannarelli can peer into the eyes of patients and pinpoint their prescriptions. Once he finishes exams or clients bring in a valid prescription from home, high-tech, custom-made lenses—carved in the sophisticated onsite lab—focus eyesight through a wide range of optical enhancements, such as glare prevention, transitional UV protection, and heat vision. Frames from top labels, such as Lindberg and Salt, encircle lenses, gifting patients with both clear vision and stylish faces.
In addition to banishing fuzziness with lab-manufactured light refractors, Eye Design Eyewear equips pupils with chic sunglasses from brands such as Roxy or Costa Del Mar, deftly blocking harmful UV rays and cleverly shielding the eyes during heavyweight staring contests.
268 N Nova Rd.
Ormond Beach
Florida
386-675-6599
Owner Leslie Kincart parlayed a career as a personal trainer into work helping patrons achieve overall health with a range of treatments at The Lohad Center for Anti-Aging. Specially tailored supplement and nutrition programs improve the absorption of nutrients, and weight-management plans help clients shed pounds with supervised diets, injections, and other treatments near shelves brimming with Tropicaderm products. As clients wait for their appointments beneath photos of dew-speckled roses, they sink into leather couches in the crisp white-and-black of a chameleon playing piano.
8761 Perimeter Park Blvd., Suite 101
Jacksonville
Florida
904-302-8175
Dr. Rene Pulido—who trained in family medicine at Mayo Clinic—oversees Emed, a clinic that combines primary and urgent care in the same building. His practice of providing affordable health care to patients has grown to include outer beauty with his new aesthetic center. Together with board-certified electrologist Nicole Stowe, Dr. Pulido uses technology and medical-grade therapies to treat the skin and assist patients with their weight-loss goals. The doctor and his staff wield the awesome power of lasers to remove unwanted hair and toe fungus, or spell out wedding proposals into low-flying meteorites. Jessner chemical peels remove sun-damaged layers of skin, and medical weight-loss plans combine metabolism-boosting B12 shots and prescription appetite suppressants with customized diet and exercise plans.
2570 Atlantic Blvd.
Jacksonville
Florida
904-379-2911
Doctor of Chiropractic Joe Burnham and a team of massage therapists help keep spines in line with custom chiropractic services tailored to treat a variety of ailments. The staff also softens creaky joints, increases mobility, and boosts circulation with deep-tissue massages doled out in 60-, 90-, and 120-minute sessions. Dr. Burnham is available for appointments on Tuesdays and Thursdays from 9 a.m. to 6 p.m. as well as Saturdays from 8 a.m. to noon.
155 Blanding Blvd.
Orange Park
Florida
904-310-4563
Cristina Gillis first came to Chinese medicine not as a student, but as a long-time allergy sufferer. The immediate relief of her many symptoms didn't just make her feel better, it also sparked a journey of self-discovery and a deep desire to help others to free themselves from pain and illness. The licensed acupuncturist now pays it forward at Amelia Acupuncture, where she strives to alleviate maladies with several styles of acupuncture.
Gillis specializes in five-element acupuncture, a westernized method that uses fewer needles and is based on the belief that illness is the result of emotional and spiritual causes. She also employs the mei zen method of cosmetic acupuncture, which aims to stimulate collagen production and blood flow to reduce wrinkles. Her training in Chinese medicine and certification in Chinese herbs further facilitates patient wellness, as do auriculotherapy acupuncture sessions, which focus only on the ears to address conditions such as stress, addiction, and the annoying ability to hear dog whistles.
2188 Sadler Rd.
Fernandina Beach
Florida
904-206-9887
---
---
Health & Fitness Deals - Recently Expired
---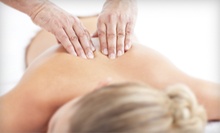 A massage therapist subdues chronic aches and areas of tension with focused, sustained pressure at center dedicated to physical therapy
---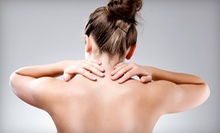 Acupuncturists help alleviate ailments from back pain to insomnia with ancient techniques that realign chi and promote blood flow
---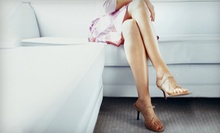 Laser light or an injected serum target spider veins to gradually fade them from view
---
---